A fantastic experience
View(s):

I transferred myself to University of Cincinnati from SLIIT in 2010. Every single day I spent at UC was an experience, challenge or a moment to cherish. From day one I had many obstacles at UC. Language was one big problem when I first came here. I was not good in English and that was a big challenge in communication and also in learning. But I'm glad today that I graduated this year with a 3.8 GPA and got hired fulltime in a software firm.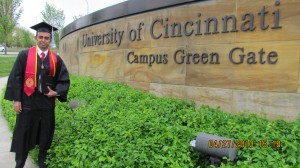 UC has a mandatory coop program built into the degree and I worked as a coop (intern) at Citi Group for a year. That not only gave me good experience, but also prepared me to the real world as a professional. The things I learned from the coop is very valuable and I can't explain enough how much I gained from that. I was able to use the knowledge I learned in school at work and bring back new ideas to school from work. The university classes were much interesting because I could use the knowledge at work.
The best thing I like about the US education is that you are not limited to the major that you are studying. You can study as many as other areas if you want to. I wanted to learn photography for a long time, but never could do it when I was in Sri Lanka. I got the chance to follow a photography course at UC while doing my Information Technology degree. I earned an award of excellence for photography and it will remain as one of my hobbies for the rest of my life.
UC staff and the faculty are very nice and they helped me many times when I was lost. I had trouble transferring my credits to UC from SLIIT and UC staff helped me a lot in that. I again had a hard time with immigration issues when I was to start my internship. UC International Student Services office helped me and advised me to get that matter resolved.
I have travelled to many places since I've been in the US and I should admit that this is a gorgeous country with lots of interesting places to see. Every state is very different from one to another and every state has its own exciting places to see. My US journey has not only been valuable and filled with knowledge, it also has been very interesting, exciting and fun.
There are many people who were with me all the time to support me and raise me. My parents and my sister were always by my side to get me through the difficult times. I should also mention Uncle Dissa and Aunty Pry at "Scholarships for USA" were two people me and my family could always talk to and ask help. I was never just a business to them, but a student of their own. They know that we are inexperienced and need help, so they guide us through the whole process until we come to a state that we can take care of ourselves.
I have come a long way and it was filled with many obstacles. I wanted to give up so many times and come back to my family in Sri Lanka. Things have not been easy all the time. I had to work hard and jump through lot of hurdles to graduate and get a job. But today I'm happy where I'm at and I'm extremely grateful to everyone who have helped me to come this far.
Rakitha Basnayake, an alumnus of Veyangoda Bandaranaike MMV, became the first transferee of Sri Lanka Institute of Information Technology (www.sliit.lk) to University of Cincinnati (www.uc.edu) in 2010 under a collaboration agreement initiated by Scholarships for USA (Pvt) Ltd (www.scholarshipsforusa.com). SUSA, since '01, is passionately committed to providing more opportunities for Lankan youth to have access to world's best higher education at a cost many could afford. As Rakitha proves, it's not only the quality of education but vast opportunities to engage in hands on paid internships that makes the US higher education superior to the rest of the world. SUSA has already helped over 200 students across the Island and from all leading national and international schools from bachelors to doctoral to join over 35 colleges and universities in US who partner with them offering their highest scholarships and instant admissions.
Follow @timesonlinelk
comments powered by

Disqus