Why Champika lost his 'Atomic Energy' portfolio
View(s):

On June 24, Technology, Research and Atomic Energy Minister Patali Champika Ranawaka, Minister flew to Moscow. His mission was to sign a Memorandum of Understanding (MoU) with Rostatom Nuclear Energy State Corporation. It is to centre on managing nuclear and radiation safety issues and development of infrastructure related to nuclear technology.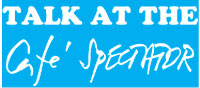 On the same day, a Gazette extraordinary (No 1816/10 of June 24) was issued, removing the subject of 'Atomic Energy' from Minister Ranawaka's portfolio. He will henceforth be the Minister of Technology and Research.
A front-page report in the Sunday Times about the exclusion of atomic energy was to cause concern for his party colleague, Jathika Hela Urumaya Western Provincial Council Minister Udaya Gammanpila. Minister Ranawaka and President Mahinda Rajapaksa have not been quite hitting it out in recent times over several matters. Earlier this year the Minister had even been removed from the more powerful Power and Energy Ministry.
Gammanpila promptly telephoned Economic Development Minister Basil Rajapaksa to check whether the report was correct.
"I have a copy of the Sunday Times and have just read the report. Let me ring you back," Rajapaksa told Gammanpila. Later, he did call. "This has been done at the request of your Minister," he declared. Rajapaksa had checked with senior officials on how the Gazette had come about.
It transpired that during his foreign travels, Minister Ranawaka was facing too many questions on the subject of atomic energy. So much so, some governments had even wanted to enhance security for him. So, he had chosen not to have that as part of his portfolio title.
However, that such a development should take place when Minister Ranawaka was signing an MoU in a foreign country caused concern even to his party colleagues. He will continue to retain the Atomic Energy Authority of Sri Lanka as a subject under his Ministry of Technology and Research.
Killing Field director avoids arrest in Malaysia
Callum Mcrae, producer of Britain's Channel 4′s controversial documentary 'No Fire Zone – the Killing Fields of Sri Lanka', sneaked out through the backdoor of the Kula Lampur and Selangor Chinese Assembly Hall when Malaysian authorities arrived there to stop the screening.
This was how he avoided arrest when a team of some 30 Malaysian Immigration, Police, Censor Board and Home Ministry officials raided a "human rights film festival" that was under way. The event had been organised by a group styling itself as "Pusat Komas." Three members — Lena Hendry, Arul Prakash and Anna Ha — have been arrested.
Mcrae had rushed to his hotel room after the raid. Later, he boarded a Canada-bound flight and fled Malaysia. He accused the Sri Lanka High Commission in Kuala Lumpur of applying pressure on the Malaysian authorities to stop the film.
Meanwhile, Mcrae is locked in a twitter war with Bandula Jayasekera, Sri Lanka's Consul General in Sydney and former Presidential spokesman. This was after Jayasekera declared he would make sure Mcrae would not attend the Commonwealth Heads of Government Meeting (CHOGM) in Colombo in November.
CBK's remarks raise speculation
A routine question directed at former President Chandrika Bandaranaike Kumaratunga brought out an answer that would raise eye brows in some political circles. She said she had not quit active politics altogether. "I am still the advisor of the Sri Lanka Freedom Party," she said responding to a query from United National Party (UNP) General Secretary Tissa Attanayake.
Attanayake accompanied by Parliamentarians Ravi Karunanayake and Wijeyadasa Rajapakshe met Kumaratunga to hand over the UNP document outlining a new Constitution for Sri Lanka.  Of course, for those who are aware, Kumaratunga's response means little. Instead of making her the patron, she has been given the non-existent title of Advisor to the SLFP.
There are many who are doing that job even without being formally tasked, while she has not even been asked.
13 A quips on flight to China
President Mahinda Rajapaksa's flight last month to China had some interesting moments. "Thaathey, 13 plus ui 13 minuss ui ekata innawa (One who wants 13th plus and the other who wants 13th minus) are seated together," remarked Namal Rajapaksa MP and son of the President. He was pointing to Minister Douglas Devananda, leader of the Eelam People's Democratic Party (EPDP), and Minister Wimal Weerawansa, leader of the National Freedom Front (NFF).
Replied President Rajapaksa "Dekama 'manege' karai apey maha aacharya thuma (both will be managed by the professor)," pointing to External Affairs Minister G.L. Peiris.
Weerawansa was heard telling Devananda not to misunderstand the criticism he levels against him and his party. "I am doing it out of political conviction and there is nothing personal," he declared.
President tests Wayamba waters for Dayasiri
What President Mahinda Rajapaksa told members of the SLFP in the North Western Provincial Council was not good for the United National Party (UNP), the country's main opposition.
"Dayasiri methenta enna innawah. Ehema vunoth thamun naansela monawada kiyanne" (Dayasiri is willing to come here. If that happens, what do you have to say), he asked. He was alluding to UNP Kurunegala District MP Dayasiri Jayasekera. The reply was unanimous – they would fall in line with any decision the President would take.
The meeting at 'Temple Trees' last Wednesday came ahead of Friday's dissolution of the North Western Provincial Council.
UNP MP Dayasiri Jayasekera has previously denied any cross-over talk.
Gampaha Traffic Police seek red light from deities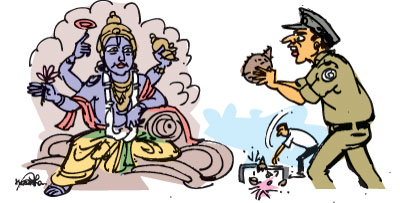 Their appeals to motorists to drive safely and thus reduce accidents seem to have fallen on deaf ears. Now, Officers-in-Charge of the Traffic Divisions in all Police Stations in the Gampaha District are appealing to deities.
Together with the ASP in charge, the traffic OICs of the eleven police stations in the district gathered at the Sri Vishnu Devalaya at Veediyawatte in Yakkala.
Only the ASP was in uniform whilst the others were in civvies. They broke coconuts and took part in different rituals to reduce accidents in their areas.
Sleep-walking cartoon company: Keheliya and Son Limited
Mass Media and Information Minister Keheliya Rambukwella has been a politician regularly featured in cartoons in newspapers and websites.  During recent months, he was featured in many cartoons and the minister said that he was proud of it, if not highly amused.
However, the Minister has almost been replaced by none other than his son Ramith.
Senior Rambukwella, the official spokesperson for the Government of Sri Lanka jokingly admitted that his son has now become a contender for him as the top cartoon character. Briefing journalists on Thursday, he said that his son had entered the competition.
"I thought I was the only one who is famous but now there is another person and that happens to be my son. I'm happy about that too," he said.
All this was after Ramith, a Sri Lanka 'A' team cricketer was reportedly drunk and tried to open the exit door when a British Airways flight was nearing London's Heathrow airport and maintaining 35,000 feet altitude. BA said he was in an inebriated state and accepted the passenger's apology. However, one of the plane's passenger's heading from the Carribean was furious and chanted "Bloody Asians, Bloody Asians" – a slur not only on Sri Lanka but entire Asia. BA seems not to have made a report on him for racism, an offence in Britain.
Upon his return Ramith said he was a somnambulist or a sleep walker. He had sleepwalked in such high altitude. Evidently he had woken up only after it was pointed out he was trying to open the cabin door, when in fact, he was reportedly looking for the toilet.
Minister Rambukwella also figured in a similar air saga in February last year. He fell from a three storied hotel in Melbourne on to a flower bed and suffered injuries. He was hospitalised for months.
Keheliya, the official spokesperson, said he would not comment on his son's matter except to say a committee was probing it. He did not say who had named such a committee. However, he told a media outlet that the stories about his son were from one source only. To the contrary, the British Airways and different passengers had provided the details to the British media. Even Sri Lankans on board the flight were embarrassed and talking of the story in whispers.
While the cartoons are lampooning Ramith, e-mails also are doing the rounds. One e-mail joke suggested that it was not the Media Minister's son but a BA air hostess who tried to open the cabin door. Why? Ramith had made a request whilst sleep walking!!! What a world?
Much of the lampooning the Media Minister is receiving seems to be because he is the chief proponent of a Code of Ethics for the Media. Politician; heal thyself, they say.
Follow @timesonlinelk
comments powered by

Disqus