Royal heir's new home makeover costs £1m
By Rebecca English
Kate and William and theri new baby will move in to Kensington Palace apartment in the autumn
View(s):
The cost to taxpayers of refurbishing the Duke and Duchess of Cambridge's new Kensington Palace home has hit £1million so far, officials revealed yesterday.
William and Kate are hoping to move into Apartment 1A, the 57-room residence once inhabited by Princess Margaret, with their new baby this summer.
Although the couple are personally paying for fixtures and finishing – such as curtains and soft furnishings – the cost of basic building work including new heating, electrics and plastering is being met by money given to the Queen by the Government.
So far the internal refurbishments have cost £600,000 and the renewal of the roof a further £400,000.
A spokesman for the Duke and Duchess stressed that a close eye was being kept on costs but added that the work on the roof had been long overdue, while the cost of the internal refurbishments have been dramatically increased by the removal of asbestos.
'This essential structural work needed to be completed whoever moved in. The last major works in the apartment took place around the time that Princess Margaret and Lord Snowdon moved in more than 50 years ago.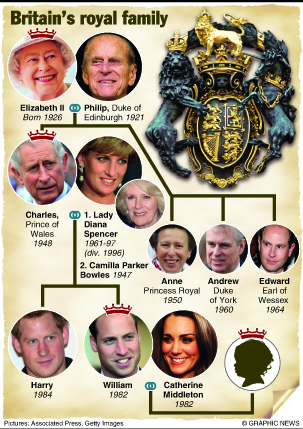 The cost of interior decorating and furnishing of course falls to the Royal Family privately.'
The spokesman also stressed that occupied royal palaces are held in trust for the nation, so William and Kate do not own the apartment, nor can they or the Royal Family sell it.
The fabric of all of these buildings must be maintained or otherwise fall into disrepair.
Apartment 1A is a spacious four-storey property with its own large south-facing walled garden.
It takes up half the Clock Tower wing designed by Sir Christopher Wren for King William and Queen Mary.
The living space has previously included five reception rooms, three main bedrooms, dressing rooms and bathrooms, a night and day nursery, nine staff bedrooms and more than 20 'ancillary' rooms.
Princess Margaret and Lord Snowdon, who moved in following a £1.5million programme of refurbishment in 1963, famously installed a 'futuristic' kitchen complete with sleek Formica and teak units. It has since been ripped out.
In recent years the property has been managed by the charity Historic Royal Palaces (HRP), which used it as office and exhibition space.
As HRP has already spent a substantial amount of its own money on remedial work, the Queen has been forced to compensate it for handing the building over to William and Kate.
This cost has also been met by taxpayers and while it has been described by palace sources as 'fair', it is understood to be more than £100,000.
According to Buckingham Palace's annual accounts released yesterday the Cambridges were also responsible for the single most expensive foreign visit by members of the Royal Family over the last 12 months.
They racked up a bill of £370,590 on flights last autumn for their official Diamond Jubilee tour of Asia and the South Pacific, which saw them travel to Singapore, Malaysia, the Solomon Islands and Tuvalu.
Of that £107,958 was on scheduled flights plus a further £172,436 on a private jet and the cost of their entourage (but not their police protection officers) both in advance and during the tour itself.
Sources stressed that the value of the diplomatic and business benefits generated by the ten-day trip in September was 'incalculable'.
© Daily Mail, London
Royal approval: Naomi's Princess Diana is the real deal
By Baz Bamigboye
The royal princes William and Harry have had all but one significant scene of them cut out of Diana, a new film about their late mother's torrid romance with heart surgeon Hasnat Khan.
The princes, played by actors Laurence Belcher (William) and Harry Holland (Harry), are shown briefly with Diana, played by Naomi Watts.
She hugs them, ushers them onto a waiting helicopter bound for Balmoral, and says she'll see them in five weeks' time.
The poignancy of the moment becomes apparent later, when you realise that will be the last time they see her.
Director Oliver Hirschbiegel explained that other shots featuring the princes were dropped 'because it never felt right to have them in the film'.
'Everyone knew she was a brilliant mother and loved her boys to death,' he said.
Diana, the movie, is first and foremost a love story, about an extraordinary woman in an extraordinary situation, who falls for a man with no social pretensions, renowned heart surgeon Dr Hasnat Khan.
But it's also about an iconic royal who felt rejected by those closest to her. 'Your mother leaves you; your father marries a woman who, in your eyes, is just awful; your husband had a mistress all through your marriage. She had this lifelong longing for love,' Hirschbiegel said.
'She finally got this true, passionate love from this heart surgeon, this Muslim man.'
© Daily Mail, London
Follow @timesonlinelk
comments powered by

Disqus