Howzat, you ask? Read on to find out
By Marisa de Silva
View(s):
How many times have we debated at length in front of our television sets or computers, or chipped into heated discussions between our fathers/uncles who have taken it upon themselves to dissect "the match"? How many times have Captain's calls, selector's picks, player's performances and umpire's decisions come under the serious scrutiny of our clearly "superior" opinions? What if there was a way we could have that "chance"? Howzat, you ask? Read on to find out.
-How and when did you both come up with this concept?
It all began around two years ago. Both Uresh and I enjoy playing fantasy sports. Since we enjoy playing them so much, we wanted to see if there was anything similar for cricket. However, we could not find anything that provided an experience equivalent to the more established fantasy games. Being Software Architects and Engineers, this is when we decided to build our own website/game, to provide the best possible fantasy cricket experience for cricket loving fans.
-How does it work?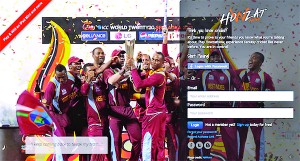 HowzatNow Fantasy Cricket, is a free, simple and easy to play online game. You just need to imagine you are either a team owner or cricket selector. During a cricket tournament like the ICC Champions Trophy, it's your prerogative to pick the best possible squad of players. Once that is done, the actual players earn points for the fantasy team by scoring runs or taking wickets. I.e. if you have Sanga in your team, and he scores 50 runs, you get 50 points. The difference here, is that you can pick players from all countries, to make up your 'ultimate team'.
What makes it interesting is that just like you, many others are also selecting their own fantasy teams. So once a cricket match is complete, you are ranked based on the number of points your team scored. It's more fun when you compete against your friends, because there's a lot of strategy involved in selecting the team based on the conditions and opposition etc. It's also good fun to brag about your achievements when you've done well. The person with the most points at the end of the tournament is crowned "Fantasy Cricket Champion".
-What is your vision for the initiative? Where do you'll hope to take it?
Cricket fans are very passionate about the game of cricket. They love the game and love their team. Our goal is to enhance the fans experience of watching a cricket match. In addition to watching the game, we want to give the fan a stake in the game, in a purely fun and enjoyable manner. HowzatNow Fantasy Cricket is just the beginning. While we have planned to introduce some pretty cool features in the future, we have also formulated many ideas around increasing awareness of the sport across the globe.
We also hope to partner up with various cricket organizations around the world to improve the game, provide charity events to sponsor under privileged, talented young individuals, who have great potential in succeeding in cricket, by enabling their dreams of playing at the National level. While there are many other ideas in the pipeline, these are the only ones we are able to disclose at the moment.
-Is it user friendly even to the older generation?
We think it is. And it's something we've been continuously working hard to achieve. Both our parents and older relatives are registered users of HowzatNow. We have placed helpful links on the site that help our users easily navigate through the site, and also tips on how to play, and how to score points.
-Do users from different countries play against each other?
Yes, this website is open to the entire world. We have many people who've created their own private leagues to compete with their friends in different parts of the world. Even though we live in the US, we have leagues running for our own Alma Maters – with users from i.e. Sri Lanka, Australia and England. Since we are also connected via Facebook, our reach is pretty high. As of now, we have rapidly growing user base of around 20,000 followers from all over the world.
"We are very pleased with the way things are progressing right now and are working very hard to enrich the fantasy experience by improving its efficiency and regularly adding several new features. We are also in the middle of discussions with former cricketers on joining the HowzatNow family, and advising us on how best to improve the fantasy cricket experience for our members.
Follow @timesonlinelk
comments powered by

Disqus