NSAIDs deadly for dengue-hit children
By Kumudini Hettiarachchi
View(s):
Stick to paracetamol and sponging to bring down fever, says expert
Common pain-relieving medications prescribed for children with fever are not only worsening the complications of Dengue Haemorrhagic Fever (DHF) but also resulting in death, warned a top dengue expert yesterday.
Non-steroidal anti-inflammatory drugs (NSAIDs) such as aspirin, ibuprofen, mefenamic acid and diclofenac sodium can cause death in dengue patients, cautioned Consultant Paediatrician Dr. LakKumar Fernando of the Negombo General Hospital who with his team has snatched from the jaws of death a large number of children with DHF.
As dengue spread like wildfire across the country, with 15,777 men, women and children seeking treatment and the death toll reaching 50 within the first six months of this year, Dr. Fernando reiterated that last year (2012), a majority of dengue deaths were linked to some form of NSAIDs being administered to them.
Debunking the myth among doctors, both Specialists and General Practitioners (GPs), that prescribing NSAIDs on Day 1 or 2 of fever will not have an impact on the course of dengue illness, he was quick to point out that "it definitely does have".Citing the example of a six-month-old baby that he and his team saved on June 20 after a major life-and-death battle at the newly-established 'Centre for Clinical Management of Dengue and Dengue Haemorrhagic Fever', he said the management became complicated and compounded because she had been administered NSAIDs in the form of Brufen.
NSAIDs are administered orally in tablet or syrup form or inserted as suppositories, it is learnt. All doctors should suspect dengue whenever a patient with fever comes for treatment, said Dr. Fernando and as such refrain from prescribing NSAIDs. The fever may be managed with paracetamol and sponging with warm water.
If the fever turns out to be due to dengue, like in many cases now, NSAIDs would have two impacts – systemic and local, according this dengue specialist. The systemic effect would be impaired platelet aggregation (clumping together to cause clotting) and an impact on the coagulatory system. The local effect would be tiny gastric erosions and if the NSAID has been in suppository form in the rectum, mucosal damage in this region. The trouble begins when fluid leakage starts as DHF takes its course and the blood pressure drops, says Dr. Fernando.
Reacting to this situation, the patient's body attempts a compensatory distribution of blood to the peripheries and vital organs, constricting blood supply at gut level. This results in the gastrointestinal (GI) tract getting affected before the peripheral supply is compromised and the mild gastric erosion caused by the NSAIDs becoming bigger. This is why we see bleeding in the GI tract in the latter part of dengue, stopping of which is not easy, he adds.
"Dengue patients die due to prolonged shock, fluid overload or massive bleeding. The cause of death in a large number is massive bleeding," said Dr. Fernando, pleading with Specialists not to feel compelled to bring down the fever of a child by prescribing NSAIDs. When Specialists prescribe NSAIDs, the GPs follow the lead, resulting in disastrous consequences.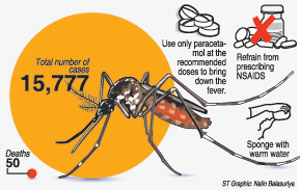 Conceding that a few years ago he too used to prescribe NSAIDs considered fever-medication in the west, he says the situation has changed now with dengue coming on the scene in Sri Lanka.  Back in January 2012 (last year), the Sri Lanka College of Paediatricians identified NSAIDs as being harmful and leading to bleeding in children. The 'Guidelines for dengue management' introduced by the Health Ministry in December 2010 also pointedly advised against the use of NSAIDs.
Meanwhile, Dr. Fernando is of the view that many patients with dengue but without any complications are sometimes kept in the Intensive Care Units of private hospitals unnecessarily. Even if they have complications what is needed is monitoring and management in a ward-setting, he says.
He should know, for the 'Centre for Clinical Management of Dengue and Dengue Haemorrhagic Fever' for both adults and children he has established at Negombo is being hailed as unique by Thai dengue trailblazer, Prof. Suchitra Nimmannitya considered an 'Ambassador against Dengue' for the World Health Organisation (WHO).
Prof. Nimmannitya believes that before long this centre would gain WHO recognition and be designated a WHO-collaborated centre.
Follow @timesonlinelk
comments powered by

Disqus