Easy pickings as crime pays and pays well
Nadia Fazlulhaq reports
View(s):
A  lucrative 'career'  for most youth living just above and below the poverty line and drug addicts. 
Housebreaking, theft and robbery continue to top the police's grave crimes list in alarming numbers within Colombo and its suburbs.
According to law enforcement agencies and sociologists, the increase in drug addicts and growing disparity between high and low income groups are leading causes.
According to police statistics, annually nearly 35,000- 40,000 cases of housebreaking and theft, robbery, theft of property including motorcycles and cattle is reported, with housebreaking at 15,000-20,000 cases on top.  Mt. Lavinia, Nugegoda, Kohuwela, Kalubowila, Dehiwala, Talangama and Kelaniya are some high risk areas where the majority of house-break-ins are reported, but is an islandwide malaise.
This month Kohuwela police arrested a man in connection with a number of burglaries in Kohuwela, Dehiwala and Kalubowila.
"The 26-year-old suspect, who also had 220mg of heroin, had stolen items worth Rs 1.2 million. The items varied from gold jewellery, computers, laptops, water pumps, food processors, gas cylinders, mobile phones and watches, which he sold to unsuspecting customers at very low prices," said Kohuwela Police Officer-in-Charge (OIC) Chaminda Edirisooriya.
"This suspect is well known and has been in prison several times for possessing illegal substances. Most police stations know the drug-addicts in their divisions," said OIC Edirisooriya. "On Thursday (27), a house nearby was robbed. The husband and two daughters were at work while the wife had gone to the bank in the afternoon. Within 30 min., the robber managed to enter the house and rob gold jewellery and cash," he said.
"A well-known supermarket in Nugegoda was robbed two weeks ago. The robbers had entered through the rear entrance which had a plywood door and a simple lock. Usually, the rear entrance of a house or shop is not heavily secured, allowing robbers easy entrance," Crimes OIC Sumathipala added. He said, recently there was a series of robberies committed by a man dressed in police uniform.
"There are people calling themselves insurance agents and scrap iron buyers, who should not be allowed into the premises," he added.
Recently, another suspect with links to 27 burglaries was arrested by Ganemulla Police after a CCTV camera captured images of the suspect breaking into a house.
This month, Divulapitiya police arrested four persons involved in burglaries and snatching gold chains valued at around Rs 2 million in Negombo, Divulapitiya and Gampaha areas, and pawned most of them. A 20-year-old youth, boarded in Liyanagemulla, Seeduwa, burgled while on the pretext of being at work, was arrested by the Seeduwa police. Police have been able to recover gold jewellery, mobile phones, home theatre systems, DVD players and digital cameras.
Ampara police arrested a suspect involved in a number of chain snatchings in the area.  Biyagama police recently arrested a man involved in burgling several houses in the Yabaraluwa area and recovered laptops, jewellery and mobile phones. Wattala police arrested three men involved in snatching gold chains using a three-wheeler. Another suspect was arrested by Wellawa police, in the Kurunegala district, with telephone cables worth Rs 200,000.
This month, Kalutara police crimes division arrested a man suspected of having tied a woman in her house and robbed her jewellery. He is also allegedly involved in a number of motorcycle robberies. Matara police arrested four men involved in breaking into houses at night and robbing valuables totaling almost Rs 700, 000.
The latest annual statistics available with police is for 2011, with 17,192 cases of housebreaking and theft, 6,304 cases of robbery, 11,962 cases of theft of property including motor cycles and cattle. There also were 229 homicides, 1,870 instances of rape, 1,012 abductions and 1,719 instances of grievous hurt recorded at police stations. The first three months of 2012 revealed 3,997 housebreakings and theft, 1,735 robberies and 2,921 thefts of property including cycle and cattle.
Mt. Lavinia police record 50-60 cases per month. Mt. Lavinia Special Investigations Unit OIC, Kumara Nalawansa said this week, a 30-year-old man was arrested in connection with 15 robberies including motor vehicles, electronic items and jewellery.
"Most robberies take place during the daytime. Police cannot deploy officers in every neighbourhood. In this area, jewellery and credit cards are the main targets. Hence residents should be extra vigilant," he said.
He said robbers use credit cards to purchase household items from supermarkets. A former Senior Superintendent of Nugegoda said that it is important for individuals to be observant about their immediate surroundings. "Those who can afford should purchase alarm systems or security cameras. Others can hire a security officer to the neighbourhood or get involved in community watch. It is easy to identify suspects if you are watchful," he said.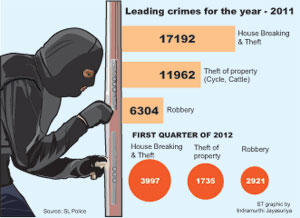 Former DIG Nimal Mediwake told the Sunday Times that, during his tenure, he encouraged the community police concept.
"It is important to identify the modus operandi of the suspects, for which the police should have sufficient information. Community police concept is the most practical method in cities and is adopted in many countries," he said.
The former DIG said that, here it was called civil defence committees which were active during the conflict time. "When suspicious, they should immediately inform the police. The best theory is to get the public's cooperation. It's happening in housing schemes and middle and low income neighbourhoods. This should be promoted in highly residential neighbourhoods too," he said. He said a community-driven people patrolling system will work better in combating house break-ins and thefts.
M.W. Jayasundara, Senior Lecturer in Criminology at Sri Jayawardenapura University, said, a blend of increased wealthy and luxury living alongside poverty within society, will lead to crimes such as housebreaking and robbery. "Those living in poverty and accustomed to petty crimes, see immense opportunities to steal. They see the luxurious and extravagant living in houses that are empty during the day. In some houses there is only an aged couple," he said.
Prof Jayasundara said that an increase in drug addicts is also leading to robberies, as it is the easiest way to maintain their expensive habit which requires more than Rs 3,000 per day. "Convicted drug addicts are imprisoned for a maximum of two years, with some even being released within six months. The imprisonment is not much of a help, as these addicts once released, return to their old routine. Some even become worse," he added, suggesting more practical and continuous rehabilitation programmes that is lacking in the country.
He said that law enforcement agencies should curb the drug menace by more detections and arresting drug traffickers."Police should be strong and make arrests, even if politicians are protecting drug dealers or are the top dogs. This is a menace that should be curbed. Most of the victims are between the ages of 20 and 30, and are school-dropouts from low-income families. Grooming youth as drug addicts must be stopped," Prof. Jayasundara said.
The Sunday Times learns that military deserters are also involved in robbery and housebreaking incidents. "Military deserters are looked upon as assets by the underworld. Instead of putting them into the criminal's category, it is important to give them legitimate work," he said.
Peradeniya University Sociologist Prof. Sisira Pinnawala said that theft, housebreaking and robbery, do not seem to be the interest of criminal investigators (police) and the law enforcement system. "On analysing these crimes, it is visible that a very high proportion comes under the "accused unknown" category. Inadequate attention by law the enforcement system has resulted in the prominence of these categories of crime in the overall crime statistics," he said.
Youth nabbed for Rs 1m robbery
By Hubert Fernando- our Negombo Correspondent
A 23-year-old man was arrested by the Negombo police crimes division for allegedly entering a house in Maha Hunupitiya and robbing jewellery and other property worth more than Rs. 1 million.
According to police, the suspect had entered the house through an open window and robbed US$ 60, two Apple iphones, seven bangles, two bracelets, a chain, three rings and two pairs of earrings, all lying in a room.
The stolen items were recovered from the suspect.
Follow @timesonlinelk
comments powered by

Disqus