Acting US Assistant AG has Lankan roots
View(s):

The United States' newly appointed Acting Assistant Attorney General has her roots in Sri Lanka. Mythili Raman is the daughter of A. Tharmaratnam, who served the International Financial Corporation of the World Bank, and granddaughter of C Loganathan, a former general manager of the Bank of Ceylon. Her parents are from Vadaramarachchi, Jaffna.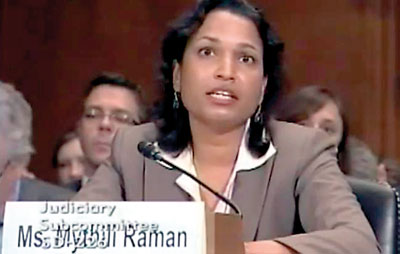 Ms. Raman, the newly appointed Acting Assistant Attorney General for the Criminal Division of the U.S. Justice Department and successor to Mr. Lanny Breuer, is widely acclaimed in legal circles as a trailblazer in the Justice Department. Ms. Raman had her undergraduate degree from Yale, and obtained a law degree from the University of Chicago. As head of the Criminal Division, Ms. Raman oversees nearly 600 attorneys who prosecute federal criminal cases across the country and help develop criminal law. She also works closely with 93 United States Attorneys in connection with the investigation and prosecution of criminal matters in their districts. Ms. Raman has been serving in the Criminal Division since August 2008, first as Acting Chief of Staff and, from September 2, 2009 to March 1, 2013, as Principal Deputy Assistant Attorney General and Chief of Staff.
Ms. Raman joined the Department of Justice in 1996, as a trial attorney in the Criminal Division's Narcotic and Dangerous Drug Section, where she prosecuted narcotics cases in districts across the country. From 1999 to 2008, she served as an Assistant United States Attorney in the U.S. Attorney's Office for the District of Maryland, where she prosecuted and supervised dozens of criminal cases involving violent crime, financial fraud, narcotics, child exploitation and civil rights offences.
In Maryland, she served as Branch Chief of the district's Greenbelt office and then as the district's Appellate Chief. For her work in Greenbelt, Ms. Raman received numerous honours and awards, including the Director's Award for Superior Performance and the Special Award of Honor from the International Narcotic Enforcement Officers' Association.
In 2006, on a detail from the U.S. Attorney's Office, she served as Senior Counsel to the Deputy Attorney General, advising the Deputy Attorney General on a variety of criminal law matters and managing the day-to-day work of the President's Identity Theft Task Force.
Follow @timesonlinelk
comments powered by

Disqus