'Sweet Inspirations' Shaymi, Yasmin and Marcia in concert
By Sanath Weerasuriya
View(s):
'Sweet Inspirations', the musical prowess of three sisters – Shyami, Yasmin and Marcia, who have been singing together for over a quarter of a century, will come alive on July 14 at the Bishop's College Auditorium from 7.00pm onwards. The sisters have over the years forged their own individual careers as professional singers and have built an ardent fan base. As a harmonic trio, they remain unparalleled, to this day. 'Sweet Inspirations' is all about their story.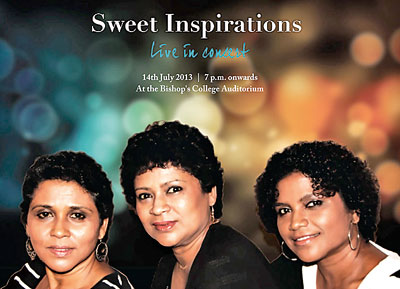 Shyami debuted on stage at the age of three, singing 'Wooden Heart' at the Christian College School Concert. She was a part of 'Fontrapp', the family band where she, mom, dad and her kid brothers and sisters sang and played their own instruments, much to the delight of many local and foreign audiences in hotels in the city and around the country. She launched three EPS in 1979. These were originals composed and written by Clarence Wijewardene, just for the occasion. It was also in this decade that the 'Rasa Pirunu Katha' singer was awarded the 'most popular female vocalist of the year'.
Singing came naturally to Yasmin as a child. She started playing the Double Bass at an early age, certainly not an easy task for a child. Yasmin began her professional career singing with the local band Heathrow and went on to become a part of a popular jazz duo with veteran keyboardist Dulip Gabadamudalige.
Marcia's rich alto voice completes the harmony of Sweet Inspirations. While music has been a constant in her life, Marcia has been more passionate in the sphere of culinary arts. Hailing from a family of many talents, she followed her passion to the Claremont Hotel School. Marcia has accompanied her sisters to many musical shows and other singing engagements. Taking an interest in the Violin at a young age, she continues to play for her family and friends.
Apart from three sisters, 'Sweet Inspirations' will feature guest artists such as Yohan & Honerine, Samantha Fonseka, Ravin David and Sohan Weerasinghe.The entire concert is backed by the X'Periments and Harsha Makalandha. Tickets are priced at Rs. 2000/1000/500 (Balcony)and will be available at -Torana Music Centre(Liberty Plaza), Yamaha Music Centre, Millennium Book Shop(Jubilee Post) and at the Bishops Auditorium
For any information contact Yasmin on 0774039595 or email her yasmindesilva@yahoo.com
Follow @timesonlinelk
comments powered by

Disqus