Master Chef Huasheng Mo heads the Culinary Team at TSING TAO
View(s):

TSING TAO, the latest Chinese Restaurant opened it's doors at prestigious Race Course Building at Reid Avenue, Colombo 07 recently. Incidentally, TSING TAO is the first 5 star class restaurant in the country for any type of cuisine outside 5 star hotels. Masterchef HUASHENG MO with over 15 years experience is heading it's Culinary Team. He has had extensive international experience in the Far East and Asia spanning over 8 years during his career.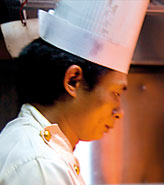 He is a versatile Chef with exceptional skills in Guangdong, Sichuan, Peking and Shanghai cuisine. He has already made a name in the Gastronomical Circle of Colombo for very high standard cuisine. " the secret behind my success is that I only use authentic Chinese ingredients hand picked by me and imported directly from China" he said. He further stated " our motto is EAT FRESH. Hence all seafood, most meats, vegetables and fruits are sourced daily for freshness and quality. You can't beat that ". "
we already won our first award for food hygiene in the first 3 months of opening. I am looking forward to make TSING TAO an award winning restaurant on all aspects " he said confidently with a smile.
TSING TAO is unique with it's plush ambiance which is complemented by a foreign female vocalist plus some of Colombo's best loved artists performing soothing live music daily. TSING TAO is opened daily for lunch (11am – 3pm) and dinner (6pm – 11pm). Another feature of TSING TAO will be DIM SUM due to be served soon on all week days during lunch.
Follow @timesonlinelk
comments powered by

Disqus