Man of Steel here
View(s):

Man of Steel American superhero film directed by Zack Snyder is now being screened at Savoy cinema Wellawatte.  Based on the DC Comics character Superman, the film is a reboot of the Superman film series that portrays the character's origin story.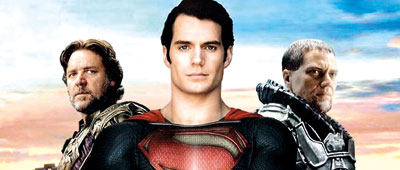 Starring Henry Cavill in the title role with Amy Adams as Lois Lane, Michael Shannon as General Zod, Diane Lane as Martha Kent, Kevin Costner as Jonathan Kent, Laurence Fishburne as Perry White, andRussell Crowe as Jor-El, the film is produced by Christopher Nolan, and scripted by David S. Goyer.
The planet Krypton faces imminent destruction due to its unstable core, and its ruling council is under the threat of rebel General Zod and his followers. Scientist Jor-El and his wife Lara launch their newborn son Kal-El on a spacecraft to Earth, accompanying him with a codex to preserve the Krypton race . After Zod murders Jor-El for stealing the codex, he and his followers are banished to the Phantom zone.
The infant Kal-El is raised as the adopted son of Jonathan and Martha Kent, who name him Clark. Clark's Kryptonian physiology affords him superhuman abilities on Earth, which initially cause him confusion and ostracization, but he gradually learns to harness his powers. Jonathan reveals to a teenage Clark that he is an alien, and advises him to not use his powers publicly, fearing that society will reject him. After Jonathan's death, an adult Clark spends several years living a nomadic lifestyle, working different jobs under false names.
Follow @timesonlinelk
comments powered by

Disqus