French Spring with cinema
View(s):

Celebrating the French Spring Festival in Sri Lanka, the French Embassy presents a festival of cinema at BMICH on July 12 and 13.

The festival with five movies will be opened with the critically acclaimed "Flying Fish" (invitation only) directed by young Sri Lankan filmmaker Sanjeewa Pushpakumara and four other films will be screened on July 12 and 13 at 4 pm and 6.30 pm at the BMICH .

The Film which took part at the 3 Continents International Film Festival in Nantes, France, in 2011, had the honour, this year, of a special screening at the Cinémathèque française in Paris, one of the temples of cinema. Besides, Sanjeewa Pushpakumara's short film "Unforgiven" was selected for Cannes International Film Festival in May. He is currently in Paris preparing his new feature film "Burning Birds". The film won the Best Asian Cinematographer 2011, Asian Film Awards, Hong Kong and
Best Asian Film, NETPAC award, Bangalore nternational Film Festival 2011.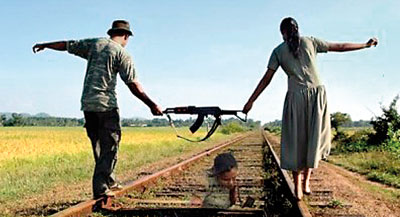 Along with the exhibition Water at the Heart of Science, a selection of short movies made by Agenda 14 on the theme of water will precede each film. The other four French movies presented are all recent and box-office hits in France which are being shown for the first time in Sri Lanka.
The Tree (L'Arbre) directed by Julie Bertucelli (2010) will be screened at 4 pm on July 12.  It revolves around Dawn and Peter O'Neil who live together with their children, on the outskirts of a small country town. Next to their rambling house stands the kids' favorite playground: a giant tree, whose branches reach high towards the sky and roots stretch far into the ground. Everything seems perfect until Peter suffers a heart attack, crashing his car into the tree's trunk. Dawn is devastated, left alone with her grief and four children to raise. Until one day, 8-year-old Simone, reveals a secret to her mother. She's convinced her father whispers to
her through the leaves of the tree and has come back to protect them.
The film was nominated Best Actress in a leading role, Best Adaptation, Best Music – Cesar 2011 and Out of competition – Cannes International Film Festival 2010.
The Minister (L'Exercice de l'Etat) by Pierre Schoeller which is scheduled to be screened at 6.30 pm revolves around TTransport Minister Bertrand Saint-Jean who is awoken in the night by his chief of staff. A bus has fallen into a ravine. He must go on site, he has no choice. Thus, begins the odyssey of a statesman in an increasingly complex and hostile world. Speed, power struggles, chaos, economic crisis … Everything connects and conflicts. One emergency chases another. For which sacrifices are men ready? How far will they keep on going, in a State that devours those who serve it?
The film was officially selected in Un certain Regard section – Cannes International Film Festival 2011
The Painting (Le Tableau) by Jean François Laguioni (2011) will be screened at 4 pm on July 13.
A château, flowering gardens, a threatening forest, that is, for mysterious reasons, a Painter has left incomplete. Three kinds of characters live in this painting: the Toupins, who are entirely painted, the Pafinis, who lack a few colors, and the Reufs, who are only sketches. Considering themselves superior, the Toupins take over power, chase the Pafinis from the château, and enslave the Reufs. Convinced that only the Painter can restore harmony by finishing the painting, three characters, Ramo, Lola, and Plume, each of them member of one of the three communities, decided to go on search for him.
The film was nominated for Cesar of best animation movie – Cesar French awards 2012.  The Snows of Kilimanjaro (Les Neiges du Kilimandjaro) directed by Robert Guédiguian (2011) will be screened at 6.30 pm on July 13.
Despite having lost his job, Michel lives happily with Marie-Claire. These two have been together for thirty years. They have very close friends. They are proud of their union and political struggles. This happiness is deeply affected when two young armed and masked men beat them, tie them up, tear off their wedding rings, and flee with their credit cards. Their distress is even more
brutal when they learn that this wild attack was organized by one of the young co-workers just laid off with Michel.
The film won the Best Actress in a leading role – Cesar 201 and was officially selected in Un certain egard section – Cannes International Film Festival 2011
Follow @timesonlinelk
comments powered by

Disqus