For the little ones
View(s):

We're shopping for the kids, this week on Take 3. It's all car seats and strollers, three piece suits and ballerina outfits, feeding bottles and bibs. Does the one stop shop really exist? Here's what you need to know.

Elegant Smockers

No. 323B, Havelock Road, Colombo 6
Tel: 112 597 197
Web: www.elegantsmockers.com

About 90% of the things on sale at Elegant Smockers were designed and made in-house, says owner Neshard Deen. His wife Mazeena Deen used to make beautiful clothing for their two little girls. When she found herself fielding requests from other parents to do the same for their kids, the Deens were inspired to open their own store. They began quietly and simply by selling only four kinds of products. Elegant Smockers has since become something of a favourite with local parents – expanding so that they have a store in Kandy as well as Colombo and today hire nearly 60 people to keep the business running.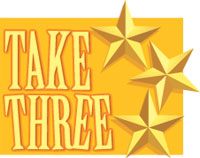 They offer "basically everything you'd need for a new born." This includes a range of furniture, (we see a teak bed priced at Rs. 36,000) that fits neatly into the nursery themes that come with matching sets of furniture as well as linen, wall art and accessories. They have 12 different themes you can choose from, says Neshard, adding that they have a corresponding number of cot designs. Cots are priced between 29,000 and 45,000.
The age range covered in the clothing range is from newborn to nine years old. Browsing through the store, we spot little cotton baby tops for Rs.300, boys denim coveralls for Rs.650 and full blown, gauzy party dresses for Rs. 1850. Simple bibs cost Rs. 175. Elegant Smockers doesn't have quite the same range of clothing that Angels and Bratz has for instance, though they're willing to customise clothes for special occasions. Parents willing to spend up to 25% more on their baby's outfit can have a christening robe designed especially for them – readymade, handsmocked robes complete with booties typically cost 2,000 to 3,000 at the store.
Angels and Brats Children's Boutique
No.27, Havelock Road, Colombo 5. Tel: 011 258 1428
Web: www.angelsandbrats.com
When we drop in for a visit Angels & Brats on Havelock Road, they've just completed a renovation and are looking good. Their focus is children's clothing and they cover an age range from newborns to 14-year-olds. They're proud of their range of 1st birthday clothing (prices start at Rs.1400) and their exclusive hand smocked dresses, each one of a kind, and starting at Rs. 2000.
Though you might need to restrain him to have him to keep it on, there are a full set of tails, complete with a vest and a bow tie available for your little boy (Rs.4000). The management say they're willing to take on character and concert costumes as well (even at fairly short notice) and that they charge upwards of Rs. 1000 for these depending on the complexity of the costume. Scattered all over the store are shoes that go from the practical to the sequin studded party wear and cost Rs.1000 upwards.
In one corner of the store are racks of dance outfits – including the fluffy little tutus that are every little ballerina's dream. There are also leotards, shoes and accessories.(Prices begin at Rs.500.) These are so much in demand that they intend to begin stocking dancewear imported from the UK later this year.
As part of their renovations, they've added an upstairs floor and though they're not open for business the day we stop by, we're told that they will be stocking tween clothing and accessories as well as school uniforms and essentials up there. Books, toys, party supplies and 'loot bag fillers' are also promised.
They are also hoping to launch an exclusive baby range but in the meantime still sell exclusive christening and 40th day robes. Prices begin from Rs.1500 but we spot delicate little sets complete with booties and a bonnet for Rs. 4500.
Mothercare Sri Lanka
No. 7, Duplication Road, Colombo 5. Tel: 011-5 882 882.
Web: www.mothercare.com
It's easy to be distracted by the amenities at the two-storey Mothercare store on Duplication road – there's a lift to take you between floors, a lot of signage and baby changing rooms. Kids are likely to go nuts when faced by the Wall of Toys.
We're tempted ourselves to break the dinosaurs out of their packaging, play with the most elaborate kitchen set we've seen and take a turn at the mike and drum kit. Unfortunately, our budget just won't allow it but if you're willing to spend you're likely to be happy with the high quality of what you buy. We're told by the management that everything in the store, including the shelving, is imported directly from the UK.
The British franchise has been brought to Sri Lanka by Softlogic and they pride themselves on being a one stop shop for parents. They're very serious about this and sell everything imaginable really, from strollers to maternity wear. You'll find clothing for children between the ages of 0 to 9. Outfits for newborns cost between Rs.850 to Rs.4,500, for baby boys and girls between Rs 850 to Rs.5,500 and for older kids between Rs.1,000 to Rs.7,000. The range in items like strollers is considerably wider – from Rs.12,000 to Rs.150,000.
The Early Learning Centre is really the nicest part of the store. For the ignorant or merely the hurried shopper, they've obliging categorised all the toys by age group. You can buy simple toys for Rs.850 but prices go as high as Rs.45,000. The verdict? A good place to hand pick a few essential items, even if you can't afford to stock your entire nursery with their products.
Follow @timesonlinelk
comments powered by

Disqus