Celebrating all things French at Cinnamon Lakeside
View(s):

In celebration of the French National Day, Cinnamon Lakeside Colombo joins hands with the French Embassy in Sri Lanka and Alliance Française de Kotte to present the French Spring Festival in Sri Lanka which celebrates French cuisine, culture, music and the arts.
7˚ North, one of Colombo's trendiest bars kick started the French Spring Festival with a performance by the French Caravan Quartet.
Cinnamon Lakeside Colombo harnesses the talent of its very own French Executive Chef Martin Becquart and a special guest Chef Jean Philippe Abbate to plan the gastronomic element of the French Spring Festival starting in the month of July.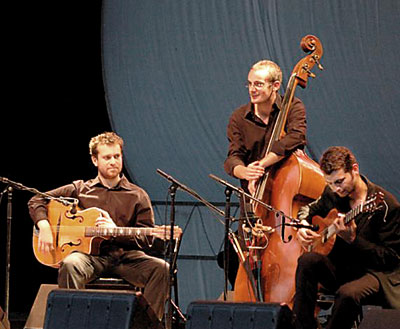 Chef Becquart has a wealth of international experience under his belt from countries in all corners of the world. Guest Chef Jean Philippe Abbate counts over 35 years of experience in the culinary industry and displays exceptional skills in creating poultry, fish and seafood dishes.
Chef Abbate's love for Asian Cuisine has taken him to many countries in the region and he arrives in Sri Lanka with the hope of creating memorable dining experiences for all those who visit Cinnamon Lakeside Colombo from July 1 to 15.  The French Gastronomic Weeks titled "Bon Appetit" spans from July 1 to 14, 2013 at the Dining Room, Cinnamon Lakeside Colombo. To ensure a seat at themed dinners such as these, a reservation can be made on 112491930.
The French Patisserie High Tea at The Lounge during the month of July, will be an ideal way to savour the classics of French pastry alongside contemporary Parisian treats encompassing tea time savouries, sweets and hot and cold beverages to compliment. The Lounge may be contacted on 112491945 for reservations.
Follow @timesonlinelk
comments powered by

Disqus