History
View(s):

This article is part of a continuing series on the 'Mahavamsa,' the recorded chronicle of Sri Lankan history

Once the Sinhala army fled, the Portuguese captured that fortress. Then they organized to march to the city of Senkadagala (Kandy) and started their march. On hearing that the Sinhala army had besieged Thalampitiya, Azavedo immediately sent Pinno and his army there.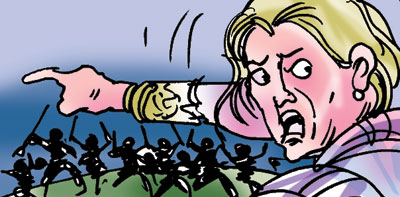 The general was awaiting the return of Pinno with a lot of hope. Meanwhile, the Sinhala army that was with the Portuguese, fled one night with Kangara-arachchi as their leader. There arose a lot of disorder in the camp due to this.
Nevertheless, General Azavedo took care to act according to the situation. That night itself, he sent messages to Attapitiya, Menikkadawara, Ruwanwella, Sitawaka and Colombo. They decided to retreat by dawn. A large Sinhala army arrived, even before day-break.
These soldiers who came drumming and singing war songs, besieged the fortress. The general was able to protect the main road that led to Ganetenna. He left a contingent of soldiers, to block the forward march of the enemy, emptied the camp and fled through the enemy.
When they were on their retreat march, they met Pinno's army. Pinno, who understood the situation, ordered his army to go to their help. At this time, most of the mercenary soldiers fled, leaving Pinno.
Follow @timesonlinelk
comments powered by

Disqus