Golden Key depositors cry foul over Central Bank's action plan
By Bandula Sirimanna
View(s):
- Around 2000 depositors are out from the action plan
- Rs.1.2 million deposit value each of around 3000 depositors reduced to Rs.300,000
- Rs. 3.3 billion loss for depositors due to wrong calculations
- Rs.1.15 billion credit card bill of 6268 non depositors deducted from the value of security deposits
- Devising a repayment methodology using wrong and misleading data
- Ignoring Ernst & Young's audit report and GK computer system records.
- Actual outstanding amount was not 41 per cent of the value of security deposits but 49.2 per cent
- Discrepancies in computations due to using wrong data
- 28 depositors have committed suicide so far
The Central Bank (CB)'s plan of action for the collapsed Golden key Credit Card Company (GK) will not be able to save a large majority of disgruntled depositors from the misery they are encountering at present. It only provides benefits for a handful of elite depositors who have deposited massive amounts of money at high interest rates, GK depositors alleged.
They noted that the repayment methodology devised by CB officials was based on wrong and misleading facts and figures and also without considering accurate repayment details of the Supreme Court-appointed Ernst & Young audit firm's investigative report and GK computer system records.
According to the new action plan, around 2000 security deposit holders whose balances amounted to Rs. 487,805 before setting off the rebate would now be deemed to have been settled in full since payments of up to Rs. 200,000 have already been made. The security deposit holders (investors) who had already been paid 41 per cent or more of their outstanding balances will be considered as fully settled under this plan.
Around 3000 depositors who have individual balances amounting to around Rs. 1.22 billion will be left with the outstanding balance of Rs. 300,000.
President of the GK Depositors Hope and Solidarity Organisation Jude Marco Perera and Secretary of the GK All Depositors Association Malcolm De Silva who have made a comprehensive analysis of the action plan with the help of several qualified accountants told the Business Times that in addition to reducing the rebate, the CB's action plan has cut an additional sum of around Rs. 3.3 billion from their deposits.
They disclosed that credit card outstanding, loan balances and Sarana Fund payments of 6268 non depositors with GK credit cards amounting to Rs. 1.15 billion had been deducted from the total value of security deposits.

Actually this money should be recovered from these non depositors, not from disgruntled depositors, they added.
They alleged that under the new plan the majority of depositors will not get a single cent.
Mr. Perera noted that when he brought these discrepancies in the action plan to the notice of a top CB official, he was told that although there were some mistakes nothing can be done now.
According to the payment plan, all current individual net balances up to Rs. 300,000 will be retained within the security deposit holder's account. If the balances is in excess of Rs. 300,000, 33.3 per cent of it will be retained in the security deposit holder's account and the balance 66.7 per cent will be converted into shares of GK. Under this set up depositors will not get a single cent, they complained.
In a letter dated June 26 to President Mahinda Rajapaksa, Mr. Perera pointed out that this plan is aimed at providing benefits for a few privileged depositors who have already obtained massive loans using credit cards.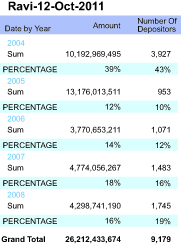 They were of the view that this action plan was a conspiracy aimed at tarnishing the image of the President who took genuine efforts and issued directives to the CB to find redress for disgruntled depositors.
According to GK computer records, the company has paid high interest rates ranging from 18 to 35 per cent for depositors who have invested large sums of money and favourites of former Ceylinco/GK boss Lalith Kotelawala and well known persons while others received lower interest rates of around 18 to 24 per cent.
Therefore deducting 59 per cent from the deposits of all depositors treating all of them alike under the new action plan is unjustifiable, they alleged.
Mr. Perera noted that justice could be done to all of them by deducting the rebate considering the total balance outstanding of each and every deposit holder without cutting 59 per cent from the deposit as a flat rate.
On the other hand, the security deposits actually outstanding were not 41 per cent of the value of security deposits but 49.27 as per the computer system and the auditors' report of the GK, he added.
Therefore the actual deduction should be 50.73 per cent and this shows the inaccuracy of the CB's Action Plan, he revealed.
According to the Ernst & Young Report the value of security deposits of 9187 depositors at the time of the closure of the company was Rs. 26 billion. The value of the net balance amount of 8171 depositors who made requests for repayment from the Central Bank after deducting loan balances and Sarana Fund payments was Rs. 25.3 billion.
The value of deposits of 1016 depositors who have not made requests for repayment and received payments under the Sarana Fund was Rs. 741.71 million.
According to the audit report the total rebate expenses was Rs.1.32 billion.
But the action plan has failed to properly use these correct data for the computations, he alleged.
According to the action plan it has been indicated that the number of depositors who are entitled for a certain repayment was 6254 and the balance amount outstanding was Rs.7.28 billion.
Therefore the depositors urged the President to intervene in this matter once again and provide a reasonable solution to this matter cancelling the CB's plan of action.
When GK collapsed in December 2008 and as the details of fraudulent practices of the company unveiled in court, horrified, depositors have now been made to understand that soon their monies would be confined to mere numbers on a piece of paper as a result of the biggest white collar crime ever committed in this country.
So far 28 depressed depositors have committed suicide as they couldn't live without any income and because they had lost their hard earned money.Most of the depositors including elderly citizens are leading miserable lives as they have no stable income.
Follow @timesonlinelk
comments powered by

Disqus