Royal to apologise over 'Haka' fracas
View(s):

The Principal of Royal College, Colombo Upali Gunasekera made a formal apology to his counterpart at Trinity College, Kandy this week for the behaviour of the school's First XV rugby football team at last week's second leg Bradby Shield game and tomorrow, the team's captain and vice captain accompanied by the Head Prefect will travel to Kandy to formally apologise to the Trinity First XV for their conduct.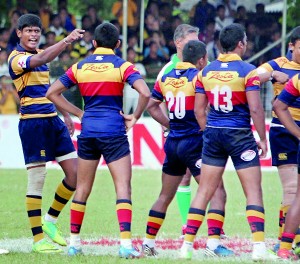 This decision was taken following an urgent meeting of the Royal College Games Council and senior representatives of the school's (old boys) Union presided over by the Principal last Wednesday following complaints by old boys that the behaviour of their team intimidating the Trinity players who were performing the New Zealand 'Haka' war dance before the commencement of the match, was unbecoming.
The conduct of the Royal players for not keeping to the 'spirit of the game' at the oldest schools rugby fixture in Sri Lanka came in for widespread criticism, including from Royal College old boys who had asked the Principal not to award colours to the players for bringing disrepute to the school.
After a lengthy discussion, it was felt that not awarding colours was too harsh a step by the players and instead, a formal apology be tendered to Trinity College by the Principal and the seniors in the team.
At the meeting it was also decided to counter reports in some media that the Trinity authorities had given prior notice to the Royal camp that their players were going to perform the 'Haka' before the game began. There was no advance notice given, they were told. However, the Royal authorities took note of the fact that the Royalists crossed the centre line into Trinity territory while the 'Haka' was being performed and made bodily contact with their opponents which was a serious breach of sportsmanship.
Royal College won the game in a hard fought Colombo contest 13 to 8, but lost the Bradby Shield on the aggregate score following their heavy defeat in the 1st leg of the match in Kandy a fortnight earlier 25-37.
Follow @timesonlinelk
comments powered by

Disqus