Indians here to help Lankan donkeys
By Malaka Rodrigo
View(s):
A group of conservationists from India were here last week to look into the welfare of donkeys in Mannar. The group consisting of veterinary surgeons from the Donkey Sanctuary India – an international charitable organisation devoted to the welfare of donkeys–treated some sick donkeys found roaming in Mannar town.The programme was conducted in collaboration with the Mannar Urban Council (UC) and several NGOs operating in the area. The Indian team visited Sri Lanka last November for an initial assessment.
Mannar Urban Council Vice Chairman James Jesuthas said these stray donkeys especially in the Mannar town area had become a problem for the people. The animals too meet with road accidents. Therefore he said the UC had decided to initiate a programme with the assistance of Indian expertise.
Donkeys are not native to Sri Lanka and it is believed that Arab traders brought them to Sri Lanka. Back then people began to rear donkeys because it was believed that the smell of their dung kept away harmful insects from coconut plantations. However with the advancement of technology man had little use for donkeys. However these animals adapted to local conditions and they still exist as feral populations in Mannar and Puttalam.
Mannar is home to about 1000 animals. According to an NGO, Diaspora Sri Lanka that carried out a census in 2012 the town area had more than 300 donkeys. According to the head of this organisation Jeremy Liyanage the animals in the town area were facing difficult times, eating garbage to survive and becoming victims to road accidents. The animals are known to chase each other especially during the mating period leading to traffic accidents. During the drought period when the food and water are scarce, they become a nuisance to the people.
However from a tourist angle many people visit Mannar to see these animals roaming the streets. Mr. Liyanage stressed that the donkeys should be protected particularly as they are a tourist attraction as well as being a part of our history. In addition to treating some sick animals the Indian team conducted awareness meetings with government vets, community groups and local business people.
Mr. Liyanage said some people have the misconception that donkeys are aggressive and that they kick and bite. On the contrary it's a shy animal and avoids human confrontation, he said, adding that there were plans to tame some of the wild donkeys and hand them over to women's organisations to help with their projects. He believed this would help create a loving environment for these misunderstood animals.
Don't forget the ponies
The pony population on Delft Island is another group of animals that have got official Sri Lankan residential visa to go wild. These ponies were first brought to Sri Lanka by the Portugese who used the island apparently to breed them.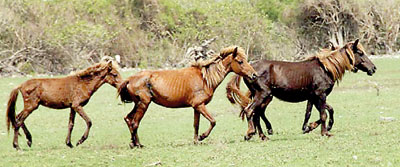 According to a recently published report by IUCN Sri Lanka the wild ponies were facing a threat of extinction due to overgrazing of pasture lands by the larger population of cattle. During the height of the dry season, high incidence of cattle and pony mortality due to the lack of adequate food and water has been reported. In addition some people capture foals and brand them in methods that sometimes lead to infections and eventual death.
The IUCN report also highlighted the possibility of promoting sustainable tourism on theisland based around its wild horses.
Wildlife Conservation Department head H.D.Ratnayake said there were about 400 ponies on Delft Island and the department was working on a management plan for their protection.
Who owns the donkeys, wild horses?
Donkeys and ponies are usually tagged as domestic animals and not wildlife. The definition of 'domestic' animal is one which has an owner, thus not applying to donkeys or horses that are feral and without owners.
Mr. Ratnayake said the wildlife department has now identified these feral animals as those who need protection. "It is true that these animals were introduced to Sri Lanka, but now they are 'naturalised' in Sri Lanka. So the department is working on proper management plans for both feral donkeys in Puttalam, Mannar and horses in Delft Island. A special area dedicated for donkeys is also being contemplated," he said.
Follow @timesonlinelk
comments powered by

Disqus