7 things you should know about heart attacks
By Smriti Daniel
View(s):
As the Chief Medical Officer for the local emergency service Falck, Dr. Steve Cockeram will tell you that a heart attack, or myocardial infarction, is one of the most common (and most preventable) causes of premature death and severe disability in Sri Lanka. Heart attacks are already responsible for a third of deaths – worryingly this figure is likely to rise significantly over the next decade.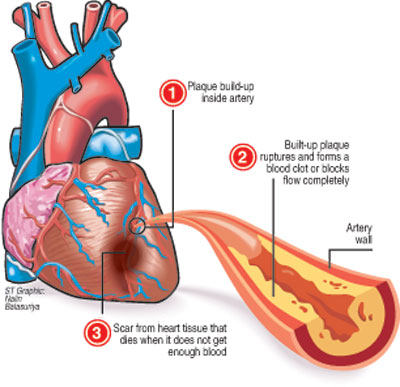 You're having a heart attack when a blood vessel in the heart is abruptly blocked, depriving the organ of oxygen and precipitating a crisis. "Without oxygen the heart muscle cells or myocardium start to die or infarct leading to heart failure or sudden death," explains Dr. Cockeram.
How will you know if you are having a heart attack? This week we speak with Dr. Cockeram about the common symptoms people experience (and sometimes ignore) as well as the one simple thing you could do to save your life or that of someone you love in this emergency.
Here are 7 things you should know about a heart attack:
1: Living a healthy lifestyle can reduce your chance of having a heart attack. Regular exercise, stopping smoking, eating plenty of fruit and vegetables and reducing fat and oil in your diet all help, as does a little red wine from time to time! Exercise should be of an aerobic type such as walking, jogging, swimming or cycling. If you have not exercised in a long time and are over the age of 40 years then it is best to get a check-up first. Gradually building up the intensity of your exercise routine over a period of weeks is ideal.
2:Your individual risk of developing a heart attack can be assessed quite easily. Your 10 year risk is calculated using your age, sex, smoking status, blood pressure, total cholesterol, HDL cholesterol and diabetic status. Ask your physician to calculate your risk before starting preventative drugs to ensure that they are necessary. A 10 year risk of 20% or more is usually considered moderate, 30% or more is high risk. Individuals at high risk may benefit from taking a cholesterol lowering 'statin' medication even if their cholesterol level is normal. If any close family members have had a heart attack at an early age then you may also have a higher than average risk, so discuss this with your physician.
3: Typical symptoms of a heart attack include: chest pain, discomfort or heaviness. This may spread to the arms, neck or back. Difficulty breathing, breaking into a cold sweat and nausea are also common. Often the person having a heart attack may deny that there is anything seriously wrong. Severe chest pain continuing for more than 5 minutes despite resting quietly should always be taken very seriously.
4: Women and people with diabetes may not suffer the typical "elephant sitting on my chest" pain. Often other symptoms like feeling faint, nauseous, extremely tired or stomach pain may be the main problems experienced. These symptoms should never be ignored as a delay in receiving treatment could be the difference between life and death.
5: Chewing an aspirin could save your life! It may seem strange, but one of the most effective treatments for a heart attack is the humble aspirin tablet. As long as the sufferer is not allergic to aspirin and does not have active bleeding, one 300mg tablet can be chewed and swallowed immediately. Studies show that this simple remedy is as effective as some treatments that cost tens of thousands of rupees. Of course chewing an aspirin is not a replacement for getting medical attention.
6: A suspected heart attack is a medical emergency. Do not delay calling for help. In general the patient should not be allowed to exert themselves and will need prompt assessment to determine if hospital treatment is needed. The latest 'clot-busting' thrombolysis drugs or emergency angioplasty can rapidly restore the flow of blood to the heart muscle thereby reverse the damage to the heart, if given fast enough. In fact, in some countries, the clot-busting injections are given by ambulance paramedics after taking an ECG in the ambulance. This helps to avoid delays that could happen in the hospital emergency unit.
7: Coronary Heart Disease (CHD) is the leading cause of heart attacks and it manifests when the coronary arteries get clogged up with plaque or cholesterol deposits. Treating CHD can involve not only drugs but surgical procedures like open heart surgery and angioplasty. However, there is no cure for CHD.  You could always have a second heart attack, despite having been treated successfully for your first. Lifestyles changes, adhering faithfully to your medication regimen and visiting your doctor for regular check-ups can help ensure you stay healthy.
Follow @timesonlinelk
comments powered by

Disqus