Stuck on 13
View(s):

My Dear Mahinda maama,

I thought of writing to you when I heard that you had suddenly decided to amend the Constitution yet again and withdraw some of the powers given to the provinces under this very, very, unlucky thirteenth amendment. Pardon me, Mahinda maama, I think you must have been really worried about Uncle Champika and Uncle Wimal shouting themselves hoarse about this and crying 'wolf' and that is why you decided to change the Constitution again.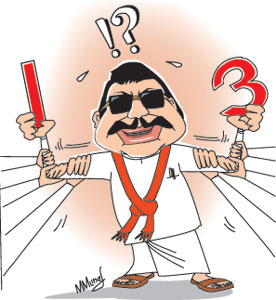 Of course, there are those who say that this is what you wanted to do all along and that Uncle Wimal and Uncle Champika were puppets on a string who danced to your tune, but don't worry, Mahinda maama, I won't believe them. After all, there you were a few months ago, solemnly assuring our neighbour India that you would not only grant the thirteenth amendment, you would in fact give much more which is why they then began to call it 'thirteen plus'.
Now would you, being the good Buddhist that you are who observes pansil every morning, noon and night, lie to the country that gave us Buddhism? No, Mahinda maama, of course not and those who say you did that are only trying to discredit you! Then who can forget the time those nasty Canadians and the Brits were trying to pull the rug from under your feet when you had already made such elaborate preparations to stage the Commonwealth summit in Sri Lanka and show the world who the Boss was in this part of the world?
Even then, it was India which came to your rescue, when their diplomats worked behind the scenes to ensure that you will play host to the Commonwealth summit this year, even if Old Lizzie thought of giving this one a miss.
But a little bird whispers that India wanted a guarantee that you will go ahead with elections in the North with nothing less than the thirteenth amendment and that you readily gave them that assurance-little realising that you are from the other side of the Bentara Ganga!
From what we hear, Mahinda maama, this is a stroke of pure genius: you give them the elections they ask for, you give them the thirteenth amendment that they asked for but instead of it being thirteen 'plus' it will be thirteen 'minus' land and police powers!
What good is that, they will ask, and of course the answer is nothing. But what they don't realise is that you get to tell the rest of the world that you have held elections to the North and shown your commitment to democracy-and if they don't want that, that shouldn't be your problem!
Now, some people tell me that there is a slight chance that you will not have a two-thirds majority to see these changes through the House by the Diyawanna Oya because the old leftist chaps and young Hakeem may not agree with what you are planning to do.
I don't think you should worry too much about it, Mahinda maama, because the old leftists, unlike their distinguished predecessors like N.M., Colvin, Dr. S.A and Pieter are a bunch of political has-beens who are willing to sing for their supper without any regard to principles.
As for young Hakeem, I don't think you should worry too much about him either. Many are the times he has threatened to quit but because you can always convince the rest of his clan to desert him and join you, he doesn't have much of a say at all in the affairs of his party now.
The Greens are in a dream world distributing a Constitution of their own with grandiose plans to abolish your office although they don't have a clue as to how they will win the next election-so you need not bother about them too.
The Reds will of course shout from the rooftops and organise a few protests with a few eye-catching slogans but the irony is that on this issue you are with them-they want this unlucky amendment removed altogether!
Therefore, Mahinda maama, you are left with India to deal with. I can't quite imagine Manmohan dropping parippu-at today's prices of lentils-like Rajiv did during JR's time, so I think they will make some disapproving noises for a while and then mind their own business.
Honestly I don't understand all the intricacies of these so-called 'land and police' powers. I tried listening to your Professor Gas Labu explaining them but that only made me even more confused. Yet, I understand why you are so cautious about distributing them willy-nilly.
Why, Mahinda maama, even when the Police are so well controlled from Colombo , your DIGs are going around allegedly extorting money and murdering people. Just imagine what they might get up to if you were to allow them to run amok in the provinces!
And then, even if they are finally brought to book, they will front up before judges who themselves are allegedly taking bribes. With a system like this, it is no wonder that you wouldn't want to give any authority to Sampanthan and his colleagues!
Yours truly,
Punchi Putha
PS-I know you are in a tight spot regarding the promises made to India about the 13th amendment. But if you really need help, you know who you should turn to? Arundika, of course; he will know how to spin a yarn in such a way that you almost believe that what he is saying is true!
Follow @timesonlinelk
comments powered by

Disqus