Sri Lanka; a haven for criminals
View(s):

Defence Secretary Gotabhaya Rajapaksa's claim during a recent address at the Kotelawala Defence 'University' that Sri Lanka is presently enjoying the 'full benefits of peace' sits strikingly at odds with the headline of the country's newspapers on any given day.

Complete degeneration of law and order

And to be clear, I am not talking in this instance of high profile 'terrorism' cases or even the military's excruciatingly intrusive role in the North and East under the guise of so-called 'civic-military' activities. On the contrary, this reference is to the South and in relation to what may be termed as 'ordinary' law enforcement. For example, the family members of the businessman who was robbed of millions by an armed gang last Saturday while carrying the money to be used for his daughter's wedding may not quite agree with the Defence Secretary's comfortable illusions. This businessman who was clearly traumatized by what happened, died of a heart attack not soon thereafter. Such incidents are not uncommon but fill daily news reports with highly disturbing regularity.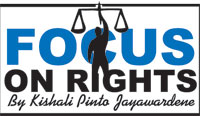 Certainly the issue therein is not the occurrence of crimes but the complete inability of the police to solve them. During the worst of the conflict years, though general law enforcement was never at its best, the degeneration that we see now was certainly not evidenced. Ironically enough, it is in the post war period that we increasingly see senior policemen being involved in perpetrating crimes with an astounding degree of impunity.
Powerful policemen untouchable by the law
The arrest of a much feared Deputy Inspector General (DIG) Vass Gunewardene for complicity in the contract killing of a businessman some weeks ago is just one symptom of a general pattern of politically powerful policemen and army personnel involved in criminal activities for sheer profit. This is a senior policeman who had been repeatedly implicated in instigation as well as cover-ups of torture and killings in the past but who received powerful patronage and was never brought to a reckoning. His unprecedented threat to the policemen who came to arrest him that he was a murderer and that he would deal with those who opposed him, shows how untouchable by the law he is. Understandably, many are cynical about this arrest, predicting that it will be quietly shelved when public interest in the case drops.
In its post-war years therefore, Sri Lanka resembles an exceedingly dangerous haven for politico-criminal activity rather than a peaceful island paradise as is sought to be made out by the country's Defence Secretary. Mr Rajapaksa's explanation, at this same event, that the Department of the Police remains within the supervision of the Ministry of Defence as part of a comprehensive National Security strategy, is therefore highly unconvincing.
His stand also continues to be directly contrary to the recommendation of the Lessons learnt and Reconciliation Commission (LLRC) as pointed out in these column spaces in the past. The LLRC's recommendation was not tossed into the report to fill up its pages. Rather, there were very good reasons as to why the Commissioners recommended that the police revert to its civilian authority without continuing within a military structure. Capturing the public goodwill through divesture of its military image, restoring civilian command and reorganizing effective internal disciplinary control within the Department were part of these reasons, no doubt.
The prevalence of breathtaking impunity
Indeed, the near total lack of internal disciplinary control within the Police Department has been one reason for international scrutiny into Sri Lanka's law and order status. As the United Nations General Assembly was informed in February 2008 'statistics relating to departmental lapses show that disciplinary proceedings are almost exclusively initiated against low-ranking officers; there is a determined unwillingness to hold police officers with command responsibility accountable for torture and killings engaged in by their subordinates, whether at the disciplinary or at the criminal level; this applies to both internal and external accountability mechanisms; in 2001, constables were found responsible for 86% of departmental lapses; superintendents were found responsible for only 0.04% of such lapses' (Sri Lanka Administration Report, 2001) quoted by the UN Special Rapporteur on Extrajudicial, Summary or Arbitrary Executions, Philip Alston; Mission to Sri Lanka, 28 November – 6 December 2005, E/CN.4/2006/53/Add.5, 27 March 2006, at para. 57, footnote 38).
What was prevalent in 2005 when that Special Rapportuer's report was written, has now increased a hundredfold. The extreme politicization cum militarization of police structures is impacting on ordinary people in a way that no one, not even the economically privileged, can protect themselves from. Moreover, the sheer impunity that prevails is breathtaking. So when thugs carrying bicycle chains and iron rods stormed the hostel of the University of Kelaniya in broad daylight to assault students last week, no perpetrators are arrested. There is no expectation either that effective investigations will follow. This is what is most frightening. In that context, how does the Defence Secretary justify the effectiveness of the supervisory control extended by his Ministry over this Department?
Catastrophic results of remaining silent
Some years ago, when a constitutionally functioning National Police Commission tried to discipline the police force, it was met with stiff resistance by the police establishment (retired as well as serving) along with politicians. The NPC was then systematically stripped of even a modicum of its integrity by the unconstitutional appointment of its members prior to being virtually done away with altogether under the 18th Amendment which condescendingly allowed its powers in regard to public complaints remain as a sop. As currently constituted, the NPC has no real authority whatsoever against corrupt and politically powerful policemen who act in tandem with underworld groups and criminal military figures.
Currently and quite contrary to the comfortable illusions that the Defence Secretary appear to be labouring under, what predominates is a general breakdown of law and order in Sri Lanka from the purely inane to the intensely serious. It is a heavy but inevitable that we have had to pay for remaining silent when the 17th Amendment was virtually abolished and the National Police Commission (NPC) was ruthlessly emasculated by this administration. And each and every one of us is liable at any given moment of the day, to suffer from its catastrophic results. In truth, this is the reality.
Follow @timesonlinelk
comments powered by

Disqus