Boxful of Helapas for Lokubandara's wife
View(s):

Boxful of Helapas  for Lokubandara's wife

One time Speaker of Parliament and now Sabaragamuwa Province Governor, W.J.M. Lokubandara is known for his love for traditional habits. When he was a Cabinet Minister, a staffer at his residence was trained to answer the telephone by saying "Ayubowan, Mahathmaya or Mahathmiya" as the case may be.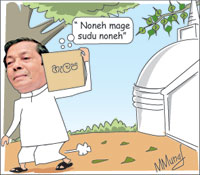 Last Tuesday he was at the Getaheththa Temple where President Mahinda Rajapaksa took part in a religious ceremony. Before it began, the VIP guests were entertained to tea where a table was laid with several local delicacies. When that was over, they returned to another part of the temple for the function. However, Mr. Lokubandara returned to the tea table again.
"Aney mey helapayak othala dennako apey nonata geniyanna, (Please wrap a Helapa – a traditional sweet covered with a leaf — to be taken to my wife)," he told the monks and laymen there. He received not one but a boxful of Helapa. One of the monks remarked "remember, the next time he comes, we must be ready with more Helapas for our Agraandukarathuma (Governor)," he said.
MCNS grazing in the grass
The Media Centre for National Security (MCNS) has sent out a media advisory for what it calls a "Multi National Task Force Standing (instead of Standard) Operating Procedures" or MNF SOP.
Fifteen nations in the Asia Pacific region are taking part in the event.  That howler is bad enough. Here is more: "The opening ceremony of this workshop will be grassed by the Chief of Defence Staff at 07.30 a.m. on 17th June 2013″.
Obviously what was meant to be said was "graced." The Oxford English Dictionary defines grass, among other things as, Cannabis or better known in Sri Lanka as Ganja. On the other hand, a more common reference would be to green grass, eaten by cattle. Worse enough, a senior official has placed his signature to the Advisory evidently without realising the embarrassing errors.
Solidarity protects drunken CM
Four Chief Ministers met for a talk show on a private television channel.  During a break, as they chatted, the discussion was about an inebriated chief minister who created a furore during a flight.
"Kawda Machan mey pissu netuvey kiyana Maha Amathi (Chum, who is the Chief Minister who had gone mad)," asked Mahipala Herath, CM of the Sabaragamuwa Province. The trio with him – Athula Wijesinghe (North Western), Prasanna Ranatunga (Western) and Shan Wijelal de Silva (Southern) burst into laughter.
No one would say which colleague of theirs figured in the drunken ordeal.
Kidney epidemic: The invisible hands of fertiliser agents
The issue was the rapidly mounting incidence of Chronic Kidney Disease (CKD) particularly among the people in the North Central Province. Agriculture Minister Mahinda Yapa Abeywardena had forwarded a cabinet memorandum on the matter identifying issues and recommending measures to be taken.
"Mine will come next week. Wait till then, wait till then," exhorted Local Government and Provincial Councils Minister A.L.M. Athaullah.  The move drew strong protests from Ministers Dinesh Gunawardena and Wimal Weerawansa.
Mr. Gunawardena urged President Mahinda Rajapaksa to accept Mr. Abeywardena's cabinet paper. "We will see when you present your paper," he told Mr. Athaullah. Government officials preparing Mr. Athaullah's latest paper complain that a fertiliser agent is among those who want some provisions included. However, sources close to the Minister dismissed the claim.
They now wait for the second paper to see whether the hands of a party reportedly responsible for CKD — those who sell fertiliser with harmful chemicals — will see the light of day.
President calls Ranil: Full probe on Balapitiya attack
Last Wednesday evening, Opposition UNP leader Ranil Wickremesinghe received a telephone call from President Mahinda Rajapaksa.
It was to assure him that the Police would conduct an impartial inquiry into the unsavoury events he faced in Balapitiya. Even the politician who was reportedly involved, a person described as close to the President, would also be questioned by the Police. Mr. Rajapaksa condemned the attack.
It was Mr. Wickremesinghe's alert security detail and a few police officers on the road side that prevented a mob, said to be backed by a politician, from assaulting him. They had opened the door when the security detail pounced on would-be attackers in Balapitiya.
Mr. Wickremesinghe had planned to visit the homes of fishermen who died due to the recent strong winds and heavy rains. He had done so in Maggona and Beruwala and was in Balapitiya when the incident occurred.
Mr. Wickremesinghe's security detail had advised him not to travel to homes in Balapitiya since mobs had surrounded them and were planning to cause him harm. He was en-route to Ahungalla for a seminar when the incident occurred.
Yoga helps Namal play rugby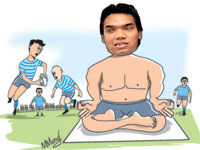 Plans to hold a youth conference in Hambantota when the Commonwealth Heads of Government Meeting (CHOGM) gets under way in Colombo in November are afoot. Parliamentarian Namal Rajapaksa took a team from the Commonwealth Secretariat on a tour of Hambantota where the event is to be held.
When it came to lunch time, the visitors were taken to the Peacock Beach Hotel overlooking the sea.  At the table, Commonwealth officials saw young Rajapaksa using his fingers whilst they dug into their food with fork and spoon. One of them observed that he had only served vegetarian dishes.
"How do you play rugger by only eating vegetarian food," he asked Namal. "I am also a practitioner of Yoga almost on a daily basis. That helps," he replied.
Follow @timesonlinelk
comments powered by

Disqus