Competition reaches tail-end but vote war rages on
View(s):

The 34th Bata-the Sunday Times Most Popular Schoolboy Cricketer of the Year 2013 competition has almost reached its end, as the contest competes its 18th week today.

With just two more weekends to go before its completion, organizers have decided to release the top ten contenders of each category. In addition, the final coupon of the 'Most Popular' competition will appear on May 23 in our sister publications, the Daily Mirror and Lankadeepa. But readers will get the opportunity to use those coupons until 12.00 noon on June 3, which is the set deadline of the competition.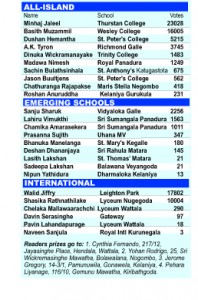 Coming back to the competition, Minhaj Jaleel of Thurstan College seems to be under pressure. The main cause is Wesley College allrounder Basith Muzammil, who stormed into the competition two weeks ago and has steadily accelerated Jaleel's heartbeat. By this week, Jaleel should be feeling it intensely.
Last weekend the deficit between Jaleel and Muzammil was 10877 but by this weekend the Wesleyite's tally swelled by 4629 votes as the gap came down to 7023. Next week will be crucial for both competitors as their respective tallies will determine the order of the final outcome.
This week Jaleel added 775 to reach 23028 but Muzammil received 4629 votes to make it to 16005.
The remaining competitors remain in the same positions as last week having made less impact on the number of votes received. The notable development for the week was Maris Stella's Chathuranga Rajapakse climbing two slots to reach the ninth place, dislodging Damindu Ashan of Royal College Panadura from the top ten.
Follow @timesonlinelk
comments powered by

Disqus