The spirit of young people
View(s):

Parampara Image JA/YESL Company, formed by participants of HSBC's flagship corporate social responsibility programme, wins eight accolades at the Future First Awards

Parampara Image JA/YESL Company of Peraliya proudly walked off with eight major awards at the 'Future First Awards' ceremony held in March at the BMICH in Colombo.  Winning the 'Most Outstanding Company of the Year', 'Most Outstanding Entrepreneur of the Year — Future First Programme', 'Business Plan of the Year', 'Annual Report of the Year', 'Secretary of the Year' in addition to a few others, Parampara Image came out with flying colours among the 1,000 participants recognised by the 'Future First Programme'.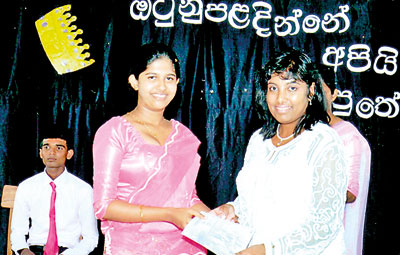 Two students from Parampara Image JA/YESL Company receive their awards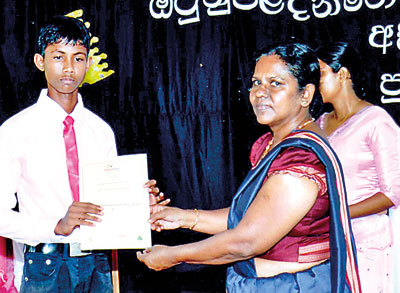 'Future First' was HSBC's flagship corporate social responsibility programme to improve the quality of life of 1,000 less-privileged children under the theme 'Investing in our children through entrepreneur education' at 10 schools and centres. This five-year programme, was funded by the HSBC Global Education Trust and HSBC Sri Lanka and implemented by the Young Entrepreneurs Sri Lanka (YESL), affiliate and franchise holder for 'Junior Achievement Worldwide'.
The 'SOS Family Strengthening Centre' at Peraliya, near Galle, a village ravaged by the tsunami of 2004, was chosen as a recipient of the 'Future First Programme'. SOS founded by Austrian Hermann G. Meiner and now a global network of villages and centres was one of the organisations that came forward to help Peraliya soon after the tsunami and founded the Family Strengthening Centre there. Soon after, HSBC and YESL joined hands with SOS to help Peraliya. In 2008, children who are members of the SOS Family Strengthening Centre, Peraliya followed the Future First Programme which concluded in March this year.
During the five-year period, the children graduated from learning the basics of personal and family economics to running a 'True to Life Company' at high school level. Having successfully completed the elementary and middle school levels these enterprising and dynamic youth reached the company stage of the JA/YESL Practical Business, Economics and Entrepreneur Education Programme and formed the Parampara Image JA/YESL Company.
Not only have they produced high quality, popular goods via a very efficient production line, they also offer the services of a highly talented dance and drum troupe, with the objective of continuing the company. Their success is due to networking with village and Provincial Council officials, while good market research and strategy have also been a contributory factor.
Their products are unique — Cherry Cherry key tags made of polished and painted domba seeds; Hinchi Pinchi key tags and Swabhavika secret pencil purses of coconut matolou; Dedunu Sundarai vases of clay; Wasanawe Valampuri small conch-shaped sea shell pendants on cords; Athagili Siyumali Viyaman are plaited friendship bands; Parampara Sith Ru etchings on tin foil; and the tasty Kirala drink.
The Parampara Image Dance Troupe offers a wide repertoire of traditional and modern dance items.  Displaying their own CSR, the company, with the help of donors and its own profits built a toilet for a family in the village.
Meanwhile, a felicitation on the theme 'Oba nisai puthey api otunu paladinney' ('We have been crowned because of you') for Parampara Image winners was organised by their parents and SOS Staff at Peraliya. The Prashasthi community-based organisation was also involved in the felicitation while the compere on the occasion was Malsha Maduwanthi.
A poignant moment was when mothers, shedding tears of joy, garlanded their children who had won, who in turn worshipped them.
Proud of her "chuti duwa's achievement", Chandani explained how at the beginning she was not too keen about Nadeesha Madhushani's involvement in the Future First Programme but later realised its value. Nadeesha was the 'Most Outstanding Young Entrepreneur of the Year'.
Chandani urged both YESL and HSBC to continue supporting the Parampara Image Company. Future First Programme's Teacher-in-Charge, Malsha Madhuwanthi paid tribute to chief guest Patrick Amarasinghe as the "visionary" behind the JA/Programme.
Mr. Amarasinghe commended the students, teachers, SOS staff and parents for Parampara Image's outstanding achievement. Referring to the need to reduce unemployment in the country, he said that the Future First Programme seeks to alleviate this problem by creating a group of workforce-ready young people. It produces job-creators and not job-seekers.
YESL Coordinating Teacher Kaushalya Gunaratne and Teacher-in-Charge Wasana Sudesh also spoke.  The essence and spirit of Parampara Image's arduous and challenging Future First journey was captured by Assistant Director and original force at SOS for this programme, Menaka Prasadi in her message for the occasion. She recalled how one of the main problems of faced in the early days was getting suitable clothing for the children to attend the First Future — First Awards Ceremony.
YESL Coordinating Teacher, Kaushalya Gunaratne, HSBC, YESL and SOS staff, Head of Project, SOS Centre, Peraliya, Indika Prasadi Herath, Sudesh and Malsha were commended for their unstinting support.
With a Parampara Image office being set up in a room generously given by the SOS Centre at Peraliya, the company's sustainability and way forward has been ensured.
Follow @timesonlinelk
comments powered by

Disqus