Heavy weather and hilarious whinging
View(s):

It's that time of the year again. When the wind is southwesterly and the quality of mercy is quite strained. It droppeth not all like the gentle rain from heaven that we would welcome with open hearts, minds, arms, and umbrellas. Au contraire, it is apprehended by manic displays of lightning about halfway between sky and shore; belted by low pressure in the Bay of Bengal's depressed atmosphere; and then catapulted out over a previously warm and sunny isle with cyclonic belligerence. No dears, it's not the monsoon: it's a freak of nature by the nostalgic moniker of 'Mahasen'.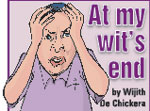 Which name, in turn, has whipped up a frenzy among a group with the appellation, appropriately enough, of another legendary king of Lanka. The Ravana Balaya ('Force of Ravana', the former being a mythical monarch of a long-forgotten realm) has objected in the most thunderous terms to this unthinking naming of a tempestuous weather system.
They point out that such a destructive phenomenon should not have been baptised with the hallowed name of a splendid king like Mahasen. An irony that their own name derives from a demon-king of the blessed isle seems to have escaped their attention.
Their contention is now that the hurricane or typhoon or whatever it is should have been given a designation more reminiscent of a violent and malevolent entity like Mahasona. Get it? Not Mahasen, but Mahasona. A clever play on words! Even a pun on the evil genie of the late little-lamented V. Prabhakaran would not have been amiss, the raving Ravana-ites have recommended.
By the way, such a storm in a Ceylon teacup has not been stirred up since some feminists a while back objected in the most strident terms to the naming of bad-tempered weather patterns after peaceful persons of the fair sex. This was in the western quadrant of the northern hemisphere The subsequent tornado from the women's lib camp became so aggravated that the authorities hurriedly decided to retire the names of Hurricane Carol, Hurricane Edna, and Hurricane Hazel in 1955 – a year after these 'ladies' wreaked havoc across Northeastern America.
Which, surprisingly, did not prevent the US Met Dept from naming the worst weather of 1961 'Hurricane Hattie'. It killed 319 people, rendered over 10,000 homeless in the country of landfall (Belize), and caused an estimated US$61 million in damages. And, more recently, mid-Atlantic-birthed cyclones and tropical storms such as Sandy and Katrina are still fresh enough in the psyches of the afflicted nation to make its staunchest women wince. Even if, unlike the ranting men of another storm-lashed nation, they did not whine and whinge as loudly, or long-windedly, or ludicrously.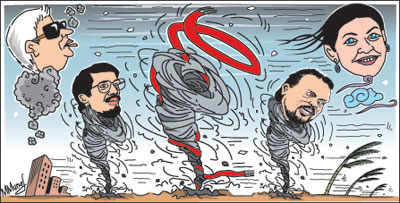 At my wit's end, and lamenting that Mahasen's good name had been dragged in the monsoonal mud, I wracked my brains for better names to have bestowed on the tornado-like visitor that got our objectors' agitation going. I briefly considered an appeal to reason: Mahasen, after all, was the king who once converted our country's northern dry zone into a fertile wet zone; thus making his first name an eminently suitable choice.
But no: that would not be wise; given that our saffron-clad clan was in the purple mood in which they were purported to be. There was no getting round the fact that a replacement tag or title or label would have to be found, and offered as a sop to the sopping Cerberus of miffed Mahasen-defending monkhood.
Be that as it may, naming a tropical cyclone is no mean business. One begins at the bottom of the 'turbulence barometer', and works one's way up the Beaufort Wind Scale.
Force 1: Light Air. Smoke drifts, but vane and sock unmoved. Ranil. Because vain and sock appear unmoved.
Force 2: Light Breeze: Vane sets to wind; sock begins to fill. GL. As vane sets to wind.
Force 3: Gentle Breeze: Leaves rustle; wind extends light flag. Mangala. For extending flag with light wind.
Force 4: Moderate Breeze: Raises dust and loose paper; small branches are moved. Wimal. That dust-raising, paper-chasing, branch-mover and shaker.
Force 5: Fresh Breeze: Small trees in leaf begin to sway. Rosy. A fresh breeze, all right, although not many are swayed.
Force 6: Strong Breeze: Large branches in motion; telephone wires hum; umbrellas used with difficulty. Tilvin. Able to set large branches in motion, or have them absolutely stationary (striking, isn't it.).
Force 7: Moderate Gale. Whole trees in motion. Basil. Who else can move trees, whole forests, and proverbial mountains!
Force 8: Fresh Gale. Breaks twigs off trees; generally impedes progress. Shirani B. Tried to impede progress by breaking her twig off the tree, no?
Force 9: Strong Gale. Slight structural damage occurs; chimney pots and slates removed. Does the name Duminda remind you of anything or anybody?
Force 10: Whole Gale. Trees uprooted; considerable structural damage. Er, Merv.
Force 11: Storm. Small houses and sheds moved. I'm afraid to name the 'force of nature' who moves sheds and small houses at his will.
Force 12: Hurricane: Only strongest structures can withstand. Your guess is as good as mine.
Follow @timesonlinelk
comments powered by

Disqus