A story of survival in a chauvinistic world
By Tharooshie Mahahewage
View(s):
'Punarukthi; the struggle and victory of a child, girl and mother' is the English translation by Krishan Jayaratnam of actress Anoma Janadare's autobiography launched two years ago.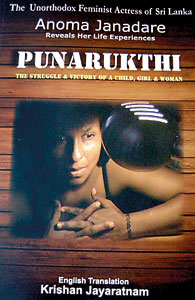 Anoma is introduced as an 'unorthodox feminist actress in Sri Lanka'. As Anoma herself says about the book, "Punarukthi means retelling. This book is written to retell a story; a story that cannot be denied or suppressed, because, it is my own story. It is the story of life; a life that was shattered and tormented by heinous, degrading acts of others.
It is the story of survival, of fighting back to protect one's own self esteem and moral sanity from the face of cruel dominating adversity. From sexual discrimination and exploitation, to betrayal and suffering, it is a story that must be told and related until its voice will finally be heard."
"Anoma is a rebel without a cause. But I believe all rebels are of that kind," says Dr. Wickramabahu Karunarathne who made the opening speech at the book launch, 'The role of a rebel'. "Anoma says that this is written to tell her story. But as I understand it is a story of a female rebel challenging the male chauvinistic world and it could take place anywhere in the world. Names and sites could change but the basic story is universal. Hence it's relevant for all of us.
Vice principal of Gateway College, Kandy, Kanzul Sirdous spoke on 'Women's rights that should be incorporated at school,' and this was followed by Chairman and Managing Director of Asian Capital, Manohan Nanayakkara speaking on 'Global tendencies on women's rights'.
Explaining why he would not be qualified to speak on the subject, his main drawback being that he was male, he nevertheless said," I have fired a co-worker for sexual harassment and I pride myself on the decision and action I took. I do not tolerate things of the sort as I too am a father of two daughters. It's time, as men we too make a stand to safeguard women's security in society."
"What I had to go through was actually the opposite of what she went through," said renowned film directress, Sumitra Peries, speaking at the book launch. But I didn't like it. That's why as a young girl I ran away and lived in a yacht for about one year. It was a big and daring step to take at that time.
In my own way, in my career I took a stand against women's discrimination. But I have to say, Anoma has had great courage in portraying this battered woman in society, through her work as well as in her life. I'm glad she speaks openly about it so as to give an example to the younger generation."
Follow @timesonlinelk
comments powered by

Disqus