Middle income earners to pay a third more for electricity
View(s):

Middle-income earners using between 61 and 300 energy units will see their power bills shoot up by more than a third with the new tariffs, the Public Utilities Commission (PUCSL) says. Ceylon Electricity Board (CEB) Chairman W.P.Ganegala defended the new price structure, saying the increase over all sectors amounted to 20 per cent and that the Board was compelled to increase rates in order to provide round-the-clock supplies.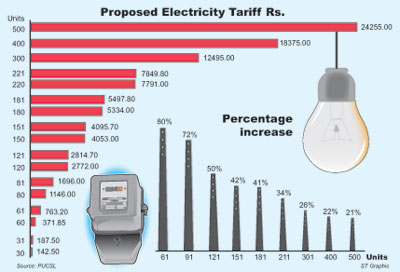 PUCSL statistics show that if a consumer exceeds 60 units of electricity then the charges will be doubled: the bill for 60 units will be Rs.371 while 61 units would be charged at Rs.763.20 a month. This will squarely hit middle income earners but also affect low income earners.
Consumer rights group say prices needed to be increased to cover the losses sustained by the CEB over the last decade due to high dependency on thermal energy generation, mainly from fuel combustion and the low dependency on hydro and other energy resources due to changes in the weather.
Mr Ganegala said the power failures were caused due to the adverse weather conditions. CEB Joint Trade Alliance spokesman Ananda Nimalaratne said, however, that with the current inclement weather conditions, the CEB will be able to use hydro energy for 35 per cent of its power requirement, up from an estimated 20 – 23 per cent for this year. This would allow the CEB to recover some of its losses.
Mr Nimalaratne said rains had filled almost every dam. Campaign for Free and Fair Elections Executive Director Keerthi Tennakoon said 88 per cent of the CEB's estimated budget would be drawn from the increased prices charged to domestic users.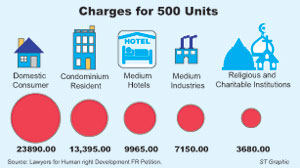 Public and Private Trade Union Confederation co-convenor Saman Rathnapriya pointed out that the Ceylon Petroleum Corporation could allow the CEB a concession of Rs.20 for a litre of a diesel as the price of crude oil had decreased from $US105 to $US85 a barrel, and such a move would allow the CEB to cover its losses.
A CEB engineer speaking on condition of anonymity said one reason for the CEB's financial losses was that, to meet the country's energy needs, previous governments had signed agreements to buy energy from private power plants at a high rate and had sold the same energy to these plants at a cheaper rate.
Follow @timesonlinelk
comments powered by

Disqus