Housemaids in Kuwait job racket: Lankan ambassador
By Chandani Kirinde
View(s):
If speedy action not taken, country may lose jobs, warn licensed agents
While the plight of Sri Lankan housemaids working in Middle Eastern countries continues to be a matter of concern, officials in Kuwait say that many of the women who seek refuge at the Sri Lanka mission there are not always victims of abuse but are part of a growing racket involving job agents.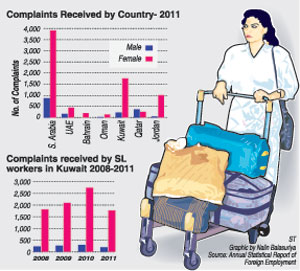 Between 15 and 20 Sri Lankans, mainly women arrive at the Sri Lanka mission's safe houses almost daily with around 300 already housed there. But many are seeking to find a way back home after changing employment or being involved in illegal activities.
Sri Lanka's ambassador C.A.H.M. Wijeratne said Kuwaiti authorities had expressed concern that due to the high demand for workers from Sri Lanka, unscrupulous job agents in connivance with some of the workers are abusing the system put in place to recruit workers.
Kuwaiti job agents send around Rs. 300,000 to their Sri Lanka counterparts. Nearly Rs. 100, 000 is given upfront to the prospective workers who are also given a free air ticket. In some cases, Mr. Wijeratne said the women who were employed in a Kuwaiti household would leave that place for a higher pay and come to the mission seeking help to get back their passports retained by the Kuwait job agent.
"It's an organised racket and we are trying to stop it. More needs to be done by the Foreign Employment Bureau to stop this racket that has put Kuwait job agents into much difficulty or we run the risk of losing Kuwait jobs," he said.Commenting on the racket, Association of Licensed Foreign Job Agencies (ALFEA) Secretary Faizer Makeen said it was the workers sent through unlicensed job agencies who were engaged in such practices.
"Only 67 per cent of the recruitments are done through licensed job agencies. Others are directly re recruited. Some sub agents engaged in the racket tell the women (recruited as housemaids) to stay for a few months and return. Then they send them off to another country and collect more money," he said.
To stop this racket, Mr. Makeen said the ALFEA had made several requests to the Ministry of Foreign Employment Promotion to come up with a mechanism to monitor recruitments.
In its latest suggestion, the association has recommended that the ministry should make it mandatory that a letter from a registered job agency confirming the job offer be produced to the Immigration Office.
Actress turned politician Geetha Kumarasinghe who also visited Kuwait recently told the Sunday Times she had met the women in an embassy safe house and they were being looked after well with food, shelter and medical facilities being made available to them.
"I was keen to meet these women and talk to them. What I found was that it is only a few who are subject to any kind of harassment but they are being used by unscrupulous persons who lure them away from the homes of their employers and in some instances even send them to brothels," she said.
Many are also unable to leave the country as there are cases pending against them for violating their job contracts which in turn has become a major problem to the job agents in Kuwait.
Ms. Kumarasinghe who is the UPFA organiser for the Bentara-Elpitiya area, said women who have young children should not be allowed to go abroad for work. "There are many instances where children are being abused because their mothers are not with them. There must be some programme to stop these women going abroad as their families suffer," she said.
Ms. Kumarasinghe said once these women return home, many of them were thrown back to a life of poverty because many of them do not manage their finances well. UNP Ratnapura District MP Ranjan Ramanayaka, who has been campaigning for better treatment of Sri Lankan workers aboard, blamed the indifference of the Government for the increasing incidence of Lankan workers being ill-treated in the Middle East.
"Most countries have stopped sending women aboard as housemaids but we continue to do that because the Government is greedy for the huge foreign exchange they send. Much needs to be done to ensure their welfare," Mr. Ramanayaka said.
He said on regular visits to the Middle East, he had met many women who had been physically and sexually abused by their employers and subject to other forms of harassment. Meanwhile, Ambassador Wijeratne said funds needed to look after the women in the safe houses were sent by the FEB while the Kuwaiti government and many philanthropists provided air tickets and other facilities to the women.
He said legal aid too was being provided to the workers so that the cases could be expedited and the workers could return home.
The Foreign Employment Bureau Chairman could not be contacted for a comment.
Follow @timesonlinelk
comments powered by

Disqus