A jab to fight Influenza
By Dr. J.S.D.K. Weeraman
View(s):
Influenza is a viral infection often presenting as a "flu" like illness and is considered a major public health problem. It spreads rapidly in the community especially among children, elderly people and high risk groups such as pregnant women and health care workers. Children manifest the highest rates of illness. However, severe morbidity and mortality are more common among elderly people and high-risk groups.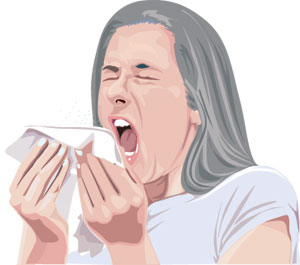 In the West, seasonal influenza epidemics are seen mainly during the winter months whereas in tropical climates like ours, influenza occurs throughout the year, resulting in outbreaks that are more unpredictable. Therefore, the morbidity and mortality from influenza are likely to be underestimated in the tropics.
The influenza viruses are classified into types A, B and C on the basis of its protein structure.Only influenza A and B are clinically important in human disease.The structure of the virus mutates frequently.Minor mutations of its genetic structure leads to changes in virus protein composition ("antigenic drift"), resulting in frequent influenza outbreaks. Major changes to its protein structure ("antigenic shift") occur less frequently by the mixing of genetic material from different types of influenza A viruses and cause major influenza epidemics like the recent Swine Flu (H1N1) epidemic.
Influenza A viruses can infect a range of animals as well (e.g. pigs, horses and birds). Up to April 2013, human infection caused by the avian influenza A(H7N9) virus spreading in China, had confirmed infection in 82 people with 17 dead. In Sri Lanka, the national surveillance on influenza is carried out by the Ministry of Health through its technical institutions including the Epidemiology Unit dealing with disease surveillance and the Medical Research Institute providing laboratory testing.
The annual incidence of influenza varies widely and depends on the virulence of the circulating strain, the susceptibility of the population which is determined by changes in the virus, vaccine match to the currently circulating virus and vaccination coverage.
Influenza is highly contagious (easily transmitted by contact).
The virus is primarily spread from person to person, via inhalation of droplets formed during coughing and sneezing, or by direct contact with articles contaminated with respiratory secretions. Inhaled virus particles initiate infection in the respiratory tract, although transmission can also occur through the mucous membranes of the eyes, nose and mouth. The incubation period can range from 1 to 7 days. The virus multiplies on the surface of the respiratory tract.
An infected person is contagious from 1 to 2 days prior to developing symptoms and until about day five of the illness. Peak viral shedding occurs 1 to 3 days after the development of symptoms. Children shed more viruses and remain infectious for considerably longer periods and are efficient transmitters of influenza viruses.
Vaccination is currently the leading effective means of reducing the burden of morbidity and mortality of influenza in the community. Constant structural changes in influenza viruses mean that the vaccines' virus composition must be adjusted annually to include the most recent circulating influenza viruses.There are two types of vaccines available against influenza, namely live attenuated and inactivated influenza vaccines.
A few countries have licensed live attenuated influenza vaccines for certain target groups. Until live attenuated vaccines are more widely available, these are not yet widely used for influenza prevention. Inactivated vaccines are efficacious and safe and remain the cornerstone of influenza prevention in most countries.
The Influenza vaccine is recommended for the following individuals in order to reduce the incidence of severe illness and death.
All persons 65 years and older (people above nationally defined age limit for old age).
a. Residents of institutions for the elderly or the disabled
b. Elderly, non-institutionalized individuals with chronic conditions, chronic cardiovascular, pulmonary, metabolic or renal disease, or who are immunocompromised.
Pregnant women – influenza vaccine containing the killed virus is safe and is recommended for all pregnant women. Influenza vaccination in pregnancy will protect the mother and the newborn against influenza.
All individuals >6 months of age with any of the chronic illnesses listed above.
People who are engaged in essential services.
Household members who are in close contact with high risk persons.
Travellers and healthcare workers.
Those who wish to reduce their chances of getting "seasonal flu"
Inactivated influenza vaccines will not interfere with other concomitantly administered vaccines. Immunity lasts about one year and the vaccine should be administered annually.
Contraindications for the use of vaccines are:
Persons with history of allergy to egg proteins
Hypersensitivity to any component of vaccine
Previous allergic reaction to any influenza vaccine
Influenza vaccines conforming to international standards of purity and potency have been used for many years and have an excellent safety record. They are largely free from adverse effects but may cause local pain or soreness at the injection site for 1-2 days. Transient adverse reactions such as fever, malaise and muscle pain may occur in a minority of vaccine recipients.
The vaccination is available at private hospitals in Sri Lanka.
Symptoms, dangers
Influenza is caused by a virus that attacks mainly the upper respiratory tract – the nose, throat and bronchi and rarely the lungs.
The infection usually lasts for about a week. It is characterized by sudden onset of high fever, muscle pains, headache, severe malaise, dry cough, sore throat, and nasal discharge.
Most people recover within 1 to 2 weeks without requiring any specific medical treatment. In very young children, pregnant women, the elderly and people suffering from medical conditions such as lung diseases, diabetes, cancer, kidney or heart problems, influenza poses a serious risk and may need specific drug treatment. In these people, the infection may lead to severe complications of underlying diseases, pneumonia and even death.
(The writer is a Consultant Paediatrician and Vice – President, Vaccine Forum of Sir Lanka)
Follow @timesonlinelk
comments powered by

Disqus