A sweet masterpiece
By Shaveen Jeewandara
View(s):
Hoping to put Sri Lanka on the confectionery map, Gerard Mendis' Chocolatier is a fresh take on his first love
Ask ten people if they like chocolate and nine would inevitably reply with an enthusiastic 'yes', while the other would stare at you as if you just asked the most obvious question on Earth. It's everyone's favourite comfort food, but do we Sri Lankans have the opportunity of gifting our taste-buds with the best when it comes to chocolate?
The answer to that may lie in a fairly unique building, located in the heart of Hoton Place, Colombo that's been catching our eye for the past few months – the Gerard Mendis Chocolatier. After playing with our curiosity for a while, owner Gerard Mendis, one of the best known names in the culinary industry, opened the doors of his little masterpiece to an interview with the Sunday Times.
Walking into the 'Chocolatier' feels like walking into a postcard of Italy, with a garden tucked away in a corner of the restaurant, soft music playing in the lounge and an unmistakable aura of rustic charm. "Everyone tells me that it looks like Italy, but what I originally intended was a little bit of Paris back at home," laughs Gerard, as he sits down for the chat. "Chocolate is something that I am most comfortable with, and it has been an undying passion ever since the beginning of my career at the Colombo Hilton." A passion would be an understatement for the person who is known to be a pioneer of chocolate cuisine in Sri Lanka, in fact being the first to introduce hand-made chocolates to the country, back in 1986.
"Although I was a chef, there was always an artist in me, and the hotel made sure that I was involved in everything from designing the dining area to picking the furniture," he says, adding, "I picked up a little bit of everything!" For somebody who's a little bit of everything, opening up a chocolate outlet is not a new experience – he launched 'Bliss Luxury Chocolates', a partnership enterprise in Bangalore, India.
"Having gained the experience that I needed in entrepreneurship from Bangalore, I decided that it was time to put Sri Lanka on the map for chocolate. There's so much of potential for the industry, and so many innovative chocolatiers here." The restaurant employs chefs who have been under Gerard's guidance over the past few years and have learned a few tricks from the master when it comes to chocolate-making.
The restaurant houses 33 different varieties of chocolate, with the traditional classics such as dark-chocolate to local variants such as the cinnamon infused and lemon-grass. The most anticipated part of the interview comes when Gerard lays out an array of chocolates in front us. We try the 'Armagnac', a dark chocolate infused with sweet cream, with the earthly tones of France's Armagnac brandy. The 'Blue Curacao', is a delectable milk chocolate filled with finely-ground almond paste mixed with bold tones of Blue Curacao.
The snappily named 'Snap, Crackle and Pop', is a youthful dark chocolate with a soft marzipan centre mixed with crunchy wheat flakes, and our taste-buds ask for a second piece. But the winner for us is the 'Tabasco', a dark chocolate, with spicy chilli and sweet cream centre with a dash of Tabasco, finished off with a grain of salt. "It's an instant hit," says Gerard. We learn that the raw material for the chocolate arrives from Belgium, Switzerland and Germany, leaving no room to cut corners on the quality of the chocolate. They hope to also introduce single origin chocolate from Madagascar and Chile, which are concentrated with almost 76 per cent of cocoa.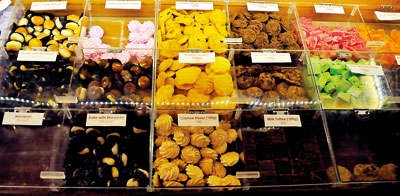 Chocolates are naturally the star attraction, but the 'Gerard Mendis Chocolatier' is a multi-cuisine restaurant, that ranges from a pasta selection, to burgers, kalupol (traditional blackened coconut delicacy) beef curries and wok-fried noodles topped off with kadey roast paan. They also have a range of irresistible breads and croissants, with scrupulously executed classics with the crunch, the flakiness and the 'mouth feel' that would instantly teleport you to a bistro in Paris. Meanwhile the hot-chocolate takes the limelight in the beverage department.
You could also choose from one of Gerard's original cakes which include his exquisitely beautiful signature cakes: rose blanc and gooey chocolate. If you're a bit more adventurous there are always aptly named custom cakes such as, 'As high as Floyd', which naturally stings you with tequila and margarita. "If I didn't end up becoming a chef, I would've definitely been an artist or a musician; hence you end up with such creations," laughs Gerard. His next objective is to come up with a chocolate named 'Led Zeppelin, and the thought's already got us rocking.
An Ice-cream café, with home-made delicacies is also in the pipeline, while the 'Gerard Mendis Chocolatier' offers specially designed boxes for theatrical and thoughtful chocolate gifts. If you thought that wasn't enough, the first floor houses a banquet hall, while the second floor of the restaurant hosts a state-of-the-art penthouse that can host private parties.
An interesting aspect about the restaurant is that the interior design was done entirely by Gerard himself. While the tables are from the Italian contemporary furniture makers, 'Pedrali', the rest are all homemade, with some of the fabric being collected by Gerard for over 20 years. "I wanted to retain the rustic grand taverna outlook, and it's worked wonders so far," adds Gerard.
As intriguing as the concept of a chocolatier, is the logo of the restaurant – a grandiose letter 'G' straddled by a magnificent leopard. "The idea for the logo is derived from my undying love for the wildlife here," Gerard explains. We learn that his second favourite pastime is to spend time out in the wilderness of Wilpattu, his first love of course being chocolate. "One day I intend taking the Chocolatier franchise global, and I felt the need to create a Sri Lankan identity," he says.
Follow @timesonlinelk
comments powered by

Disqus