New trends in Psychology education in Sri Lanka
View(s):

Psychology by modern definition is the study of the mind. Such studies have proven to be of use over the centuries, not only as an academic profession but also as an applied science.

Today Psychology is one of the most popular fields of study in the West. Both In America and Europe; a much sort out field and a lucrative career choice, owing to the demand for psychologists in both America & Europe. These popular continuing trends have been observed in the west for the past 5-10 years, and they show no sign of waning. In another part of the globe, in particular South Asia, which includes Sri Lanka, Psychology is building up in popularity. Many an individual are gaining awareness of the insights that are obtained via the scientific study of the mind and further individuals are beginning to realize, that studying psychology does not solely lead to a narrow option of being a psychologist alone. An individual who pursues an undergraduate degree in psychology has many a career path as an option including that of Marketing, Advertising, Education, Child care, Mental health, Forensics, Management, Human Resources, Neuroscience, Cognitive Science and many more. In Sri Lanka there are so many opportunities for individuals with a background in psychology in the government, private and specially NGO sector considering the mental health, post war effects & reconciliation programs. Thus an individual studying psychology may specialize in many a field, providing him or her a noble, career potent profession here in SL or abroad.

It is in light of the above Colombo Institute of Research & Psychology (CIRP) hopes to provide students with a pathway to a B.Sc Degree in Psychology . The Higher National Diploma in Psychology offered by CIRP is aimed at providing an in-depth knowledge of psychology required at the undergraduate level. The HND program consists of 3 levels and each level includes 10 modules that should be completed in 6 months. Thus completing the HND takes 18 months in total and students take 30 modules during this period. Among the 30 modules, 18 are compulsory and based on general psychology topics such as Social, cognitive, behavioural, biological and psychodynamic approaches. The rest of the 12 modules are electives and student have the freedom of selecting these from a list of 40 electives based on their preferred sub- disciplines in psychology such as Child psychology, Abnormal & Clinical psychology, Organizational psychology, Forensic Psychology, Health Psychology & Counselling Psychology. Many students select their electives based on the field of psychology they like to specialize in.

Upon completion of all 3 levels of HND, students are eligible to enter the final year of the B.Sc. (Hons) degree program in Psychology offered by the University of Hertfordshire (UH). UH is one of the top modern universities in England and their psychology degree is accredited by the British Psychology Society. CIRP students have the opportunity of completing the degree within 2 ½ years, 6 months earlier than others . The HND is equal to the first two years of the B.Sc. program and it costs only 300 000 rupees compared to 6 mil it would cost them for tution fee alone if they studied it in UK. HND covers the two year syllabus of B.Sc. as we do not have long summer vacations in SL.

In par with CIRP's commitment to academic excellence, they have selected several highly qualified and reputed academics and professionals in the field of psychology to teach and guide their students. The faculty is headed by Dr. Janet LeValley, an American psychologist and an experienced academic with decades of experience in several international universities as the dean and the head of psychology department. There are 7 permanent faculty members with M.Sc. & above academic qualifications in different sub disciplines in psychology and around 20 visiting lectures with Ph.D & M.Sc level qualifications. Visiting lecturers include senior lecturers from areas such as research methodology, statistics & educational psychology and professionals in the field of psychology such as practicing clinical psychologists, psychotherapists, who are able train students in skills & techniques required in psychology.
Apart from the theoretical modules this course has its Skill development program aimed at improving critical analysis, creativity, research interests, academic skill development and personality development of students to turn out a graduate who not only is academically competent but is also a professional in his discipline.

CIRP being the only private institute with a counselling laboratory is able to provide students with experimental facilities and simulations required in the curriculum. Institute has its library, e library, multi media library, study rooms and modern student lounge.
Apart from the HND, CIRP also offers a range of diploma programs in many sub disciplines in psychology aimed at individuals in others fields and professions, who are willing to benefit from knowledge & skills in psychology. Credits earned from these programs could be transferred to the HND and then to degree program if they decide to continue their studies in psychology later on.

Colombo Institute of Research & Psychology launches the 3rd Intake of the Masters in Psychology & Applied Psychology
What is MSc in Psychology?

A master's degree in psychology is a post graduate qualification. The two most common types of psychology master's degrees are the MSc in Psychology and MSc in Applied Psychology. A MSc in Psychology may indicate a general thorough Psychological knowledge, while MSc in Applied Psychology indicate a stronger concentration on in depth specialized areas in Psychology.

Who awards this qualification?

Awarding body of the MSc programs is Coventry University. Colombo Institute of Research and Psychology is the teaching institute. Students enrolled for the MSc program actually become internal students of Coventry University. For example they will be having a Coventry University Student ID and access to all online resources that Coventry students in UK get.

How about the quality of the program since it is offered here?

Colombo Institute of Research and Psychology has maintained very high standards in teaching, student facilities and resources since it was established. Coventry University agreed to offer the "autonomous franchisee" status to CIRP after a thorough evaluation of the teaching staff, infrastructure, student facilities & resources, financial strength and other determining factors.

Staff of the two faculties has been working for almost a year to make sure that the students in Sri Lanka get exactly the same level of education and exposure as the students in Coventry.

CIRP follows the Curriculum, teaching guidelines, assessment criteria and all other academic procedures used by Coventry in delivering these programs.

Is this the first intake?

No. We launched this program last September and 18 students registered for the program within two weeks of advertising. Since it was the first batch, management decided to close registration at that number. We didn't want to take on a number we couldn't handle as we hadn't done this program before. Now that batch is in their third semester and we are proud to say that program is successfully continuing in terms of student satisfaction and quality standards expected by Coventry University.

The second batch enrolled in February and they are successfully continuing the program in their first semester.

How is the response this time?

Well, we have more than 50% of the seats reserved already, even before any advertising. Majority of them are the individuals who wanted to join last time but could not as we limited the number to 18. This time we have decided to take a maximum of 25 per batch and we have planned to have 2 batches for each program, a weekday evening batch and a week end batch.

Can you further explain about MSc in Applied Psychology?

MSc in Applied Psychology is a program designed for individuals with a degree in psychology and would like to become a practising psychologist. They can sub-specialize the MSc by selecting their optional modules from several applied fields in psychology. Popular specializations include clinical & counselling, Child & Educational, Organizational & health.

Does the MSc in Applied Psychology qualify an individual to practice as a psychologist?

Yes, MSc in applied psychology provides them necessary knowledge and skills to practise as a clinical psychologist, child psychologist, health psychologist, organizational psychologist or a forensic psychologist based on the optional module they select.
Qualifications an individual require to become or call him/herself a psychologist varies from one country to another. For example in US, UK and Australia you can only become a psychologist by obtaining a PhD. But in Sri Lanka and in other countries where psychology is still in the process of establishing, with a MSc in Applied psychology they can practise as a psychologists.

Do you help students to obtain their essential clinical training?

Yes, we have a therapeutic centre in which about 10 psychologists practise. Each MSc Student will be allocated a psychologist as a supervisor and they are able to obtain the necessary skills, experience and confidence by working together with them.

Can you explain about the MSc Psychology program?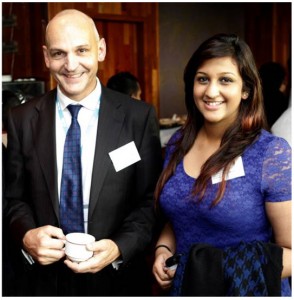 This is designed for individuals from a non-psychology background, who would like to obtain essential knowledge & skills in psychology to facilitate their roles and tasks in their respective fields of work. This is very much popular among individuals in HRM, Marketing, Training, Advertising, Consumer research, Management and defence services. Apart from obtaining a qualification that would make them stand out from the rest, psychological knowledge and skills gained from the MSc would definitely help them do their jobs better.
What are the entry qualifications for these programs
To enrol for the MSc- Psychology program an individual should have a bachelors degree in any discipline or an equivalent.
To enrol for the MSc- Applied Psychology program an individual requires either a bachelors in Psychology or a bachelors in any discipline with 120 credits in psychology from another program such as an HND or an Advanced diploma in Psychology.
Do you have the staff strength to conduct these programs?
Well, We could say we have the biggest and the most qualified faculty in psychology among private institute in Sri Lanka.
The head of the faculty is Dr.Janet LeValley an American psychologist with decades of experiencing in academic administration in several countries. Full time faculty includes 11 psychologists with masters and above qualifications in Psychology. Around 25 part time lecturers will also teach in the MSc programs. And with the aim of providing more exposure 6 senior academics from US and European universities will be visiting Sri Lanka from time to time during the MSc program to guide the students.
How could I get more information?
You could visit our website, researchandpsychology.com or call us on 0112584889 or 0112559848.
But the best thing is to come to our main facility down Melbourne Avenue and have a look yourself about the quality of infrastructure, have a chat with current students, get more advice from academic staff and talk to the student counsellors.
Follow @timesonlinelk
comments powered by

Disqus