From failed revolutionary to state missionary
View(s):

My Dear Wimal,

I thought of writing to you when I heard that you were thinking of leaving the Cabinet because you did not agree with some of the policies that are being adopted by the Blues. I thought I must quickly inform you not take such hasty decisions.

From what I heard you say in your May Day rally, Wimal, you wanted to leave the government because of their plans to hold elections to the North to create a provincial council there. I was told you even held a separate May Day rally because you didn't see eye to eye with the Blues on this issue.

Correct me if I am wrong, Wimal, but they say that you are against this provincial council in the North because that council will have land and Police powers and you think it could lead to a separate state there. That is why you want to quit the government in protest, or so you say.

At first glance, Wimal, it looks like a noble idea. There you, a true patriot, the maubimey panchayudhaya as you like to call yourself, sacrificing your portfolio and the privileges that go with it like duty free cars and a subsidised phone and fuel bill, to defend the integrity of your motherland.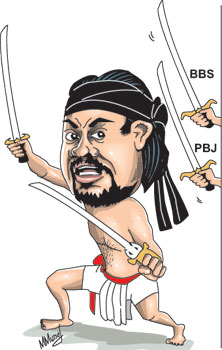 I can just imagine the news conference you will hold after resigning. Maybe you will compare yourself to a modern day Madduma Bandara with a beard who says, "I will show how it is done" to the King! And wouldn't you be in the headlines for the next few weeks after that!
You will declare yourself to be the only deshapremiya in the land and label all those who participate in the provincial council elections as deshadrohiyas and to cap it all, maybe you will say that since you will have more free time on your hands, you will visit Sigiriya for the first time!
I am a bit puzzled by all this fuss you are making about provincial councils now, Wimal, because your party contested these elections when they were held elsewhere in the country and saw nothing wrong with the powers granted to them. But then, let bygones be bygones, shall we?
Then, Wimal, I believe you want to make some waves before resigning as well. That is why you have taken on people like the man who holds the purse strings, PBJ and those who call themselves the 'Bodu Bala Sena'.
I am not particularly impressed with them and how they go about their business but I do admire your courage in taking them on. After all they both have friends in high places and to cross their paths is to cross the paths of the people in those high places. But you carry on regardless, don't you?
I am not really sure why you are always making disparaging remarks about the gentleman holding the purse strings but I can understand why you want to pick a fight with the Bodu Bala Sena-even though it means you have to confront those wearing saffron robes.
Why, Wimal, you have worked really hard trying to portray yourself as the only defender of the Lion race and have indeed convinced the few thousand people in your party that this is so. Then comes this Bodu Bala Sena, projecting themselves as the defenders of the faith! Why shouldn't you be annoyed?
So you go about making claims that the Bodu Bala Sena got funds from Norway and they ask you to learn to read English and wear an amudey! There is never a dull moment when you are in the news, is there, Wimal?
But let me tell you Wimal, some say that though you are threatening to resign, that will not happen. They recall the time you threatened to 'fast unto death' if Ban Ki Moon didn't dismiss his committee appointed to probe war crimes in our country-and it turned out to be a fast unto two and a half days!
Then there are others who are saying that what you say and do is usually a reflection of His Master's Voice. Therefore, they believe that all what you are saying now about resigning for the sake of the country is doing your Master's bidding: to try and whip up opposition to the elections in the North.
Pardon me, Wimal but because of all this, I am quite confused. We are quite happy to have you as a Cabinet Minister because, even though you seem to have done sweet nothing for the housing sector, you have provided more than what is required from you in the form of constant entertainment!
So, Wimal, think carefully before you decide to quit the government, if that is indeed what you are planning on doing. After all, being a backbencher in a party that few people have heard of can be fun too-and who knows, you may even have time to read 'The Old Man and the Sea' by you-know-who!
Yours truly,
Punchi Putha
PS-if you are resigning, Wimal, you will have to be quick if you want be a hero in the eyes of the people. I hear Champika and his party are trying to repeal the provincial council laws in Parliament. If that happens, they will become the heroes who saved the nation and you will be, well, nothing!
Follow @timesonlinelk
comments powered by

Disqus