Hospital room for anti-Govt politicos
View(s):

The news of the release of Muslim-Tamil Alliance leader Azath Sally was broken by President Mahinda Rajapaksa on Friday. He told Sri Lanka Muslim Congress (SLMC) leader Rauff Hakeem, "I have just made the order today to release Sally." Near the Minister of Justice were Attorney General Palitha Fernando and Police Chief N.K. Illangakoon.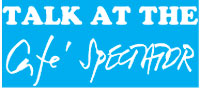 The occasion was the opening of a new building of the Government Analyst's Department in Battaramulla.  Soon after his release, Sally entered a private nursing home. He occupies the same room which had been occupied by a northern parliamentarian. A nurse chuckled "may kamareta ennay aanduwata kemethi nethi kattiya ney (Persons coming to this room are those who dislike the Government)."
 Dullas carries baby while mother speaks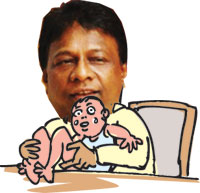 Going by what happened at a ceremony in the south this week, it will not be a bad idea to teach Sri Lanka's politicians a lesson or two on baby care as part of their onerous duties.  Minister Dullas Allahapperuma attended a ceremony at Dandeniya Rural Health Centre in Dickwella. A young mother was tasked to deliver the vote of thanks.
She had a problem. There was her two-month-old baby on her lap. It was difficult to stand and say how delighted they were to have Minister Allahapperuma taking part in the ceremony. So they did the next best thing.
Alahapperuma took care of the baby whilst the woman delivered her vote of thanks. Later she also said 'thank you' to the Minister for taking care of her baby for a little while.
One, two, tree, give me money
A man climbed to the top of a tree opposite the office of UPFA Parliamentarian Sajin de Vass Gunawardena, Monitoring MP for the External Affairs Ministry. This happened at Wellawatta in Balapitiya.
His demand was that the powerful Parliamentarian must help to obtain a loan to pay his debts, running into six million rupees. Police and members of the Balapitiya Pradeshiya Sabha were on the ground negotiating with the man who was clinging to a branch atop the tree. The man refused to come down until he was given an assurance that he would get the loan to repay his debts.
After three hours of persuasion, the man agreed to come down. It was on the understanding that he could make a telephone call to de Vass Gunawardena. When he came down, he learnt that the MP was away in China. The MP's wife had agreed to arrange a meeting with de Vass Gunawardena when he returned.
Pradeshiya Sabha members said this was not the first time the man had protested and asked for money. He had staged a fast previously.
Former LTTE leaders enter NPC polls battle 
As the election to the Northern Provincial Council (NPC) draws close, several former LTTE cadres are likely to enter the election fray by contesting the poll.
Among those on the election platforms will be the LTTE's women's wing head Thamilini, former LTTE media co-coordinator Daya Master and the LTTE international wing head Pathmanathan alias K.P. Several other LTTE cadres, who have completed the Government's rehabilitation programme, have also expressed interest in contesting the poll, a Rehabilitation and Prison Reforms Ministry official said.
Row over Rajapaksa garlands
Even the size of a garland matters when it comes to politics in the tea country of Sri Lanka. That was the message left behind after several were injured and vehicles damaged in Badulla this week. The victims were reportedly supporters of P. Digambaram's National Workers Union (NWU) which held its May Day rally in Talawakele. The MP who was elected on the United National Party ticket pole vaulted to the Government side.
The NWU welcomed Parliamentarian Namal Rajapaksa, who marked his presence at the rally, with a garland.  Similarly, Minister Basil Rajapaksa who was present at the Ceylon Workers Congress (CWC) rally in Nuwara Eliya on May Day morning was garlanded too.
Police say CWC supporters were irked that the garland on Minister Rajapaksa was smaller in size whilst the one for Namal was bigger. Hence, CWC supporters set upon a group of Digambaram's men who took part in the rally and had days later come to Badulla on a different errand. Some were assaulted and a few vehicles damaged.
When the incident occurred, Digambaram was in the United States. Minister Thondaman was at Norwood attending a religious event- Yaga Pooja -where a group of Indian priests were also taking part. There was no meat or liquor for the devotees taking part, not until May 16, CWC officials say.
Welgama wheels out chassis joke
Transport Minister Kumara Welgama was on his feet in Parliament last week speaking on amendments to the Motor Traffic law.
Interrupting him was UNP Colombo District Parliamentarian Sujeeva Senasinghe. He was trying to query the Minister on vehicle chassis.
"Malli oya vaadi venna ko. Aluth chassi gana oya dannawa athi. Eyeth parana chassis gana danney mamai," (Brother sit down. You may know about new chassis. Yet, it is I who know more about old chassis)," the Minister said evoking laughter.
Death of  a housemaid shows government's faith in Dilan 
There was plenty of light-hearted banter when the Government Parliamentary Group chaired by President Mahinda Rajapaksa met this week.  The Government business for that day in Parliament was a vote of no-confidence against Minister Dilan Perera. It was over the beheading in Saudi Arabia of housemaid Rezana Nafeek for the reported killing of a baby.
There was little doubt that the motion would be defeated overwhelmingly since the Government had a two thirds majority. Yet, Minister Perera made all the preparations. He even had full-page newspaper advertisements where both Government and Opposition politicians praised him. Perera told the meeting he was ready to face any allegation.
Minister Mahindananda Aluthgamage was tongue in cheek when he said House Leader and Cabinet colleague Nimal Siripala de Silva had sent him a file. He would raise issues listed there. Minister Mahinda Amaraweera declared they were not used to voting against everything that was presented in Parliament by the opposition.
At the end, the motion was defeated by a majority of 104 votes.
MR, Vasu get their wires crossed 
At the weekly Cabinet meeting on Thursday, ministers discussed the revision of electricity tariffs, as announced by President Mahinda Rajapaksa on May Day.  The President turned to Minister Vasudeva Nanayakkara and declared, "if you had taken part in our May Day rally, you would have known about it. You held your own."
Not to be outdone, Nanayakkara replied "Sir, before you made the announcement, I appealed in my speech that the President should revise the tariffs." Perhaps the one-time fiery rebel turned meekly moderate Nanayakkara thought his speech was heard by President Rajapaksa. And so, the President was forced to announce a revision in tariffs, or so he thought.
Follow @timesonlinelk
comments powered by

Disqus