IPM qualifies for MBA
View(s):

The Institute of Personnel Management Sri Lanka's (IPM) flagship qualification "PQHRM" recently gained recognition as entry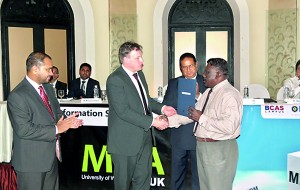 qualification for the MBA programme offered by the prestigious University of Wolverhampton, UK. The recognition of the PQHRM qualification offered by the IPM was officially announced at the media briefing held by the University of Wolverhampton (UoW), in affiliation with the British College of Applied Science (BCAS), at the Taj Samudra Hotel, Colombo, on 22 April 2013.
This event can be considered a significant educational venture between two leading educational institutions. The UoW, with its 150 years of experience in the sphere of education, is a well recognized university in the UK. It has three main campuses in the UK, with 22,000 students, and is present in 125 countries. The IPM can trace its history back to the late 1950's, and is the pioneering HRM institute in Sri Lanka. Currently, it is the only institution in the country providing a professional qualification in HRM.
The beginning of this very special embarkation was marked by an exchange of memoranda between the IPM and the UoW. President IPM, Air Vice Marshal Rohitha Ranasinghe, CEO IPM, Dyan Seneviratne, Course Leader UoW, Andrew Hambler, Dissertation Consultant UoW, Shaukath Ali, and Chairman BCAS, Abdul Rahuman, were present at the ceremony.
Addressing the media briefing on this occasion the President IPM, Air Vice Marshal Rohitha Ranasinghe, brought attention to fact that IPM has, in its long fifty-odd years of existence, strived to enhance the skills and the knowledge of the human resource management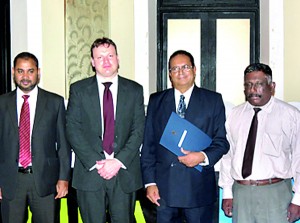 sector of the country. He also pointed out that since mankind is facing an era where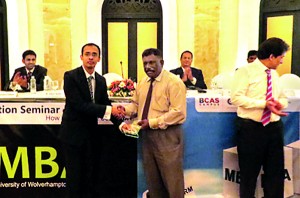 human resources, especially when it comes to creativity and skill, play an imperative role in development and economic sustenance, the IPM has sought to provide exceptional knowledge and skills in the sector.
Air Vice Marshal Rohitha Ranasinghe further stated that one of the key challenges faced by white-collar workers is selecting a business or industry areas which are growing and in demand. He explained that the comprehensive training provided by the IPM and the post-qualifying options provided by the IPM, such as an esteemed MBA from the well-recognised UoW, provide the youth of this country with the necessary capacity to adapt to even the most challenging of industries.
The IPM provides a range of HRM qualifications at various entry levels for those students and professionals seeking a professional qualification in HRM. The highest qualification offered by the IPM is the Professional Qualification in Human Resource Management (PQHRM) which is now recognized by the UoW as a qualification to gain admission to their MBA program. The MBA program is provided through the academic collaboration between the IPM and BCAS, which has academic affiliations with the UoW.
Follow @timesonlinelk
comments powered by

Disqus