Appreciations
View(s):

Let this incomparable statesman's dream come true

Dudley Senanayake

As the country sinks more and more into a labyrinth from which there seems no escape, one is reminded of the late Dudley Senanayake, to whom democracy, freedom and the rule of law meant so much.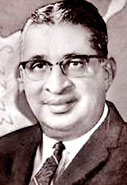 It is sad that so many years after his death, an attempt was made to sling mud at him. This was to accuse him of involvement in plans for a coup, using something supposed to have been said by the late Sir John Kotelawala. One does not have to be an Einstein to know that Kotelawala did not like Dudley, simply because he expected to succeed the late D. S. Senanayake as Prime Minister. There has been more than one excellent contradiction of this fabricated accusation but I would like to quote from Dudley himself on this.
Speaking in Parliament on February 13, 1962, he said: 'I intend taking part straightaway in this debate because insinuations of a vile nature have been made against me in this debate. I am not here to defend myself against accusations of that nature. I am here to make some very important and relevant points about the investigations that are going on. As regards my own innocence, I am fully aware of that innocence and no insinuations on the part of the Hon Minister of Finance can make me guilty of what he seeks to insinuate. I am prepared to face any impartial tribunal and establish my innocence beyond a shadow of a doubt and I ask for no mercy. If you have anything against me, arrest me. I am not afraid. If you have anything against me, question me, and I will say a lot of things and I am going to say a few things now. You need not be afraid to arrest me. I know my innocence, my absolute innocence'.
Anyone who knew Dudley is aware that he was a true liberal democrat, who would never tread any other path than that of the democratic way, through free and fair elections to gain power. He never made false promises to gain power, and was known to always speak the truth. He was a man above all other, in every sense of the term.
Both he and his father, D.S. Senanayake, the Father of the Nation, always stood for a united country, where all our citizens are treated as equal citizens irrespective of community. This is what the very name of the United National Party stands for.
Recently, TULF leader V. Anandasangaree, at the launch of DS's biography written by his grandson, Rukman, announced that DS had promised to always look after the minorities. Dudley strived hard and long to adhere to his father's wish which was also his.
UNP Leader Ranil Wickremesinghe also stated at the meeting that the country would not have faced all the problems we had, if DS's policies had been followed to the letter.
Dudley was a man whose solid muscularity exerted a powerful almost tactile attraction, over everyone around him. He had intense and heated arguments with his peers in Parliament, at that stage the crème de la crème of politicians, all educated men of vision, whatever their political affiliations were. These arguments and political crosstalk expanded his horizons and interests. But he never carried malice in his heart or those arguments beyond the precincts of that most august assembly.
Perhaps the fact that he was a cricketer instilled in him his sense of justice and fairplay, hallmarks of his tenure in politics. His other hobbies of music, reading and photography were also that of a cultured and cultivated mind.
Dudley Senanayake's unique qualities made him stride the political arena like a colossus. He was an excellent speaker, unsurpassed at wit and repartee, had a powerful voice, an infectious and uproarious laugh and the rare ability to laugh at himself. His appetite and love for food is also a legend.
A shining beacon in his political life was his steadfast loyalty to his party. Even when pushed out, he never criticised the then leadership of the party. He knew that loyalty to party and loyalty to the leader should go together for success. He would have been shocked and appalled at political crossovers, shifting loyalties and stabs-in-the-back today. He would have strongly opposed the Presidential system, and the preferential vote which are the main reasons for infighting and disunity in all parties
Dudley – was a devout Buddhist, but one who believed, that everyone should have the right to practise the religion of his or her choice in peace and absolute freedom.
Dudley's greatest contribution, to our country's development was in agriculture, which always was his first love. During his food drive, he was a familiar sight in far off pockets of rural Sri Lanka, with his camera slung over his shoulder. His heart was with the rural peasantry of the country. Bradman Weerakoon, while speaking on the book on DS, commented that the Senanayakes were from a rural base. Their Sundays as a family, were spent at Botale. After meeting constituents, the order of the day was four Bs — Bath, Beer, Buth and Bed!
The Gal-Oya scheme, the country's first multi-purpose project that saw the transition to mechanised agriculture was Dudley's brainchild. His unchallenged integrity ensured that there were absolutely no allegations of corruption levelled at him. Gal-Oya flowed where it had to flow and not into private companies. One recalls his simplicity today, when even as Prime Minister, he would drive his little Triumph Herald. Dudley had a great sense of vision and mission and shunned pomp and pageantry.
He was never guilty of double standards in any situation. His transparent honesty of purpose and high honour was always maintained in the rich tapestry of his life.
The mass of humanity who paid homage to him at his death, from all walks of life, and all sides of the political spectrum, was proof of the respect he commanded from one and all. It was Dudley's dream that every Sri Lankan could proudly say 'This is my own, my native land'. I hope and pray that this will come about one day, and that we will then again remember the late Dudley, whose dream it was that this be so.
Ilica Malkanthi Karunaratne
He stamped his mark on the postal service
NEIL ABEYAGOONEWARDENA
In 1949 my brother Neil sat two exams — the General Clerical Service and the Postal Clerical Service. He passed both and opted to join the postal service as he had been placed first among the successful candidates. He retired in 1996 as Controller of Post Offices. He died on March 29 at his home in Matale, where he lived in retirement.
His rise in the Postal Department never ceased to surprise me. I knew people who had joined the postal service as clerks and retired decades later as assistant postmasters or postmasters. When I asked Neil to account for his rise in the postal service, he simply said: "I came first in every exam for promotion."
Probably, it was a time when promotions in the government service were determined on merit. My brother was fortunate.
Neil was first posted to a sub-post office in Dolosbage, a small village squeezed between mountains in the tea growing areas of Gampola and Nawalapitiya. He went on to serve in several post offices, mainly in the Up-country, as assistant postmaster. In 1962 he was posted to the Kandy post office as one of its postmasters. There he met Sumana and they married in 1963. The following year he was transferred to Matale, where he bought a home to raise a family. In the large garden, he planted an orchard and grew many herbs. His family and his garden were his obsessions.
In 1968, Neil was posted to Kandy as Divisional Controller of Post Offices and later promoted as Provincial Controller of Post Offices. In 1985 he was transferred to the Postmaster General's Office in Colombo on promotion as Controller of Post Offices. He retired in 1990.
Neil was a family man, nay, an extended family man. Regardless of where he was posted, he visited his parents on most week-ends to ensure they had all the necessary comforts they required and to advise them about the safety measures they had to take special note of at their age. He was also concerned about the health and general well-being of his five sisters and three brothers. (I was not included as I had migrated to Australia). As well, he regularly visited his many aunts, nieces, nephews and cousins to keep in touch as a concerned relative.
Neil is survived by his wife Sumana, son Channa, and two daughters, Dhammika and Sunethra. I believe Neil has acquired sufficient merit to serve again, in his next birth in the Postal Department he much loved and rise to the position of Postmaster-General of Sri Lanka.
Samson Abeyagoonewardena
A bond that is engraved deeply in our hearts
Annouchka Weeratunge Fernando
A year has passed and it hasn't been an easy time for all those who loved you and knew you.  Annou's vibrant personality is irreplaceable and not a day passes without all of us, her friends, thinking about her in one way or another and sooner than later, the "what if" question comes in. Neither has it been easy on Terrence who took on a complete new role together with their two children Arvinda and Amrita, not to mention aunty Sonia, aunty Pam, aunty Arlene and her siblings and in-laws who continue to grieve.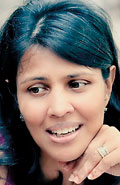 As much as everyone wants to move forward without Annou, it has been a difficult task. She had a following like no other. Be it at work, on the field, her family, her friends, all grew in numbers literally on a daily basis for the bond that was made with Annou was cemented instantly and almost like a "till death do us part" relationship would begin.
I am not sure even if years would help us to face life knowing that she is not around us but in spirit she will be there. I for one miss her telephone calls to clarify something she was in doubt over. Her constant request to have us over for a meal, her life around the kids, her life at work, especially her life at work after this illness struck her were not easy on her at all. We all suffered with her seeing her go through the stages where it flared up all of a sudden and then lasted in her system for a good few weeks before it subsided. Yet, she would bounce back as if nothing had changed where she was willing to give her best at whatever cost!
None of us, her friends, can fill the void she has created in Terrence's family even though we try, but what do we do? How can we help? I am sure her one year of passing will be celebrated where her life will be re-lived and praised. All she did was leave happy memories, lots of happy moments especially at work where we couldn't laugh enough. I am sure it was the same wherever else she had worked. But to us, she was truly special.
On April 9 last year, we watched her slip away, helpless but yet hoping that she would fight back as she always did. No wonder that everyone was in sheer shock because none of us gave up, but she did for the first time, which was the last time.
I am sure that you know Annou that all of us – your friends will always be with you, no matter when or where. May the Almighty continue to keep you in His care and heavenly gardens!
Yasmin Cader
There she comes
VARUNI PEIRIS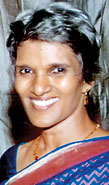 A ship sails and I stand… watching until she fades on the horizon
And someone at my side says, "She is gone!"
"Gone where?" "Gone from my sight, that is all",
She is just as large as she was when I saw her
The diminished size and the total loss of sight is in me, not in her.
And just at that moment that someone at my side says, "she is gone!"
There are others who are watching her coming
And other voices ready to take up the glad shout, "There she comes!"
And that is dying.
(-"What is dying?" Bishop Brent)
Varuni, we are so sure that when you reached the other shore, it was not only a glad shout, but also a standing ovation.
Thank you for the memory of your selfless ways, your sincere love and caring, and your admirable simplicity… you touched so many lives and we shall miss you.
God be with you… till we meet again!
Mahendra , On behalf of your aunts, uncles amd cousins of the 'Melbourne' Moratuwa  family.
Follow @timesonlinelk
comments powered by

Disqus