Foreign policy outsourced at Rs. 500,000 a day
View(s):
Peiris denies any change in policy towards US and its resolution; but Central Bank and embassy in Washington hire lobbying firms to woo Obama
US ambassador Sison in a tough speech, insists on reconciliation and accountability; but Gota hits back, saying she is not governor of Sri Lanka
By Our Political Editor
Notwithstanding a campaign to bring about a change of heart by the Obama administration towards Sri Lanka, costing the taxpayer Rs. 15 million a month, the UPFA Government will not change its official policy towards the United States. Or so it seems.
A strong assertion came from External Affairs Minister G.L. Peiris on Tuesday. "I wish to state emphatically that there is no change of Government policy towards the US. We do not concur with their (latest UN Human Rights Council) Resolution and our representatives in Geneva distanced Sri Lanka very clearly from its contents," he told Parliament. He said the Government "rejects this resolution because it has been the most powerful catalyst for dissension, discord and even violence." An extension of the remarks would mean the External Affairs Minister is complaining that the US is destabilising Sri Lanka.
His statement came after Opposition United National Party Leader Ranil Wickremesinghe asked whether the Government has "signalled a desire to broaden the relationship with the United States." He referred to the recent article by Jaliya Wickremesuriya, Sri Lanka's Ambassador to the United States, to a Congressional website (and reproduced in these columns) and opined that it was in concert with provisions of the second US resolution passed in Geneva by the UN Human Rights Council. He quoted Ambassador Wickremesuriya as saying "we agree that whilst much has been done, more needs to be done." Wickremesinghe declared "this has not been contradicted to date and therefore can be accepted as reflecting the official government position." He pointed out that Ambassador Wickremesuriya had said that "commitment is not just to democracy, but also to respecting rule of law and the principles of sovereignty."
This, Wickremesinghe revealed, was in accordance with Item 3 of the Resolution which calls upon the Government to implement the recommendations of the LLRC. The provision, he said, reads "welcoming and acknowledging the progress made by the Government of Sri Lanka in rebuilding infrastructure, demining, resettling the majority of internally displaced persons, and noting nonetheless that considerable work lies ahead in the areas of justice, reconciliation and resumption of livelihoods, and stressing the importance of the full participation of local populations, including representatives of civil society and minorities, in these efforts."
Whilst arguing that Ambassador Wickremesuriya's remarks in the article amounts to accepting the resolution adopted in Geneva, the Opposition Leader wanted to know where "anticipated talks will take place" between the US and Sri Lanka. He also wanted to know whether the Government would consult the stakeholders before proceeding. "Will the discussions be confined to the US Government or include India, the United Kingdom and the other countries that voted for the resolution," he asked.
Being the senior and well-informed politician that he is, Wickremesinghe knew all too well that no Colombo-Washington talks were imminent. It is clear his strategy was to seek an official response on who speaks for Sri Lanka's foreign policy and more importantly what their confines were. As expected, Peiris responded making clear "no talks are anticipated" since there was no policy change towards the US. Needless to say a few professionals in Peiris's own Ministry challenged the wisdom of going public with remarks suggesting relations with a particular country would remain bad. "Whether such a country is big or small is immaterial.
In the past we have not made such negative public declarations," said one speaking on grounds of anonymity. The External Affairs Minister said the important reasons why Sri Lanka did not accept the second US resolution were two factors. One was asking the UN High Commissioner for Human Rights to present an oral report to the Council in September and a comprehensive report followed by a discussion in March next year. "That is one of the most important objectives that had been achieved by the Resolution. The Government of Sri Lanka does not accept this position; it never has, it never will." Peiris said in a letter early this year to Foreign Ministers of member countries of the UN Human Rights Council, "Just as the Government of Sri Lanka did not recognise the last HRC resolution, it rejects the new resolution."
During both the March 2012 and March 2013 UN Human Rights Council sessions Peiris did not speak. He attended the first event in Geneva but did not go this year. Delegation leader Mahinda Samarasinghe, President's Special Envoy on human rights, during his speech in 2012 did protest over the resolution. However, during his speech at the main segment he briefed the Council on what aspects of the Resolution were being implemented and what remains to be done. In other words, whilst disagreeing, Sri Lanka did explain that concerns listed in the Resolution were being addressed. During the last sessions in March this year, Samarasinghe re-iterated the same position though he strongly criticised UN Human Rights High Commissioner Navi Pillay, making some personal accusations too.
Even if Minister Peiris quite boldly asserted some aspects of Sri Lanka's foreign policy in Parliament, he seems totally helpless over others. In the alternative, he has chosen to remain silent over them. That is the moonlighting by other important Government personalities. They are not only evolving their own new foreign policy initiatives for Sri Lanka but also tying up thousands of dollars or millions of rupees in taxpayer's money to promote them. In fact Opposition Leader Wickremesinghe's brief statement in Parliament seeking a clarification on Sri Lanka's policy towards the US was borne out of this fact. His question followed Ambassador Wickremesuriya's call for Sri Lanka's inclusion in a "US pivot" that was to checkmate the emergence of China as a regional power. It has now come to light that US Secretary of State John Kerry too is sceptical of the move. He made this position clear at his Congressional hearing when he said he was uncomfortable with the Administration's "pivot to Asia" and declared this was either unnecessary or unwise.
Ahead of Wickremesinghe raising issue, a larger thrust of the Sri Lanka Embassy in Washington DC has been on the Sri Lankan community living in that country. Other than that, some news releases have reflected foreign policy perceptions not consonant with those propounded by the External Affairs Ministry. These are besides claims that it has secured enormous foreign investment in Sri Lanka from the US in press releases distributed to the local media.
The Sunday Times can reveal today that Ambassador Wickremesuriya has signed (on behalf of the Government of Sri Lanka) an agreement with the lobbying firm Majority Group for US$ 50,000 or Rs, 6,300,000 a month to, among other matters, lobby the US Government to change its attitude towards Sri Lanka. It will also lobby Congressmen and Senators to reach out to President Barack Obama. US law requires that such agreements are registered under the Foreign Agents Registration Act within three months after an agreement is signed. As exclusively revealed in these columns last week, the Central Bank of Sri Lanka has already entered into a similar agreement with the US lobbying firm Thompson Advisory Group LLC for US$ 66,600 (Rs. 8,337,600) a month.
Added together, the two lobbying firms would have to be paid a monthly fee of US$ 116,600 or more than Rs. 14.8 million in this exercise of outsourcing diplomacy when it should remain the sovereign responsibility of the state. Of the 58 Sri Lanka diplomatic missions overseas, the one in Washington is the costliest in operational terms. The payment to the two lobbying firms, a source familiar with the subject said, was roughly 50 per cent of the cost of running the Sri Lanka Embassy in Washington DC. A Ministerial source said yesterday these deals had been worked out without any Cabinet approval or the formal consent of the Ministry of External Affairs.
The Thompson Advisory Group is now busy preparing a programme for Central Bank Governor Nivard Cabraal who will arrive in Washington DC on April 19. Sarath Amunugama, Minister of International Monetary Co-operation, is also due in the US capital on April 16. They are attending the joint World Bank-IMF Development Committee meeting.
Last week, the Sunday Times (Political Commentary) reported that TAG, the US lobbying firm, was recommended to Sri Lankan officials by an expatriate Lankan who is operating a limousine service in Maryland, Washington DC. Among his clients is said to be the head of TAG, Robert J. Thompson, our report said. This week, the widely accessed US website Politico reported that "In a recent FARA filing, Thompson Advisory Group listed a limousine driver as a consultant to the firm.
Thilak Mohan Siriwardena is being paid $ 7000 (over Rs. 889,000) per month on a contract with the Central Bank of Sri Lanka. He is also registered for "hire-driver" in Maryland. Multiple calls and e-mails this week and last week to Thompson Advisory Group went unanswered about the nature of the contract….." The Sunday Times inquiries in Washington DC revealed that Siriwardena holds official Badge No: 48258 valid till February 28 2016. The carrier number allotted to him is 4182 and the website for his hire service is
http://webapp.psc.state.md.us/Intranet/Transport/forhiredriver_new.cfm?var=S . It is not immediately clear what form of consultancy Siriwardena is offering the TAG.
Some foreign governments as well as voluntary bodies do obtain the services of Washington based lobbying firms to undertake special tasks. For example, a Caribbean country sought the help of a firm to promote its tourism. Friends of Earth, a Canada based group hired a lobbying firm to lobby against a 2000 mile long pipeline from Alberta in Canada to Texas in the US in what came to be known as the Keystone project. The purposes are clearly focused on a particular subject. Moreover, in the case of foreign governments, the relevant ministry gets involved in the tie-up with the lobbying firms. In the two latest instances, Sri Lanka's case is unique. One has been initiated by Ambassador Wickremesuriya with The Majority Group. Another has been initiated by Central Bank Governor Cabraal with Thompson Advisory Group. Though these are on matters that are foreign-policy related, neither was the External Affairs Ministry consulted nor was prior Cabinet approval obtained. An extension of the logic of hiring lobbying firms in the US would mean that other influential UPFA personalities heading a government body could easily tie up with a firm to promote their perceived interests. It goes without saying that sidekicks in some part of the world would receive monthly commissions in these deals.
Peiris' statement in Parliament on Tuesday assumed greater significance for many other reasons as well. As he made his speech, he occasionally looked at the Speaker's Gallery where eight members of a visiting Indian parliamentary delegation were seated. Since India voted for the US backed resolution, there was in fact a message for New Delhi too. In some informed Indian quarters, Peiris' remarks were to create confusion. It was coming amidst reports that the Rajapaksa administration now wanted to restore normal relations with India and the US. After the Geneva event, diplomatic initiatives at the highest levels have been made from Colombo to New Delhi to repair ties.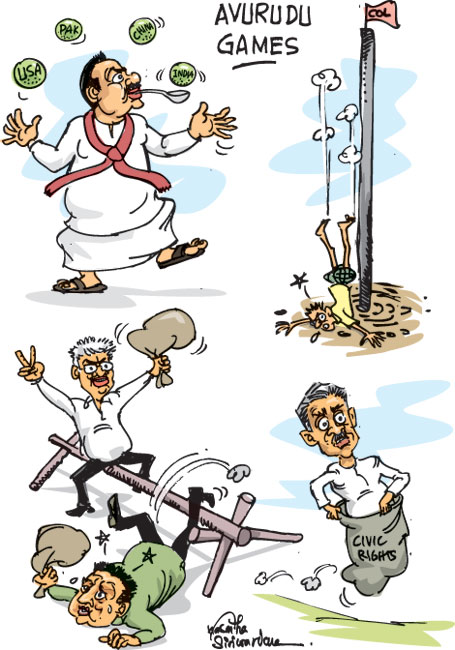 However, developments this week led to fears that ties both with Washington and New Delhi would remain strained, at least for the time being. This is whilst some parliamentarians of the main opposition United National Party (UNP) opined that Government was trying to follow its own brand of "two track" diplomacy with the US. One was being publicly critical of Washington whilst secretly taking various initiatives towards rapprochement. The hiring of lobbying firms was one such exercise, they contend. They believe that the domestic political fallout from a publicised move to build good relations with the US would hurt Government allies and anger sections of their support base, particularly trade unions.
A more significant reason came in the form of Peiris providing the answers to some issues raised by US Ambassador Michele Sison on Monday, a day ahead of his response in Parliament. In an address to the Foreign Correspondents Association in Colombo, a speech that was widely publicised by news agencies overseas, Sison Spoke "about the next steps for US engagement with Sri Lanka". This was in the aftermath of the second US-backed resolution at the Human Rights Council in Geneva last month.
She said the "2012 resolution simply asked the Government of Sri Lanka to fulfil its own commitments to its people from its Lessons Learnt and Reconciliation Commission (LLRC) report, and to meet its own international obligations." A few months after the 2012 resolution, she said, "the Government of Sri Lanka took the positive step of releasing a National Action Plan to implement its commitments regarding the recommendations of the LLRC report." Ambassador Sison said, "unfortunately, the National Action Plan did not cover all the recommendations of the LLRC, just as the LLRC recommendations did not address all the outstanding issues of reconciliation and accountability."
At the beginning of 2013, she said "the US consulted widely with other countries. We found a broad consensus that the international community should remain focused on the situation in Sri Lanka. Many countries shared concerns about the pace of reconciliation and accountability."
The US Ambassador said some had asked her what the US meant when it spoke of "reconciliation" or "accountability." She explained, "When we say reconciliation, we mean finding a way for all Sri Lankans to live together in peace, harmony, and security in a unified country……..a country in which the democratic space exists for all to be able to express their views freely, and for all to share in the prosperity of the country in terms of access to land, employment, education, and so forth. When we say accountability, we mean, identifying those responsible for committing abuses and imposing consequences for these acts or omissions." She noted that some form of credible investigation is in the interest of the Government concerned. "For when there are serious allegations of human rights violations — whether a government likes it or not — those allegations will persist until they are credibly addressed," she said.
What happens next, she said, depends on the Government of Sri Lanka. "As we examine next steps, we will renew our consideration of all mechanisms available, both in the Human Rights Council and beyond," she said.
The US Ambassador cautioned that calls "for reconciliation and accountability should not simply be seen as exhortations by the international community — reconciliation and accountability should be viewed as essential to ensuring a peaceful and prosperous future for the country."
Among the other significant points made by her:
= The United States has raised other concerns recently, as well, including dismay over the process that led to the impeachment of the Chief Justice and what that means for a free and independent judiciary in Sri Lanka. And just this weekend, we saw that the Bar Association of Sri Lanka and others raised concerns about the announcement of a significant number of transfers of judges and magistrates by the Judicial Service Commission.
= The March 21 Geneva United Nations Human Rights Council resolution also cited concern about discrimination on the basis of religion or belief. Against this backdrop, the United States, along with many Sri Lankan citizens, is alarmed by the recent attacks on Muslim businesses and certain inflammatory calls to action. This type of hateful sentiment must not be allowed to fester.
A remark that was to spark concerns in Government circles was one where Ambassador Sison said "History has shown us that societies that do not adequately address reconciliation and accountability usually return to a conflict situation at some point down the road." She added, "Thus, however, difficult the process is, it is ultimately vital to the stability of Sri Lanka."
It was to draw an angry retort from one senior member of the Rajapaksa government — Defence Secretary Gotabaya Rajapaksa. He asked whether it was correct for a foreign diplomat to predict another war in Sri Lanka, and that the job of an ambassador was to strengthen relations between two countries not to ruin them by giving lessons in good governance in the host country. Sri Lanka was not a colony of America; nor was the ambassador a governor representing President Obama. He told the Sunday Times "the President (Mahinda Rajapaksa) was responsible to the people of this country, not to America", and that his international obligations are only part of his responsibilities. "His larger responsibility is to the people of Sri Lanka", he said.
Two UNP MPs gave a news conference on Thursday to speak on Ambassador Wickremasuriya's controversial article as well as the deals with US lobbying companies. Gampaha District Parliametarian Ruwan Wijewardene said: "The Government's failed foreign policy is bringing disrepute to the country. Our leader asked in Parliament from External Affairs Minister G.L. Peiris whether the Government has changed its policy towards United States and wants to hold talks with them. He replied that there was no change and they do not hope to talk to the US government. The Sri Lanka Government (Central Bank) has contracted the US based Thompson Advisory group for a monthly payment of Rs. 8.3 million to build closer relations with the US government.
"G.L. Peiris says the Government is rejecting the US, but from the rear door they are trying to restore good relations. This is public money they are spending. They tell one thing to the public. They say the Government will not allow the US to get involved in Sri Lanka's affairs. On the other hand they woo the US. This shows that the Government does not have a proper foreign policy. This also show that they are misleading the public."
National List UNP Parliamentarian Harsha de Silva said: "I want to draw attention to an important issue. On April 9, Opposition Leader Ranil Wickremesinghe, raised a question in Parliament whether there is a change in Sri Lanka's foreign policy. The Government rejected the resolution moved by the US, but Ambassador Jaliya Wickremasooriya says something contradicting this. He said the Government wanted to build a new relationship with the US. G L Peiris says that 'We do not concur with the US Resolution.' Now attempts are being made to 'shape up' things. The Central Bank too gets involved in it. This is the contract with the Thompson Advisory Group. The Group has promised to do various things including to persuade Senators and Congressmen to speak to President Obama."
US Ambassador Sison says the next move depends on the Government of Sri Lanka and reminds Colombo that the US will consider "all mechanisms available, both in the Human Rights Council and beyond."
Peiris has now answered the question by explaining the Government's move. His message to Washington is that there is no policy change and Sri Lanka does not accept the provisions of the US resolution. The ball is now in the Obama Administration's court.
Yet, there is a lot to what Peiris did not tell Parliament. Until now, two US lobbying firms have been hired to canvas the US Government to change its mind towards Sri Lanka.
This is costing the Sri Lankan tax payer half a million rupees every day. If he is unable to, someone in authority in the UPFA Government should explain why public funds are being wasted for outsourcing Sri Lanka's diplomacy in the United States. Or is it something that should remain a public secret until there is a US change of heart. Such an event is highly unlikely since the two resolutions will not simply fade away. Two opposition parliamentarians have already raised issue. The question is whether it would go into the limbo of forgotten issues like all others.
Follow @timesonlinelk
comments powered by

Disqus