Appreciations
View(s):

A role model in her professional as well as personal life

PRIYANI ABEYASEKERA NEE TENNEKOON

Words don't come to my mind to put my thoughts to paper but I must do this. This is my tribute to my dear friend and former colleague Priyani who passed away on March 26, 2013 leaving a vacuum in my life which can never be filled.

Priyani came in to my life in 1984 when she joined the national carrier as Legal Affairs Manager. Hailing from a distinguished family being the youngest daughter of Victor Tennekoon, CJ and Semitha Tennekoon (nee Wijewardena) she added strength to the existing team of dedicated professionals of the fledging airline AirLanka. She never compromised on ethics and integrity. She could never be coerced to sway even minutely from the right path when decision making. She never bowed down to pressure from any quarter to do the wrong thing, whether it was negotiating aircraft leasing or drafting legal documents. When the situation demanded her silence and stern looks spoke a thousand words that kept others at bay. She was an exemplary professional who carried out her duty with the utmost respect for the profession.

I was truly privileged to have known her for 29 years as a colleague and close friend who shared many common interests in life. Her love for travel and adventure saw us travel to all parts of the country with her family and families of likeminded friends, ever ready to rough out; ignoring the comforts as exploring was her priority. She always wanted to savour Sinhala cinema, music and drama if I recommended them. Priyani was at her best enjoying a home cooked dinner at friends' houses with lots of laughter and teasing each other.

Priyani was a model mother. She was the inspiration, role model, and mentor for her only child Ishan. Her most valuable contribution to society together with Harin was bringing up Ishan to be an exemplary young man who is a role model to any young person in today's society. She was blessed to have him near her during the last few months of her life, sacrificing his studies to be with her and caring and nursing her together with his father.

During the last stage of her life, she was not short of friends who cared for her and loved her like their own kith and kin. She was never alone. She never lacked laughter. She never lacked tasty food when she wanted. She never lacked intellectual discussion. She had everything that she deserved. The large crowd who attended her funeral with short notice on a Poya day amply demonstrated the immense respect she gained from society. It spoke volumes.

Dear Priyani, I will miss you forever. Until we meet in samsara , obata dhaham saranai .

Preethi Galgamuwa

From Trinity to tea and military: Mileposts in Madu's life

Nimal Theekshana (N.T) Madugalle

Truly great friends are hard to find, difficult to leave, and impossible to forget. When the wind blows, we do not know where it came from; nor do we know where it went. As if taken by a gust of wind Madu's life was taken away suddenly, leaving a grieving wife and children and many friends and relatives.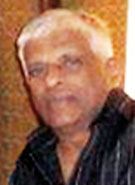 Madu or Nimal Theekshana Madugalle to give his full name, and his wife Sita, had just joined their daughter and son and their families in Sydney, when within weeks his life was snuffed out. Madu's parents were descended from two aristocratic Kandyan families – the Madugalles of Udispattuwa and the Rambukpothas of Badulla. He had one sibling, an older brother Rihaal.
Both brothers had the distinction of playing in the same Trinity College rugby team in 1959 under Denzil Kobbekaduwa and in 1960, under Eric Roles. Both were speedy wing three quarters. Theekshana played for Trinity from 1959 to 1962, being the vice captain in 1961 and 1962. Some of his team mates in the Trinity rugby teams were Denzil Kobbekaduwa, Eric Roles, Jayanthissa Ratwatte, Tony Buultjens, Gamini Fernando, Malcolm Talwatte, Jayantha Jayewardene, Noel Brohier, Kavinda Ellepola, A N P Fernando and C H Seneviratne.
He was also a good athlete representing Trinity at the Public Schools Meets from 1959 to 1961. He captained the Trinity athletics team in 1961. Some of the other athletes representing Trinity at that time were L.C.R. de Silva, Gamini Ranaraja, Jayantissa Ratwatte, M.C.M. Fazeel and Rodney Geddes.
Madu took to tea planting as a career and was on estates in the Kandapola, Agrapatana and Nuwara Eliya districts. Towards the end of his planting career, he managed a group of estates for the Kelani Valley Plantation Company. Madu enlisted in the Ceylon Rifle Corps as a volunteer. He served in the war zone at Vadamarachchi during the height of the war with the LTTE.
Madu met and married Sita Dias and they immediately became soul mates. Their love for each other and their children was unbounded. As Edgar Allan Poe has said 'they loved with a love that was more than love'. Theeks and Nanga, as they called each other, led an exemplary life as parents and friends.
Madu was proud of the achievements of his two children and lost no time in telling his friends of what they had done. He loved his three grandchildren very much. For over three years he spent almost all his time single handedly looking after his eldest grandson Aryn.
Madu was quiet by nature but had an extensive knowledge and deep understanding of anything worth knowing. He was kind and sensitive. He was a good friend. He certainly was one to me.
Our sympathies and love go out to Sita, Chamilka and Rajiva in this time of their extreme sadness at the sudden loss of their husband and father. Farewell Madu my lifelong friend. May you have a pleasant journey through Samsara and may you attain Nirvana!
Jayantha Jayewardene
To sir, with lots of respect
Rienzie Gunaratne
Although two years have passed since your demise, the memories of your long teaching career still linger in the minds of several thousands of your pupils here and overseas.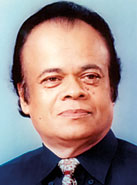 In more than half a century of teaching, three generations were fortunate enough to get your helping hand to become well versed in the English language, and in the vast ocean of English literature. At the same time, your vast knowledge of history too was marvellous.
My mind goes back to the 1960s, when you were our class teacher at the Government Teachers' Training College Practising School of Maharagama (now known as Maharagama Central College). It was headed by our great Guru, T. G. S. Gunawardhana. At that time, English education had declined drastically. Mr. Gunawardhana entrusted you with the task of improving the knowledge of English of the students, and I still remember how you cheerfully accepted that huge challenge as a young teacher.
You encouraged us to start a literary association and you took every possible step to make us practical people with knowledge and ability. You made us wait about three hours after school and taught us difficult areas of English language, without charging any fee. Then we had to leave you at the end of 1969, after getting through our O/L exam, including English, as no A/L classes were conducted there at the time.
When you were appointed as a lecturer in English at the Maharagama Teachers' Training College, your students at the Practising School felt somewhat stranded. Yet, you somehow continued to complete your responsibility towards the students, who were halfway through their studies, by teaching them free of charge in your leisure time.
After finishing your career in Public Service, you utilised your full time in teaching English and literature to schoolchildren and more than 85% of them obtained distinctions or 'A' grade passes every year.
Towards the end of your teaching career, I think you somewhat ignored your illness due to your busy schedule. I still remember your words, when you were forced to give up your half a century of service. "You can see what I am today. This is the decay and impermanence of all the sanskaras, as Lord Buddha preached." Exactly. After being much cared for and frequently taken for treatment in Singapore, you left your beloved wife and four daughters and all of us, your students too.
Whenever any of my writings, in prose or verse, appeared in the newspapers, you contacted me the same morning itself to express your appreciation. I think you were the only person, who could correctly understand the hidden meanings of some of the poems.
The most valuable lesson you taught your students was punctuality, which you yourself observed to the letter. The other lesson you taught all who knew you is to fulfil one's duties towards not only to the wife and children, but also to one's parents, brothers and sisters.
As you told me, whatever we do, we are unable to go against the impermanence that prevails, and after an illustrious teaching career, you left all of us. Dear master, may you attain the complete enlightenment of the Supreme Bliss of Nibbana, as early as possible!
Atula A. Dodangoda
SYBIL ELVINA DE CHICKERA
Birthday remembrance: March 20
You lived your life unto the full
But went away too soon
You left us in the depths of night
A night, that had no moon.
We knew you would be leaving us
When the cancer grew 'n grew
And slowly wound its tentacles
But it happened, oh too soon.
You lived your life for others
And gave your heart as well
But when we cried and pleaded 'stay'
You closed your eyes, then slipped away.
We did our best to help you fight
The cells that strangled you
And all around were so amazed
As you recounted happy days.
Though now you're gone, we'll ne'er forget
Life's lessons taught with love,
We miss you Mom, and always will,
And know someday, we'll meet you still.
Lucky de Chickera
An outstanding friend of a lifetime; a limited edition classic
EBERT SILVA
A year after his departure on March 28 last year, I write of Ebert Silva, a dear and much loved friend, close to my family and me. My friendship with Ebert goes well beyond six and a half decades, to a joyful time when we were both youngsters and mischievous schoolboys.
Though my ancestral home town was Waragoda in Kelaniya, I was boarded in Dehiwala for the convenience of my schooling at St. Peter's College, which was then located in the St. Mary's Church premises in Dehiwala. In contrast to the school's imposing buildings in Bambalapitiya today, we had our classrooms in cadjan huts under the strict command of Fr. Nicholas Perera who was the Rector of the primary section and Fr. Basil Wijetunge, Rector of the senior school.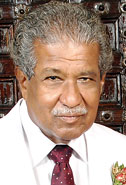 Ebert's father, Nomis de Silva, was a well-known businessman who owned his bus company Ebert Silva Omni Bus Company, named after Ebert, the eldest son of the family. Their imposing residence was situated on Hill Street in Dehiwala with the office, garages and workshops of the bus company adjoining it. It was only natural that we struck a lasting friendship, being young boys of the same age, from the same area and attending the same school.
We were among the group of youngsters who cycled to school daily. It was a time when a boy's most prized possession was his bicycle, and only a few motor cars were seen on the comparatively deserted roads. Boys have always been boys and we had much more than our fair share of mischief and fun. Just as the still and silent waters run deep, Ebert, even as a schoolboy was somewhat of a 'thinker', reserved and always of very few words.
Having a subtle sense of humour and being a passive partner in our mischief in college, he never failed to enjoy our boyish pranks. Coming from a conservative Buddhist background he stood out as the only vegetarian and teetotaller among all the friends!
When it came to a friend we could rely and count on, Ebert was always the first choice! Even as a young boy his heart and mind were never between the pages of his school books but always in the workshops and garages of his father's bus company, with the passion for automobiles and for the business surging through his veins.
After college it was our routine to cycle back with the first stop being Ebert's house. Unfailing hospitality greeted us, but our friend Ebert always lost interest in our company as he sneaked away into what gave him most pleasure — being amidst his much loved automobiles! Our friendship only grew closer and stronger with age and it entwined our families into sharing a warm, cordial and lasting bond. Many were the times that our families travelled together in Ebert's buses on lengthy trips to Kataragama, Anuradhapura and other places.
It was only natural that Ebert gave up schooling as a teenager with the early passing away of his father and passionately committed himself to continue and revive the family business. He also took over the responsibility of his family with seven younger siblings. I have seen his extraordinary dedication, commitment and spirit through the years, especially in building up the business after he lost the company founded by his father during the nationalization of bus companies in 1956. I remember vividly the old bus and the 'Vanguard' and 'Renault' cars he was left with in the aftermath.
It was his extraordinary capacity as a visionary and an entrepreneur that enabled him to take his company to great heights at later times.
Ebert was a generous, gentle and compassionate human being who helped numerous people and society at large, never expecting fame or recognition. Throughout the years even though he ascended to great heights in business and was a well-known personality, he was always the simple, unassuming thorough gentleman to all. Ebert was fond of children and therefore a much loved uncle to his nephews and nieces and my three daughters and son. To date they reminisce with such fondness how the sound of the horn of 'Uncle Ebert's' Mercedes used to make them dash to the gate to get their daily share of chocolates and ice creams!
When Ebert married Sudharma and had his two children Rajini and Rajinda, my wife Dorinda and I were regular visitors to their residence. He was a loving and dutiful husband and a doting and affectionate father. All who knew Ebert's family saw and appreciated the extraordinary and exceptional love and affection shared between a father and a daughter, in Ebert and his daughter Rajini, who was undoubtedly the apple of his eye. When his only grandchild Nithindree was born we saw him enjoying the pleasures and delights of being an adoring grandfather.
Looking back at life as an octogenarian, knowing an outstanding friend like Ebert has indeed been a blessing. He was an extraordinary entrepreneur and visionary who yielded a yeoman service to Sri Lanka's transport and tourism industries. A true friend with rare qualities of sincerity, dependability and generosity and an exceptional human being, Ebert Silva was undoubtedly a 'Limited Edition' Classic.
May he attain the Supreme Bliss of Nibbana!
Anderson Algama
Follow @timesonlinelk
comments powered by

Disqus