Appreciations
View(s):

My Muththi, my hero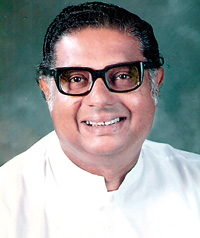 Rupa Karunatilaka
If my grandfather had lived, he would have been 80 on March 15. He was 'Muththi to us and Rupa Karunatilaka to the rest of the world. Muththi was born in Niyagama, Talgaswela in the south of Sri Lanka. He was educated at Ananda Vidyalaya, Elpitiya, Mahinda College, Galle and later at Nalanda Vidyalaya, Colombo.
He entered Parliament in 1977 from the Bentara Elpitiya electorate. He was a cabinet Minister in the UNP Government. Retiring from politics in 2000, he was assigned a diplomatic posting as Sri Lanka's Ambassador to the Netherlands.
Even if he was busy with his work he would always make time for his family. I remember how Muththi used to have dinner every Friday with his six grandchildren. He would get us any type of food we wanted and during the holidays he would take us to his home in the village. A special quality I have seen in him is that he treated everyone the same. Many poor people came to meet him with their grievances and he tried to help them all.
It was a privilege to have lived so close to him; in the evenings I used to go and see him and was always greeted with a warm hug and kiss. Now it's very lonely without him, and when I go to his home I cherish those memories and the times we spent together, his warm hugs and all those things which made him so special. It is hard to accept that he is no longer in our lives.
It's a little unreal that it's been one year and five months since he died.
Although he is not with us any more we will never forget him.
We have him with us
He will live in our hearts forever
Since I was a child
In all that I have been through
You have always been my hero
No one stood as tall as you.
We miss you ……………..
More than you could ever imagine.
May you attain Nirvana
Your loving grand daughter
Sajini Edirisooriya
---
Once the voice of the Army, he was admired for his skills
Major General P. S. P. (Sarath) Munasinghe
Major General P. S. P. (Sarath) Munasinghe passed away on March 17, five years ago. The dedicated Army officer received plaudits during his lifetime for having been conscientious and proficient in the discharge of his duties. He worked with distinction and enthusiasm. His management skills and practical approach won him the admiration of his superiors and subordinates.
On February 5, 1970, Major General Munasinghe RWP RSP USP joined the Regular Force of the Sri Lanka Army as an Officer Cadet. After completing his training at the Sri Lanka Military Academy in Diyatalawa, he was commissioned into the 4th Regiment of the Sri Lanka Artillery Corps as a Second Lieutenant.
During his illustrious career, he served as Security Forces Commander (Jaffna). He held several operational and non-operational appointments. Among these were Adjutant, General Staff Officer, Intelligence Officer, Battery Commander and Deputy Commandant of the Army Training School. He was Commanding Officer of the Artillery Corps 6th Regiment, Military Assistant to the Commander and Director Media, Army Headquarters. He also commanded several Brigades across many districts.
Major General Munasinghe qualified at various levels of command through national and international courses. He received the Republic of Sri Lanka Armed Services Medal in 1972, Sri Lanka Army 25th Anniversary Median in 1974 and the President's Inauguration Medal in 1979. He was decorated for his gallantry with the Rana Wickrama Padakkama and Rana Sura Padakkama, and for his services the Uththama Seva Padakkama.
He retired in March 2000 after serving the Army for 30 years. In the same year, he was elected to Parliament from the Kurunegala District on the People's Alliance ticket. He served as Deputy Speaker.
May his soul attain Nibbana!
A friend
---
An officer and gentleman
CLEMENT ALLES
The late Clement Alles, father of my dear friend Marie, was a gentleman for all seasons. On the many occasions I met him, I was impressed with his remarkable memory, and his ability at the drop of a hat, to relate interesting anecdotes, about his life, friends and acquaintances, including my parents.
He was a high-ranking police officer, at a time when the Police Force was much respected and regarded the true guardians of law and order. He lived till he was 100 and in his last years, lived a fulfilling life, cushioned by the love of his children and grandchildren who lavished tender, loving care on him.He was proud of the fact that he was the oldest living old boy of St. Aloysius College, Galle. An all-round sportsman, he joined the Police in 1937 and received Gallantry, Defence and Coronation medals. At his retirement, he was awarded a rare medal – a medal that only a few police officers had received — in recognition of his unblemished record.
He was the last surviving grandson of the renowned Chevalier William Abeysundera of Galle. His father the late Dr. Francis Alles was a surgeon, and when he was posted to Colombo, Clement attended St. Joseph's College where he excelled in sports and passed the matriculation. Even in his last years, he was able to read without glasses and remembered every minute detail of his schooldays. He was proud of his achievements in sports and often attributed his longevity to this. It would undoubtedly, also have instilled in him a sense of justice and fairplay, which stood him in good stead all his life.
He had a personal sense of refinement, good taste and sartorial dash. He was courteous, good humoured and never at a loss for words to talk on any subject. His reason for choosing a career in the Police was that he liked the uniform and the outdoor life. Life in the Police Force in those early days was tough. There were few basic amenities in rural areas in which he served, and it was a rough life, which he took with his usual good humour.
A devout Christian, who regularly visited the church, read the Bible every day and derived inspiration from the word of God, he invoked in whoever he met the memories of a vanished age. Men of such principles, who did not capitulate for the sake of expedience, are rare today. He was famed in the Police for valour and courage in the line of duty.
Control, planning and discipline are the keys to most things. Clement Alles had all this and the tenacity, bravery and determination to turn his dreams into reality. He moved through life with easy grace, splashed with a dash of disciplined bravura; a man who knew he didn't have to impress anyone with tales of his feats.
The world is poorer with the demise of men of this calibre. To Marie, Freddie and their families, I would say, better by far to smile and be cheerful, at all that he was and his remarkable life, than to remember and be sad.
Ilica Malkanthi Karunaratne
---
A reservoir of legal knowledge, he shared it with all
Diyanesh Rajaratnam
Sixteen years have passed so fast since Diyanesh Rajaratnam passed away in March 1997. Educated at Wesley College and Thurstan College, Diyanesh took to law in the family tradition and passed out as an Attorney-at-Law.  He was also one of the first to successfully complete the MBA programme at the University of Colombo. The mundane business of making money however attracted him little. This led him to join the Employers Federation of Ceylon and specialise in labour law.
Diyanesh was also a great sportsman and excelled in rugger and cricket. He was also a cricket commentator during the latter years of his short life that ended in 1997 when he was 44. Those who knew Diyanesh will agree that there was something exceptional about him. He had a remarkable mind and he read and wrote widely. He was a gifted draftsman and an accomplished advocate. New or intricate legal points interested him. His uncanny and profound knowledge of the law coupled with his ability to direct one to an authority from memory was unusual. He did not parade his knowledge but humbly shared it with all who sought his advice.
He was known for his humanity and particularly helping those who needed help. Diyanesh's achievements speak for themselves and he brought an unparalleled degree of dignity, courtesy, fairness, candour and complete integrity to everything he did. His knowledge of the law was one matter. He could talk with authority on the classics, science, poetry, sports or whatever.  There is so much respect for Diyanesh's pursuit of perfection. He demanded so much from himself and instilled into all who surrounded him that great yearning for perfection.
I write about Diyanesh now as he deserves to be remembered. Diyanesh was a great man and was a role model par excellence.
"They who think that you are gone, because no more your face they see, are wrong, for in our hearts you live and always will in memory".
Suresh Muthulingam
---
The words he spoke as YMCA speaker still reverberate
C. S. Dharmarajah
C. S. Dharmarajah, a veteran journalist at the Times of Ceylon and Observer, passed away recently.
An active member of the YMCA, he became the Speaker of the YMCA Forum in 1952, three years before I became the Speaker.
He presided at many public lectures and debates at the YMCA Forum during his tenure as Speaker. Among them, a lecture on "Western Democracy in East and Ceylon" was delivered by C. Suntharalingam, a vigorous and enthusiastic MP of his time.
Another public debate he presided — "That women should be debarred from politics" — was led by N.K Choksy QC along with advocates Corbet Jayawardene and Izzadeen Mohamed for the proposition. The opposition was led by Vivienne Goonawardene and included two other women members. A packed audience which was estimated to be more than 1,300 witnessed the battle with much interest.
Presiding at the commemoration meeting at the YMCA on the death of Prime Minister D.S. Senanayake, Dharmarajah said:
"We are assembled here today to pay homage to the memory of the greatest Ceylonese that mother Lanka has produced. The Right Hon. D.S. Senanayake is no more with us. Orphaned as we are, we can no longer look to him for wise guidance and statesmanlike leadership. It was his lovable and magnetic personality that shaped for posterity the destiny of Sri Lanka, as no man has ever done before. In him we found a true friend of all communities and of all faiths."
Once the finals of the oratorical contest were judged by Opposition Leader S.W.R.D. Bandaranaike, Solicitor General T.S. Fernando QC and Advocate C.V. Ranawake. Speaker Dharmarajah welcoming Mr. Bandaranaike said he who was born into life in the lap of luxury and opulence had discarded ease and indolence to serve the common man.
"The scion of a family that belonged to what is popularly termed as the upper socialstratum; he has grown up as an advocate and champion of the poor and oppressed. Tutored in the environment of our then imperialist masters, he shines as the foremost nationalist of our country. An aristocrat by birth, he has turned out to be a socialist by conviction."
His tenure as Speaker of the Forum ended with the 87th session dinner where J.R. Jayewardene, Minister of Finance, was the chief guest with N.E. Weerasooria QC and E.B. Wikramanayake QC as guests of honour. Dharmarajah possessed a positive and creative outlook on life and generated enthusiasm into anything he undertook.
K.N. Choksy
Follow @timesonlinelk
comments powered by

Disqus