Horizon holds scholarship exam for University of London Degree Programmes
View(s):

Horizon City Campus held its first scholarship examination on the 02nd of March 2013, for students who wished to read for a degree from the University of London, for the academic year 2013/14 (Within the axis of UoL International Programmes). Students were offered scholarships on the local tuition fees due to Horizon City Campus. Fifteen such scholarships were offered to students who performed well at the exam and had obtained acceptable G.C.E. Advanced Level results. The response to the scholarship offer was very encouraging, with many students who were keen to study for this prestigious degree at Horizon City Campus, sitting & performing well at the examination.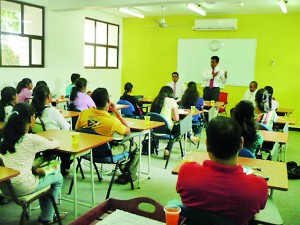 Speaking to the students after the examination, the CEO of Horizon College of Business & Technology, Mr.Upul Daranagama, while welcoming the students to study for their degree of choice, gave the assurance that Horizon is committed to providing a holistic environment for the students, within the city of Colombo. He was also to give an introduction of Horizon Campus and its future plans for the student population. Mr.Daranagama, very specially emphasized the rational behind the offering of scholarships, which was to provide more opportunities for students who would find finance as a barrier to higher education. Introductions to Horizon & the degree programmes were followed by a Q & A session and a brief tour of the campus facilities and its environs.
Horizon City campus has taken the responsibility to prepare students for seven degrees offered by the world renowned University of London, within the axis of the International Programmes. Amongst the many degrees offered by the University of London, Horizon have taken the task of providing lecturers and support services for Law, Economics, Banking & Finance, Politics & International Relations, Accounting & Finance, Economics & Finance, Economics & Management and Accounting & Law.
Classes for the first batch of students for this academic year, inclusive of the scholarship holders, would commence on the 23rd of March 2013. For immediate registrations for this batch, call Lalani on 0716 613 613 or 2369201-3
Follow @timesonlinelk
comments powered by

Disqus