BECOME A DOCTOR
View(s):

Study medicine close to home in English medium

PATHE Study Medicine is Sri Lanka's leader in Medical education. Over the years PATHE has placed thousands of medical students in recognized overseas universities. With a proven track record of more than a decade in medical education PATHE has become the number 1 choice for students who are aspiring to become future medical practitioners.

100% compliance with local regulations

PATHE has a policy of full compliance with Sri Lankan Medical Council (SLMC) regulations to practice medicine in Sri Lanka. All the universities are fully recognized by SLMC and the graduates must sit for ERPM (former ACT 16) examinations and must fulfill all other existing requirements to practice medicine in Sri Lanka. The large number of medical practitioner parents, including some of the leading medical consultants is a true testimony to our professionalism.

No need to pay 50% of tuition fee upfront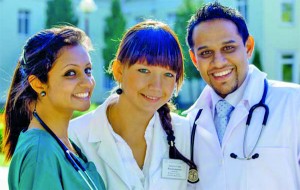 PATHE Study Medicine partner universities are true leaders in their country. The students are given proper advise about medical education and career options by an expert panel of medical professionals. Parents don't have to pay 50% upfront money like in Medical systems in China, Bangladesh and Russia. Furthermore hassle free visa arrangements, installment payment plans, and excellent study and clinical environments are provided for all students.
AUF – Center of Excellent for Medical Education in Asia
Doctor of Medicine (MD) programme at Angeles University Foundation (AUF) is geared to prepare Medical graduates for tomorrow's medical careers. AUF is one of the best Medical Universities in South East Asia Offering more than 60 different degree programmes in its modern city campus in Angeles City- Philippines. The MD programme at AUF is based on the North American Medical Education system.
Angeles University Foundation
AUF campus is located in a beautiful state-of-the art city campus in Angeles city, Philippines. The campus is conveniently located within 15 minutes driving distance from Clark International Airport. Angeles city is known for its magnificent sceneries, and universities. Students enjoy excellent but economical living standards at Angeles which is ranked by "Money Sense Magazine" as "one of the best places in the world to live".
Many foreign students are attracted to high quality education in Philippines. These include students from China, Korea, Japan, Europe, USA, Africa, India and many from Sri Lanka. The high quality world class academic standards are complemented with excellent living standards which make AUF and Angeles a great choice for students and parents.
Recognition & Accreditation
Angeles University Foundation is recognized by the Sri Lankan Medical Council (SLMC). Furthermore, AUF is enlisted in the WHO's (World Health Organization) World Directory of Medical Schools. This shows the global recognition of the degree gives unmatchable opportunities to the graduates to work overseas. It is also recognized by GMC (General Medical Council) – UK, AMC (Australian Medical Council) – Australia, ECFMG (Education Commission for Foreign Medical Graduates) – US and Canada.
For more information and admissions
Prospective students are invited to visit PATHE office at 111 ˝, Maya Avenue, Colombo 6 to obtain more information regarding the admission for 2013 intake. Students and parents can also call 0777 66 22 11 to obtain more information about the unique Medical education opportunities offered by PATHE Study Medicine.
Follow @timesonlinelk
comments powered by

Disqus