Roger Federer – A 'King' stepping down?
View(s):

'Kingship' in men's Tennis is to be the number one in the ATP world ranking. Right now, that position belongs to Novak Djokovic. Staying in the top five of ATP is a hard job. Roger Federer was number one and still holds a place in the top five. He has 76 career titles to his credit. Since of late his green days seems to be fading.

Appealing dynamic balance of Federer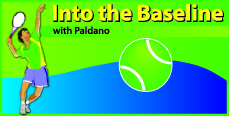 The world was playing western grip, high flight top spin and base line play. Federer went for flatter shots and an all court game. Tennis, changes every five years. Federer's version has made Tennis interesting and vibrant. I will remember Federer most for his 'Dynamic balance' in stroke making. He makes Tennis look easy and his balance is truly unique and amazing. Noticing this, Swiss watch makers used his 'Dynamic Balance' as their advertising theme. Federer became another Swiss Chronograph!
Maria Estella Bueno of Brazil was called the 'Ballerina' in the sixties. Federer is the first man in my memory to have such elegance in the men's game. Rafael Osuna of Mexico had some grace. Others produced great game styles in their dominance, but in elegance, balance and rhythm, Federer is in a league of his own.
Rotterdam ATP Masters 2013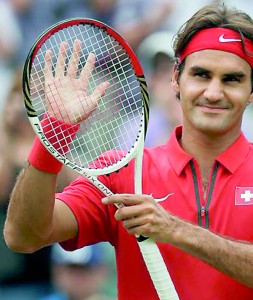 In mid February, Rotterdam with snow on its streets hosted the '2013 ATP world tour 500'. Roger Federer lost 3/6, 6/7 to 31 year old and ranked ATP 39, Julian Benneteau of France for the second time. It was the quarter finals. Federer did not reach the Australian Open final either. That is 'two' too many losses.
Margins narrow
Federer won 57 rallies and Benneteau 66 rallies. Mere 7 points made him lose in Rotterdam. In Tennis, a player can wipe out the points won by the opponent within the game. This is what happens when a player leads 40/15 and loses the game.
Compiling game and sets is strategy
'Tactics' are to win rallies and 'Strategies' are to compile games and sets. Tennis has an expression 'playing to the score'. [I would like to see this in local Tennis again] These aspects and others become difficult if a player has been in the 'Tennis circus' called the 'Professional circuit' for 16 years and pushing 33 of age! This is where Federer is right now!
Which continent is on top?
Post war Tennis was dominated by the Australians. They were the Harry Homan boys and came to a halt with John Newcombe and Tony Roche. Later Australians Pat Cash, Patrick Rafter and Lleyton Hewitt also did well but there was no dominance. From then on domination went to USA. World beaters from eastern European, like Navratilova and Lendl went to the US to enhance the game.Starting from Chuck McKinley, Arthur Ashe to the last Andre Agassi and Pete Sampras, USA players held fort for more than 25 years.
It was Federer who took USA's Tennis dominance away to Europe. This is where Tennis is now. His all court game is somewhat like Pete Sampras's power game. Like all good players, he could win from hopeless situations. Federer is a 'massive boost' to Western and Eastern European players. USA is struggling to keep head above water. South America always had a few in both genders. Juan Martin Del Potro of Argentina, the US open winner few years ago, won the 'Rotterdam-2013' title beating the giant killer Julian Benneteau of France 7/6 6/3 last week.
Good model for development-
What made Federer last? It is his 'effortless ability' to produce winning games in the grueling professional circuit. He is what a good development should be; physically not heavy and reasonable height but complete; Good 'sighting' gave him excellent reactions; anticipation is exceptional; effective in restricting the opponents ; rally tactics are simplest and effective at any given time; master of surprises; will hang in till the job is done; rarely lost once in the lead, like Sampras; from what I know he does not 'over' train himself into injuries; it is his smart work and not hard work that made him last; cross training idea of doing other sports was another form of Federer's training and relaxation; his service, service return and ground strokes gave him massive advantages to walk past the early rounds with ease in events; he could increase the fire power to topple anyone and anytime. The most amazing thing about him is, 'Federer has no weaknesses'.
A second spring please!
Roger Federer made Tennis immensely popular, like what Foot-ball enjoyed after Brazilian Pele and Brit David Beckham. He still has some years, so a 'second spring, is possible. As a role model in sports it will be difficult to replace him. Roger Federer is a Swiss European.
- georgepaldano@yahoo.com-
Follow @timesonlinelk
comments powered by

Disqus