Rage: A terrible aspect
View(s):

I was at my wit's end recently when the intimation reached me via a mobile service update that Oscar Pistorius had shot and killed his girlfriend Reeva Steenkamp. We all know the Blade Runner, don't we, dears? And the chic model he allegedly slew, while not exactly a household name in our neck of the woods, was well known enough around the sporting world – if only for her relationship with the celebrated Olympian. This was tragic news. Soon, the details filtered through, adding suspicious head-shaking to the initial shock and horror.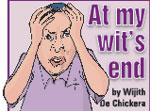 At first, our sporting hero suggested that a midnight marauder had caught him at home unawares. The detectives were having none of it. Pistorius lives in a gated community, with CCTV 24x7x365, and was known to pack a pistol. A forensic science reconstruction of the scene of the crime – steroids, 9mm shells, and bloodied cricket bat to boot – suggests a violent domestic altercation rather than intruder alter. Media unkindly jumped the starter's gun and gave the star-crossed runner a grisly epithet: the Blade Gunner. The dead girl's family have intimated that only Reeva – no, perhaps Pistorius also – knew the truth. The accused cried in court.
The sad, sordid, tale highlights several realities qua humanity worth mulling over while you chomp on brunch and tentatively sip a lite. First, that fame often exacts a deadly fee for your 15 minutes in the glare of the unforgiving footlights. Second, that while the laurels may briefly belong to the victor, the agony of defeat is a crippling lifetime sentence. Thirdly, that you never really know who your heroes are when they are alone or almost alone. Last but by no means least that each man kills the thing he loves. Another Oscar (O'Flahertie Fingall Wills Wilde) observed wryly that the coward does it with a kiss, the brave man with a sword.
This morning, as I shaved the face of a stranger in my mirror, I reflected that there but for the grace of God went your gentle favourite Sunday scrivener. Favourite, forsooth! Gentle, my glutes! The stranger who stared back at me had a visage fit for treasons, spoils, and stratagems. It was the face of a man I'd countenanced many times before without realizing how shallow a stygian depth separates cherubim and Lucifer. Ecce homo! Behold the man. The blood guilt of Cain marked my brow like the 9mm bullet nicks on that South African toilet door…
One's childhood heroes are a good indicator how the adult animal will turn out in the medium term (in the long run we are all dead). My introduction to man's ancient penchant for taking another's life came from an innocuous enough boys' book, 'Biggles of 266 Squadron'. All that dawn patrol stuff was dazzling enough for a lad to whom "all quiet on the western front" was a bore; but heaven was to be had at the end of each heart-racing nerve-wracking chapter in which biplanes performed tight Immelmann turns with all guns blazing at the diabolical Hun! But hard on the heels of that happiness came the sickening thud and crash of the realization that the Boche whom our intrepid aviator shot out of the sky with such fierce joy went down in eternal flames to some Teutonic Hades.
Other portents followed. The suave James Bond cut a dash as a smiling assassin in the 007 movie franchise, the first offering of which to captivate the beast in me was (ironically enough) 'Live and Let Die'. Soon a dark, dystopian cult sci-fi television series by the misleading label Blake's 7 drew my attention to the great space antihero Kerr Avon, a cynical charmer not averse to shooting his best friend. His only saving grace being that he did it face-to-face, acting on a suspicion that his erstwhile leader had betrayed their shared brand of idealism.
So why did Avon shoot Blake? Or Oscar kill Reeva? Power/Money? Sex? Love/Hate? Was it because books and films are more influential than we can ever imagine? Do our childhood heroes from the more permissive media milieus mould us more than we dare admit? When do drugs and steroids share the blame for our killing sprees? If we are blinded by bloodlust in our frenzied, war-stirred, running amok, does executing child prisoners of war count as war crime or way of the world?
Where does the fallen angel that is the human being stop being made in the image and likeness of God and become a beast of the field? Or worse, a diabolical creature hell would not recognize or own?
My guess is as good as yours, dears. All I know is that my name is Legion. When I think back on the number of times I have had anger enough in my heart to kill my brother, I know that in a higher court than that of law or love or legal fiction, I am guilty. Which, though we may admit it, will not suffice to bring back Blake, Reeva Steenkamp, or the children killed by adults in the war with no name…
Follow @timesonlinelk
comments powered by

Disqus