Letters to the editor
View(s):

Beggar women with toddlers: find homes for the children and jobs for the mothers

I am a working mother who commutes to Colombo all five working days, and I have to pass through Dematagoda to get to my workplace. I wish to share my feelings about the women who beg for money with children in their arms. As the mother of an 18-month daughter, I find the sight of these women, who may or may not be the biological mothers of the cute toddlers they carry, highly disturbing

I feel it is my responsibility to draw this miserable situation to the attention of the National Child Protection Authority (NCPA). The NCPA should take action and make sure these children are not used for begging purposes. The toddlers should be placed in a proper nurturing environment, and the parents prosecuted. The 1998 amendment to the Penal Code says that using children below 18 years for raising money is a criminal offence, with a maximum penalty of five-years' imprisonment.

To make a child party to begging amounts to child abuse and parental neglect. Such exposure could have a deep and harmful effect on the child. I have no problem with parents begging, but they should not drag their children into the act.

It is very difficult for working parents here to find reliable housemaids. These "beggar" mothers could work as housemaids in Sri Lanka (not the Middle East) and make a decent living. Alternatively, the Government should set up a programme to find jobs for these mothers.

Ruwani Dharmawardana

Let us be moderate in speech and action

The so-called educated elite and the average citizen have taken extreme measures in most matters and seem to have lost all sense of decency and moderation. They have created conditions of ceaseless wind and wave turbulence in society. Lawlessness rages at every level.

We are witnessing unseemly and ugly unrest. Allegations, imagined or real, and counter-accusations dominate most areas of political and social activity.  Those who govern and those who are governed are hurling abuse at one another in a grossly indecent manner. Scorn and animosity rule. This is a pathetic scenario, where no one seems to have any self-respect or respect for others.

We desperately need peace and tranquillity. We should be moderate in speech and action."Eschew extremism and embrace moderation" should be our guiding philosophy, in keeping with the Middle Path preached by the Lord Buddha and other religious teachers.

Rabble-rousing utterances can precipitate war. Gentle words can soothe hostile hearts.In the same way, we should be moderate in our praise for our leaders.

R. M. A. B. Dassanayake, Matale

Our Ministers are 40-million -rupee jokers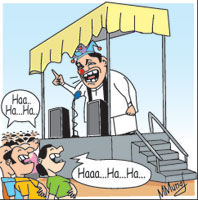 In the recent Cabinet reshuffle, the President has appointed not only a minister for sugar but one for entertainment as well.  The Opposition claims that it costs Rs. 40 million a month to maintain a Minister.
The President could have used that Rs. 40 million for some good cause. All the Ministers provide enough entertainment at the meetings and rallies they attend. That is why there is a large crowd whenever a Minister is present.
We, however, prefer to call them jokers rather than entertainers.
S. Abeywickrama, Nugegoda
Unfair pension payment
I am a Health Department pensioner and I retired in 1990. Later, under the terms of the Health General Circular No: 01-22/2002 of 31.12.2012, I was absorbed as a Medical Laboratory Technician and my pension revised. After the revision, I was paid Rs 11,014.80 by the Divisional Secretary Trincomalee. But a pensioner of my category Pension No: I, 608969, attached to the Divisional Secretariat Kinniya is paid Rs 12,583.35. I appealed several times to the Director General of Pensions but no action has been taken to date. I appeal to the authorities to revise my pension and pay me what the other pensioner in my category gets.
K. Kathirgamanathan, Pension No: 1. 525790
Politicians look after themselves and forget the masses
The recent rains have brought on another rash of dengue cases, and the Health Ministry has alerted the public. The Ministry's dengue eradication programme was limited to just one week, from 6 to February 12.
Our politicians boast that citizens can walk without fear in any part of Sri Lanka. They enjoy 24-hour protection and security and lavishly spend state money – our money, but give us measly protection against mosquito-borne diseases. They even collect fines from the public for negligence.
We expect our politicians to be less selfish and to start thinking about the people for a change.
Ivor Hapuarachchi
Follow @timesonlinelk
comments powered by

Disqus