Appreciations
View(s):

Accountant who spiced up his lectures with literary gems

NIMAL FERNANDO

The death of Nimal in January this year sadly brings to an end a long friendship built over more than 30 years. We came from different backgrounds, but our shared professional interests, including music, forged strong bonds between us.

Nimal was a Chartered Accountant in the public service. We worked together at the Sri Lanka Institute of Development Administration (SLIDA), the country's premier training-cum-consultancy organization for the public service. He was a senior consultant for some time, and later head of the Finance Division. He was awarded a scholarship to the University of Leeds in the UK to study for his MBA, which he secured with ease. He retired prematurely but continued rendering services to SLIDA and the Institute of Chartered Accountants as a lecturer.

Accountants are usually men of few words, making much of figures and books; Nimal, however, had a talent for spicing up his lectures with literary gems from English and Sinhala.  Humble man that he was, he never owned a motor vehicle but used public transport. He dealt efficiently with the many professional duties he was called upon to perform in the way of audits and financial management consultancies.

Nimal hailed from Kalutara and studied at the Holy Cross College, Kalutara, during the time of Father Julius Caesar Pinto, a very liberal priest. Though educated in a Roman Catholic school, he could expound concepts in Buddhist philosophy to non-Buddhists. He was an active member of the Old Boys' Association.

I will be failing in my duty if I do not mention his contribution towards the launch, two years ago, of my book, "An Introduction to Government Finance in Sri Lanka, Theory and Practice." He wrote a lengthy review of the book for the Financial Times.

Let me convey my condolences to his wife Kanthi, daughter, a medical doctor in Australia, and his two sons, with the wish that Nimal's journey in Samsara will soon be over.

Leo Fernando

The trees of Lanka will miss a good friend

Nirmala de Mel

Nirmala de Mel who passed away recently was a life-long environmentalist. A graduate from the University of Cambridge with an MA in anthropology, she went on to manage the firm of Quickshaws, possibly the first Sri Lankan travel firm, founded by her father, the late Vere de Mel.

Nirmala was a business woman who used her business contacts and interests to help the environment, particularly trees. She joined Ruk Rakaganno – the Tree Society, which was formed in the early 1970s by her father to curb the depredation of forests, particularly the Horton Plains and Sinharaja, and became its President in 2001, a post she held for nearly ten years. During her years as President, she used her many travel trade connections, both national and international, to obtain support for the conservation of trees and animals. In fact her last activity for Ruk Rakaganno was to organise a successful illustrated talk on the 'Tigers of Ranthambore' by Valmik Thapa, the well-known Indian expert on tigers who was a personal friend.

Under Nirmala's guidance, the hotels managed by Quickshaws in Anuradhapura promoted the different indigenous grains and food plants of the Dry Zone. She was delighted to serve them in the hotels and when entertaining guests in Colombo. She would also collect rare and little known plants which were grown in her garden in Colombo.
In 2005, under Nirmala's stewardship, Ruk Rakaganno took over the management of the Sam Popham Arboretum in Dambulla. This garden of Dry Zone indigenous trees continues to be managed by Ruk Rakaganno and is proving its worth as an environment education centre for school and university students. It is a refuge for animals and plants threatened by development and a place of beauty and tranquility for visitors.

Nirmala remained a simple person. Accessible to all, helping many when help was necessary, she was busy with causes she espoused and she did little for herself even when illness struck.

Ruk Rakaganno will miss her vitality, sense of humour and strong commitment to the natural environment. The trees of Sri Lanka will miss a good friend.

Kamini Vitarana

Remembering a born queen, on her b'day

NOREEN MOLLIGODE

Princess Noreen Molligode was born on January 28, 1916, and laid to rest on April 6, 2009. During her long life she was an example of a princess in many spheres – as mother, grandmother, wife, friend and socialite. She had amazing talents that have sadly gone with her to the heavenly realms. Her cooking talent was without equal. Her prawn soufflé, chocolate pudding and lemon meringue pie were some of my favourites. In our whole family circle, there has never been and never will be a cook as great as my grandmother. She cast a spell on us with her cooking.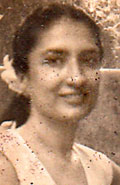 She kept a beautiful home, Banyan Lodge, which was her pride and joy. Every facet of her home was beautifully maintained. She spent hours pottering around the house, polishing and arranging her furniture and ornaments. She also spent time in her garden, growing many unusual plants.
One thing I adored about her was the way she loved dogs and the way the doggies reciprocated her love. My grandmother reared Great Danes and a range of other dogs. One particularly lovable dog was Panda. My brother and I loved Panda-Boy to death. We had fun sneaking him into the house, and somehow my grandmother knew Panda had been up to mischief.
Princess was very proud of her two children, Charmina and Seneca, who both excelled in their respective fields in their youth. My Aunt Charmina was a top model in her heyday, and my father a star schoolboy cricketer at Trinity College. They were her pride and joy.
"Mamma", as we fondly called her, had excellent management skills and firmly managed all family members. She was demanding at times and expected her children and grandchildren to gather around her at Christmas and all special occasions. Christmas in Negombo was a treat! A turkey and all the trappings of Christmas were laid out for us to enjoy.
I admired the way my grandmother dressed up for occasions. She was extremely beautiful and could have graced the cover of any fashion magazine. She will be remembered for her sense of style and flamboyance. We had great times at my grandparents' home during the school holidays. We travelled with them all over Sri Lanka. On our birthdays, we received beautifully crafted cakes and presents. Mamma never lost her touch or finesse.
She could be bossy at times, but this stemmed largely from a genuine love and concern for her family. My parents Seneca and Elsie, Cuda, Wijith, Rochelle and I remember her for the unique, beautiful and talented lady she was. May her soul rest in peace with Daddy – Walter, Papa – Penry and Bubbo Amma – Charmina who have gone before her to the loving arms of Jesus Christ.
Thank you, darling Mamma, for everything you did for us in your own special and inimitable way.
Sharlene De Chickera
Time stands still for him whose latest passion was clock-making
Randolph Gomes
Everybody knew him as "Baji". To his sisters Cynthia and Anthea (Gilo) and his mother and his wife Carmen he was "Baji". That was how even his children Camille, Beverly and Edgar and his grandchildren too addressed him.  Baji had to die for us to know from the hymn sheet and the notice outside the funeral parlour where his mortal remains lay with a plaster across his temple that he was Randolph Lionel Gomes.
And God, what a death it was! A teenager riding a motorcycle sans licence or sense crashed into him outside his house at Mattakuliya. His head hit his parapet wall. He died not long afterwards in the ICU on February 4 as the nation celebrated 65 years of Independence.
That was not a way for Baji to die. He did no harm to anybody except, maybe, to himself at the time we first knew him when he had an over fondness for the cup that inebriates. But that fondness was not forever. He eventually abstained to his and everybody else's relief.
Baji joined the Sri Lanka Air Force after leaving St. Benedict's College and was engaged in aeronautical engineering. He was also endowed with truly miraculous skills at repairing automobiles (motorcycles included) of any make and of any age. After demobilising himself, he put those skills to good use in his spacious garden off Church Road in the service of countless people who brought their vehicles to him for repairs of one sort or another. He did not charge them a fee.
He spent those long years before he departed repairing clocks in his room. His cluttered room was a veritable treasure house of clicking clocks of all shapes and sizes, displaying the exact Sri Lankan time and each one's alarm going off from time to time in different tunes as Cynthia cooked the meals he liked and Anthea laid the table for him. Clocks were Baji's passion in his later years just as automobiles were in his younger days.
How did he acquire those skills? Not by training or tutoring but by sheer inborn instinct. That was what made Baji one of the rarest people we have known. He restored our old Morris Minor which went to ruin during our stint abroad. (But that is another story and history, best forgotten). Baji's generous help over a period of three months to make the old banger roadworthy again is a lasting memory. The least we could do in recompense was to stand beside his casket and touch his gloved hands in silent gratitude. What a pair of dexterous hands in a slight frame!
The silence is now loud and the emptiness at No. 112 Church Road sepulchral.
May Baji rest in eternal peace!
C & S
Who can forget your indomitable spirit for life
Daniel Stephens
Sometime ago, a close family friend who had grown up in the same neighbourhood as my father, spoke candidly to me about him and the respect he commanded from all those around him. Danny, as he was commonly known, was someone who would never abandon you when the chips were down; an unflinchingly loyal and fiercely courageous army of one who gave twice as good as he got.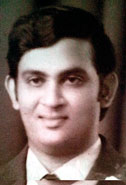 With his soulful eyes, boy-band smile and broad shoulders, my father was at once immensely intimidating and ruggedly attractive. His natural charisma and confidence oftentimes ensured that when he entered a room full of people, they stood up and took notice of his witty banter and wild antics.
Dada was a man who lived his life without regret and in search of adventure. He was someone who thrived on excitement and enjoyment, and at no time was this truer than when his beloved alma mater, Royal College, did battle at their annual big match. Many are the stories of his Roy-Tho escapades yet still more are the pleasant memories he left in the minds of his batch mates, who long ago realised that although time marched on, Danny would stay his same gleefully uninhibited self.
At home, a chant of 'Go Royal!' would abruptly echo through the living room whenever Dada was bored or had read about the success of his school in cricket or rugby. As the years wore on and sickness weakened his body, his carefree spirit remained safely locked in a jovial prism, waiting to radiate towards anyone he came into contact with.
On one occasion, while my father was receiving treatment at hospital, I remember walking into his room and finding him eagerly awaiting our arrival. Before my mother, brothers or I could enquire about the general state of his health, he fired a flurry of requests for contraband, which if discovered would have seen him promptly discharged and perhaps permanently barred from the hospital.
We reasoned desperately with him, but it was pointless, once Dada set his mind to something, there were very few things, aside from a natural disaster, that could change it. Eventually he ended up persuading us to continually repeat this offence, and thankfully, but perhaps not surprisingly considering his resourcefulness, he never got caught.
That was one of my father's principal skills: the ability to win over even the most stubborn of people. Indeed if, like his biblical namesake, he found himself trapped in a den of lions, I am certain he would have talked them into adopting a vegan diet.
My father loved life, adored his family and treasured his friends. There will only ever be one Daniel Stephens. In the words of Shakespeare, "Absence from those we love is self from self-a deadly banishment." We miss you more each day Dada; may you rest peacefully and safely in the arms of Jesus until we meet again.
David
Follow @timesonlinelk
comments powered by

Disqus