QS Top-up Degree at BCAS: Second intake for March 2012
View(s):

Following the launch of QS top-up degree at BCAS in September this year a good number of HND- qualified students harried to enrol themselves for the very first intake in that month itself. They are pursuing their top-up studies comfortably without any hindrance, thanks to the facilities and faculties from the Universities of Wolverhampton, UK and the BCAS, Sri Lanka. Since most of the students are employed in the length and breadth of Sri Lanka in the field of Quantity Surveying, the classes are conducted during weekends. This is a BSc or BSc (Hon) degree directly awarded by the University of Wolverhampton.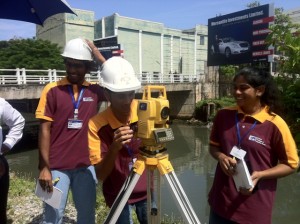 As registrations for the second intake in March 2012 are now in progress, we wish to the form of delivery of the course for those who are interested to enrol for the second intake. While the course is entirely delivered by the BCAS Campus in Sri Lanka, BCAS and the University of Wolverhampton can ensure the highest level of quality in teaching. This is achieved by delivering more than 50% of the course modules by the same UK lecturers who are teaching at the University in UK. This is planned to be done through an innovative 'Flying Faculty' model supported by expert lecturers at BCAS.
Another key highlight of the course is its flexibility. The students can choose to complete the final semester of the course at the university in UK which will give them an invaluable exposure to the international atmosphere in UK while experiencing the real university facilities and environment. Students also have the option to complete part of the course in Qatar at BCAS campus while doing a full time job there. BCAS will be pleased to assist students who want to transfer themselves to BCAS' Qatar campus by arranging jobs and visas.
BCAS also provides options to the students to study for BSc or BSc (Hon) awards depending on their commitment to involve in research modules. The options will be to the advantage of students who may not find sufficient time to complete the dissertation due to their personal or employment circumstances.
Most important benefit to all students completing QS Top-up Degrees in Sri Lanka is that they can progress onto MSc in Construction Management at the University of Wolverhampton for a highly discounted fee of just £ 5000, which, otherwise would be around GBP 10,000. Furthermore, this MSc is an RICS accredited one which adds greater value to the students in terms of their career development.
BCAS is one of the frontline higher education providers in Sri Lanka and the College has been successfully in operation since 1999. BCAS, affiliated with the University of Wolverhampton (UK) , and other prestigious universities such as University of Bedfordshire, University of West London and University of Central Lancashire offers educational programmes varying from Certificate level to Higher National Diploma level as well as vocational studies. BTEC Higher National Diplomas awarded by Edexcel UK since 2002 and currently it offers BTEC HND in a wide range of disciplines such as Computing, Software Engineering, Networks, Business Management, Quantity Surveying, Telecommunication Engineering, Law and Bio Medical Science. Adding value to the degree programs, BCAS understands the importance in identifying lack of sufficient English Language skills as the key important for smoother progression on UK degrees. BCAS pays special attention on developing the English language skills of the students. The separate English Teaching Unit has 12 full time teachers available and the students can follow the English programme parallel to their chosen course.
What's more is that the University of Wolverhampton has also validated and approved BCAS to offer Law Top Up Degree for LLB (HON) awards and this LLB Top Up is Scheduled to start from January 2012 and more top-ups are to be launched soon.
With the launch of the Top-ups, BCAS now stands out as a total solution provider when it comes to higher education where students can even start just after O-Levels and progress through foundations , HNDs and Top ups entirely in Sri Lanka and earn internationally recognized degrees at a fraction of the actual course fee. It is noteworthy to mention that BCAS is the pioneer to launch BTEC HND studies in QS and Law in Sri Lanka. There are three BCAS campuses in Sri Lanka located in major cities – Colombo, Dehiwala and Kandy with an overseas campus in Qatar.
Services offered by BCAS continue even after the student graduates. Their Placement Division will assist students to get enrolled into various trainings and internships with leading companies in Sri Lanka. BCAS are in a position to help students in job placements in Qatar, especially for students who received vocational training, such as: CAD, Building Studies and Land Surveying.
In Sri Lanka today, BCAS is one of the most popular choices with students when it comes to the higher education options. With all these facilities and options available, BCAS has emerged to be one of the most prestigious and popular private educational institutions in Sri Lanka.
Follow @timesonlinelk
comments powered by

Disqus