Legislators in rare show of unity to honour Pope Benedict XVI
View(s):

Govt. refutes Opposition charges of indifference, inaction towards simmering religious disharmony 

By Chandani Kirinde, Our Lobby Correspondent

There was a rare show of unity between Government and Opposition Legislators last Wednesday, when the Vote of Appreciation was taken up in Parliament, in honour of His Holiness Pope Benedict XVI who recently announced he would be retiring by end February. But amidst this show of unity, the issue of rising tensions between Muslims and Buddhists, was brought up by Opposition Leader Ranil Wickremesinghe highlighting the need to deal with such matters urgently.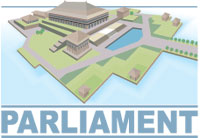 The Vote of Appreciation was moved by Chief Opposition Whip UNP MP John Amaratunga and seconded by Leader of the House Minister Nimal Siripala De Silva; both of whom spoke on the contribution made by Pope Benedict XVI, during his years as the Head of the Roman Catholic Church, and praised him for his brave decision to retire.
"He was courageously honest to admit that he was too frail in mind and body to fulfill his Ministry of the Church as anticipated. He had taught the world and the Church, that Papacy was not about power, but true service, and that the path of power was not the path to God," Mr. Amaratunga said.
External Affairs Deputy Minister Neomal Perera who spoke on the Vote of Appreciation, said that the renouncing of the papacy is a rare occurrence. "His Holiness was advocating unity, unity at an international level, unity at a global level and uniting the world at large. It is good for us to reflect on those words of wisdom and translate that unity among us as Sri Lankans, as citizens of one nation and as citizens of one universe," he said.
Among those who were present as special invitees to the Speaker's Gallery, as the Vote of Appreciation was taken up, were Malcolm Cardinal Ranjith and Papal Nuncio (Vatican's Ambassador in Colombo) Rev Joseph Spiteri, as well as religious dignitaries of all faiths.
On Tuesday, Opposition Leader Ranil Wickremesinghe raised the issue of ethnic and communal related incidents that were taking place in the country, and said that, even though he had brought out the issue on attacks on some mosques, previously in Parliament, this had not been properly addressed by the Government. Mr Wickremsinghe gave details of some specific cases where there were reportedly attacks on mosques, and asked the Government to have an independent inquiry into these matters.
Minister Nimal Siripala de Silva said in response, that all the incidents that were reported to the police have been investigated and the police have taken legal action to prosecute the wrongdoers. He said the Government has taken several measures to ease communal disharmony, and accused "various foes" of attempting to ignite communal and religious conflicts to defame the Government.
"It is the responsibility, not only of the Government, but the Opposition as well, to prevent communal and religious conflicts," he added.
Follow @timesonlinelk
comments powered by

Disqus