Letters to the editor
View(s):

'Room service' and other forms of corruption in prisons

The article "National malaise – corrupt prisons" (Sunday Times, December 30), and a smaller story titled "Countering the enemy within", made very interesting reading. The public know very little about the inner workings of prisons and the Prisons Department. This report, along with several others that followed the Welikada prison riots in November 2012, have shed light on what goes on inside our prisons.

The article describes criminal activities within the prisons, the criminals' modus operandi, the parties involved, the corruption within, and proposed preventive measures.
Drugs and cell phones are readily available, and criminal transactions take place within the prisons with the same ease as they would outside prison. These banned objects are smuggled into prison in a variety of ways: delivered by crooked prison officers; tossed over the prison wall from outside; and delivered in prison vans when convicts are going to or returning from Courts. We even hear that mobile phones (including phone chargers) are hidden inside the couriers' anus and smuggled into prison.

"Room service" is also available in prison, at a price. A convict with the means can arrange for home comforts to be delivered to their cell with the help of prison officers. Long-term prisoners, including those on death row, are called "supiri sirakaruwo." They "rent out" rooms to short-term prisoners. Short-term prisoners, serving, say, 14 day sentences, come to prison to serve pre-planned sentences, and they deliver drugs (carried in their anuses, once again), and get back to society after two weeks. Such ingenuity recalls the carrier pigeons used during the World Wars.

A senior prisons official said that if the Police and other law enforcement officers did their job properly, equipped as they are with scanners, sniffer dogs and other drug-detecting facilities, drugs would not enter the country.

M. Z. Abdeen, Kandy

Supermarkets should have their own recycling plants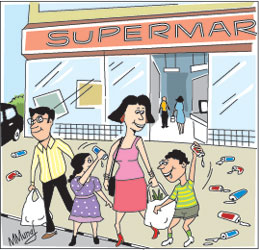 The big supermarket chains like Cargills, Keells and Arpico are clever at marketing and selling beverages in attractive containers, from plastic and paper to aluminium, but they are not good at providing ways for the consumer to dispose of the empty containers. These supermarkets are not being very responsible.
Responsible business is not only about making profits but also about being responsible on behalf of the public and the environment.
As a minimum show of responsibility, Cargills, Keells and Arpico should, at least at their bigger outlets, provide bins for aluminium cans and plastic bottles, with a promise that these will be recycled.
Empty cans and bottles should be transported to recycling plants, or the supermarket chains should set up their own recycling machinery.
Karin Ramachandra, Colombo 3
Thank you for beautifying this satellite town
Everything described in this letter happened recently, and in a short span of time.  In the past, the pavements of a certain satellite town of Colombo were the property of the hawkers. Pedestrians were forced to walk on the road, risking life and limb.
The state put up a spacious permanent building and the pavement hawkers were accommodated inside that structure. Cement blocks were laid and the pavements had a new look. Attractive fences were put up and pedestrians had exclusive use of the pavements. Unauthorised structures, including storeyed buildings, many encroaching on the road, were demolished and cleared overnight.
The old market was an eye-sore. On either side of a narrow path vendors had set up makeshift shelters. On rainy days it became a mud pond. Vendors and consumers would come from far and near to trade in fresh vegetables, fruit and fish. And then a wonderful change took place. A modern market came up, where you could buy your vegetables, fruit, fish and other essentials all under one roof. A motorable road was built in front of the market. On the other side of the road was the vehicle park.
The pinnacle of the beautification project was the beautiful park built for relaxation and recreation. The mere sight of it soothed your eyes. Victoria Park (later named Vihara Maha Devi Park) was built in Colombo city in the colonial days. Nothing comparable to this park was to be found in the suburbs until the satellite town's park was built.
Before coming to this town the creator of the park, whom I call a Vishwakarma of modern times, was engaged in beautifying the surrounds of the Parliament, and providing facilities for relaxation and recreation for the general public.
I have not revealed the name of the satellite town, but I am sure the reader would have guessed correctly. Finally, I will deviate from my main story in order to identify myself and reveal little-known facts about the hero of my story. I will address him directly.
You hailed from the heart of Ruhuna. You had your entire schooling at Ananda College, Colombo. You spent a few years in the hostel, which accommodated 250 post-primary students from the outstations. When you visited the hostel many years later, you found it in a dilapidated state. You renovated it. You made it a beautiful, pleasant and comfortable place to live in. That was a magnanimous gesture.
As someone associated with your Alma Mater, I am proud of you. I am not alone: there are many others who appreciate your work and are proud of you.
S. G. Dharmasena
Follow @timesonlinelk
comments powered by

Disqus