Open gem pits and pigs – main cause for spread of Japanese encephalitis
View(s):

By Aanya Wipulasena

Unsealed gem pits are the main reason for the spread of Japanese encephalitis in the Ratnapura district, where nine of the 48 persons hospitalised with the virus have died. The highest number of cases was reported from Nivithigala and Kuruwita, says Ratnapura Regional Health Services Director, Dr. Athula Dangalle. The victims were mostly adults, while only four developed fever, he said.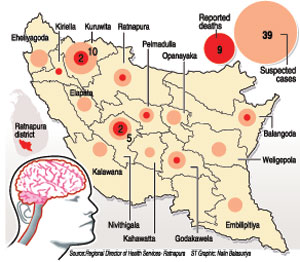 The Ministry of Health and the National Gem and Jewellery Authority (NGJA) are working together on a strategy to check the spread of Japanese encephalitis in the area.
Abandoned gem mines are being closed as a preventive measure, said G. W. Amarasiri, the NGJA's senior development manager, Lands Mining Technology. "We launched the programme on February 7, with the support of the Environment Authority, the Divisional Secretaries, the Govi Jana Sewa and the Agrarian Department. We have instructed miners to close abandoned pits."
The Culex mosquito that carries the virus breeds in stagnant water, unlike the dengue mosquito, which breeds in clear water.  "These mosquitoes are found mostly between November and January," Dr. Dangalle said. "The rise in the number of cases in Ratnapura is the result of keeping abandoned gem pits exposed. Also, from water that collects in clay pots, ice-cream and yogurt cups and discarded utensils."
The virus can be transmitted through livestock and migrant birds, Dr. Dangalle told the Sunday Times. "The main reservoir for this virus is the domestic pig. It survives in the blood of pigs for about two weeks, while in cattle it survives for only three days, and even less than that in migrant birds," he said. The Health Ministry's veterinary division is vaccinating domestically bred pigs in Ratnapura. "We discovered that domestic pigs were being vaccinated between June and September every year, and last year 1,100 pigs were vaccinated. Piglets born after September, however, were not immunised," Dr. Dangalle said.
It was found that in Nivithigala, which had the highest number of encephalitis patients, only 100 of the 180 domestic pigs in the area had been vaccinated.  Last Thursday, the Ministry of Health (MOH) launched an immunisation programme for Ratnapura children aged between nine months and 10 years. The Colombo Epidemiology Unit has sent 190,000 vials of the vaccine to Ratnapura and 50,000 children have been vaccinated.
"We want to contain the virus before it spreads to other areas," said Dr. Dangalle. Preventive measures include fogging in breeding areas and use of the insecticide Abate to control mosquito density at larval stage. The last reported case of Japanese encephalitis in the country was 10 years ago, in 2003, from Ratnapura. The first case was reported from Anuradhapura in 1985.
Follow @timesonlinelk
comments powered by

Disqus