Hike in respiratory diseases among children due to heavily polluted air
View(s):

By Chamal Weerakkody

Increase in respiratory diseases, particularly among school children, is causing a fresh health concern, a medical expert warned.  A recent study has shown that respiratory diseases has taken the top spot in non-communicable diseases (NCD) in the country, which has affected children due to greater concentrations of dust and other atmospheric pollutants in urban areas.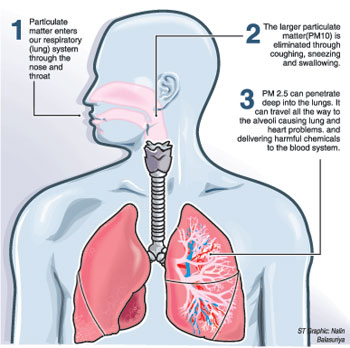 According to research conducted on outdoor air pollution, children from peripheral areas take twice as long to get infected by respiratory diseases, than those from urban areas.  Dr. Sumal Nandasena of the National Institute of Health Sciences' Research Department, says that 70% of outdoor pollution is due to vehicular emissions where belching diesel vehicles emit hazardous compounds which cause respiratory diseases.
He said that six air pollutants have been identified as harmful to the respiratory system, with the potential to develop into asthma, respiratory diseases, birth defects, cardiovascular diseases and lung cancer, causing premature death.  The research conducted by Dr. Nandasena describes the most vulnerable groups exposed to such diseases are foetuses, children, pregnant mothers, the elderly and those with cardio-respiratory diseases.
School children in urban areas, exposed for long periods to air pollution caused by heavy traffic congestions during peak hours, often encounter particular pollution which can complicate, as particular matters combine with organic chemicals, acids, metals and dust to form a complex mixture which store in the lungs, the study said.
Particular matter (emissions from vehicles) less than 10 micrometers in diameter, and fine particles less than 25 micrometers in diameter, which emanate from decayed diesel engines and other types of combustion, have the potential to cause lung diseases.
He further said that air quality measuring centers should be established in major cities in the country, to maintain standards and the quality of the air, as future generations will be dangerously exposed with the increase in vehicles.  Police constables on traffic duty have also been identified as being vulnerable to respiratory diseases.
Police Hospital Superintendent, Dr. Kalinga Ginige said that traffic police officers should act to protect their health by minimising their exposure to air pollution, with the chest clinic showing a marked increased in attendance.
Traffic Division's Deputy Inspector General of Police Amarisiri Senarathna told the Sunday Times that protective masks have been distributed among police officers.
However, the Sunday Times learns that the protective mask had not reached some of the officers, while the masks distributed are not the standard ones. The standard mask should include a filter to clean the inhaled air, and the filter changed every three months.
A traffic policeman said that most officers are reluctant to wear the protective mask, as it hinders the use of the whistle, while directing traffic. Ranuka Gunathilaka of Nalanda College told the Sunday Times that most students including him, suffer from asthma and have difficulty in breathing while travelling in the bus, due to the smoke and dust emitted from traffic congestion during peak hours. Colombo University student from Kandy, Jayani Senaviratne suggested the use of liquefied natural gas (LNG), to fuel local transportation, and thereby reduce vehicle emissions
Follow @timesonlinelk
comments powered by

Disqus