Bloody stools? Don't ignore
View(s):

By Kumudini Hettiarachchi

It is a hush-hush topic that many people are very reluctant to talk about.  Rectal bleeding is a common symptom but people are embarrassed to discuss it, not only with their families but also their doctor, says Consultant General Surgeon Dr. Wasantha Wijenayake who has specialised in colorectal surgery.

The bleeding can be "microscopic" and cannot be seen, where a person is losing blood without his knowledge through his stools or faeces or overt bleeding where it is clearly visible, MediScene learns.

However, depending on the colour, doctors are "roughly able to decide which part of the bowel is bleeding", he says, explaining that it could come as three pointers.
Bright red fresh blood would indicate that it is from the anus or rectum.
Maroon coloured dark blood would most likely be from the mid-section of the large bowel (colon).
Blackish tarry altered blood (Malena) would be from the stomach area down to the first part of the large bowel.
Going from the not-so-serious to the serious conditions that could ail a person's digestive system, Dr. Wijenayake gives a long list of what may be wrong if there is blood in the faeces. The common causes of rectal or anal bleeding may be haemorrhoids (piles – swollen veins in the anus); fissures (splitting of the anal mucosa) or fistulae (an abnormal link between the rectum and the outside of the body).
While pointing out that the blood in the stools of children is commonly due to constipation or juvenile polyps which are a small cluster of cells that protrude from the bowel, Dr. Wijenayake adds that in very rare cases, there could be intussusceptions or telescoping of the proximal bowel into the distal bowel.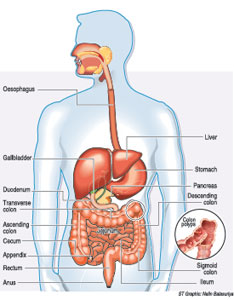 Moving further up along the digestive system, he deals next with the conditions in the large bowel that could cause bleeding. "Most important among them would be anal, rectal colonic cancers," he says, with the other reasons ranging from polyps to inflammatory bowel diseases and vascular anomalies to diverticular diseases.
Polyps are growths in the bowel mucosa which protrude into the bowel lumen (cavity).
Inflammatory bowel diseases would include colitis which is inflammation of the large bowel. The conditions may be ulcerative colitis which affects the lining of the large bowel; Crohn's disease which affects any part of the digestive system; ischaemic colitis which is narrowing or blockage of arteries sending blood to the large bowel or infectious colitis when bacteria, viruses or parasites cause the large bowel to get inflamed.
Vascular anomalies such as angiodysplasia which is a vascular lesion in the large bowel.
Diverticular diseases when pouches (diverticula) form in the large bowel. It could take the form of diverticulosis which is the formation of such pouches and diverticulitis when these pouches get inflamed.
Referring to the stomach and related bleeding conditions, he picks out gastric ulcers (holes in the stomach lining), oesophageal varices (enlarged veins at the bottom of the oesophagus) as well as oesophageal, gastric, bile-duct or ampullary cancers. The Ampulle Vater is a nipple-like protrusion into the duodenum.  Cancers in the small bowel are extremely rare, according to him, but if they do occur, they too can cause bleeding. Another problem in the small bowel, mainly in children, which could cause bleeding is Meckle's or congenital diverticulitis which is pouching that is present from birth.
Of course, such things as food poisoning, radio therapy, rectal prolapse, solitary rectal ulcer syndrome and anti-coagulant therapy may also lead to bleeding, he says, stressing however that many people assume that it is due to piles.
This can be dangerous and ignoring this symptom may delay the proper diagnosis of a more serious condition such as colorectal cancer. If a person comes on time, the prognosis for colorectal cancer is good, says Dr. Wijenayake, giving the positive side. If treated early more than 90% have a survival rate of five years. If diagnosis is delayed and the disease is advanced and spread, it drops to 12%.
When presented with blood in the stools, the doctor would take down the case history and perform a thorough examination through the rectum, it is learnt.  "The basic examination would be palpating the rectum and anus with a gloved finger, looking for clues whether there are fissures, complicated piles, polyps or even rectal cancer," he says, adding that the definitive diagnosis would be through 'camera tests' including a flexible sigmoidoscopy and a colonoscopy in addition to CT colonography.
Detailing the advantages of tests such as colonoscopy over others, he points out that they are also therapeutic. He cites the example of doctors being able to remove polyps through a colonoscopy. The other screening tests would include faecal occult blood test (FOBT) and faecal immune chemical test (FIT).
Once detected, depending on the condition, the patient would be given medication or have to undergo surgery as treatment. The bottom line is: Do not ignore rectal bleeding or be embarrassed to go to a doctor as soon as it is spotted. The earlier the better it would be to fight whatever is troubling that all-important digestive system.
Be aware of bowel habits
Pay attention to your bowel habits, says Dr. Wijenayake, for if there is a change for more than six weeks, especially if the stools tend to be loose or there is mucus with the stools, see the doctor immediately.
This would entail a colonoscopy to check out whether all's well with your colon and also your ileum. Better to be safe than sorry, is Dr. Wijenayake's message.
Microscopic bleeding
This is very slow bleeding which takes place in the bowel and passes with the stools without being visible distinctly, MediScene understands. Although unseen by the patient, such bleeding can give rise to general fatigue and weakness, lethargy and inability to attend to day-to-day routines, says Dr. Wijenayake, explaining that when a blood test is done doctors would detect iron-deficiency anaemia.
Such unseen bleeding may be due to polyps, bowel cancer, diverticulosis or inflammatory bowel disease and as such needs to be investigated.
(Next: Colorectal cancer)
Follow @timesonlinelk
comments powered by

Disqus