'Namasthe' the latest Indian Restaurant in town
View(s):

The latest state-of-the-art Indian Restaurant in town opened last week at No 357, High Level Road, Nugegoda with a gala ceremony. It has been named as 'Namasthe', and the new Restaurant will offer authentic Indian delicious cuisine, blended with genuine Indian spices, also with exceptionally traditional sub-continental assortment of food items available for the visiting customers.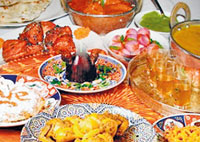 A team of Indian Chefs, with a wide experience in leading Indian cities and other Asian countries have already commenced pre-planning with a bevy of ultra-modern equipment, and all arrangements are in place for a grand opening at an appointed auspicious time. 'Namasthe', is located in a soothing environment filled with comfort, privacy and tranquility and the management has made an extra effort to provide plenty of space for the family and social gatherings as well as parties within the Restaurant and in a specially laid out compound, and even for the parking of vehicles just outside.
Anuja Karman Wickremasinghe, Chairman of the Board of Management of the new Restaurant said, "Lifestyles of the people are steadily changing. So are their food habits and values. 'CHANGE' is the name of the present trend and people are fed up of the same kinds and the tastes that they have experienced day in and day out at home and even in restaurants outside. 'Namasthe', will cater to them and each of our visitors is going to experience a new beginning to their food consumption patterns. That is what we aim at, and we are confident that our new Restaurant will fulfill their aspirations to the highest degree."
Follow @timesonlinelk
comments powered by

Disqus